Over the years, we have improved our support system countless times. There have been many, many, many, many revisions to how we package and provide support to you, our dear customers.
But it's not because we're crazy or want to drive you crazy. It's because here at WooThemes, our ultimate, defining purpose is to provide you with the best experience possible.
We don't want you to have a great experience only when you purchase your first product or enter your billing details. We don't want you to have a great experience only when you're browsing our extensive catalog or activating your subscription. We want every single interaction you have with us and our products to be positive. In a few words — we want you to be happy.
With that in mind, we're excited to bring you our new, easier-to-use support system. You can watch a quick video walkthrough below, or read on to learn more about the motivation behind it and some of the new features we've included.
The challenge: make support easier
A couple months ago, I was tasked with a simple but exciting challenge: make support easier. When I first joined Woo almost a year ago, that was actually my job description!
Back then, I was a WooCommerce Ninja, in the front line, supporting customers with all their WooCommerce questions. I saw a lot of happy customers in that time — but that was normally by the time I was done supporting them. Up until their problem was solved, they were frustrated and tired, and had every right to be. 
We were not doing a good enough job.
So I was excited, to say the least, to be tasked with making people happier. I had a chance to change things and possibly improve the experience of hundreds of thousands of customers. To me, that's a pretty amazing reward.
Introducing our new support system
Two weeks ago, we rolled out our new support system to a select few customers. After collecting their feedback and making final adjustments, we have now rolled it out to everyone.
When you log into your WooThemes account, you'll now find a Tickets tab. Under there, you can find all of your previous and current tickets. Everything has been revamped to bring you a more streamlined, simplified experience.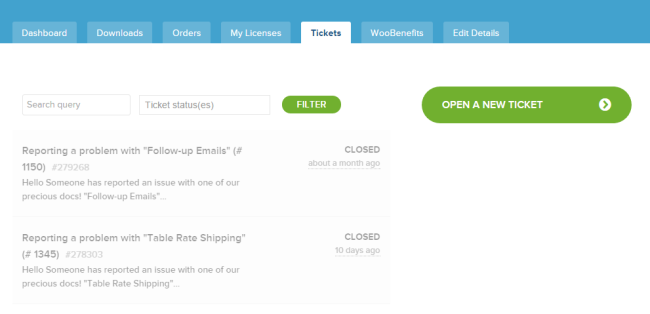 Need some assistance from our Ninjas? Try the new ticket forms for yourself. Click the big "open a new ticket" button to start a ticket with us. You'll find the same familiar options and ticket categories from our previous forms, but with some pretty cool improvements.
How about we open a ticket together and see?
A quick walkthrough
Here's what the new ticket screen looks like: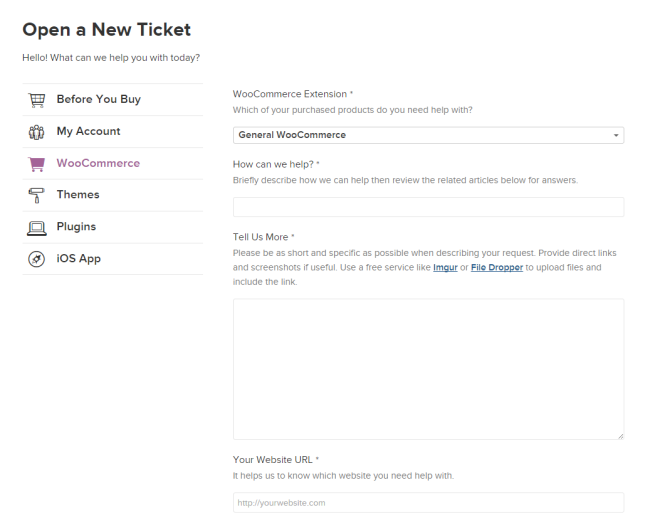 When you select your ticket category, you'll notice some smart improvements to the system. For example, if you select "My Account," you'll be able to pick the specific order number you're inquiring about, which will automatically pre-fill based on your account information: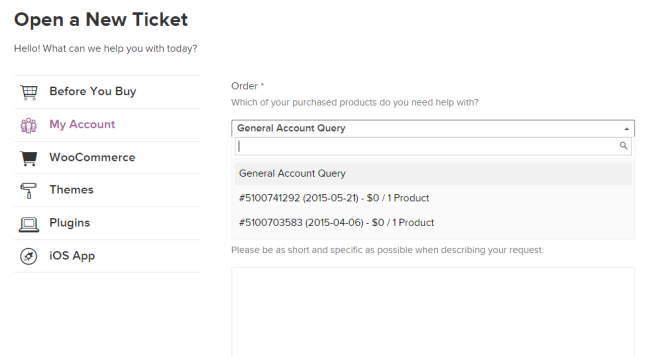 Or if you choose "Themes," you can pick the specific theme you've purchased or downloaded in the first drop-down menu: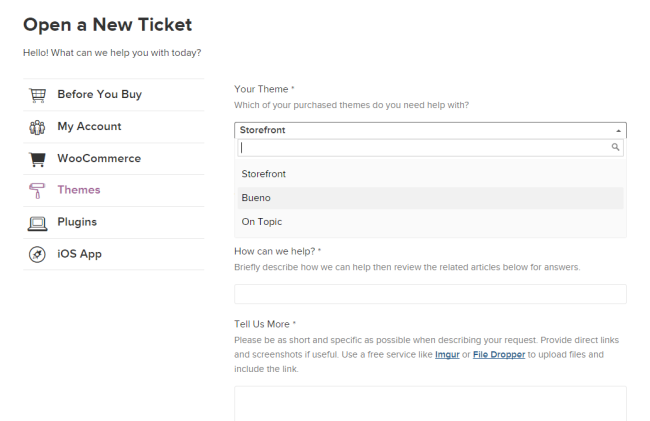 So let's say I'm having issues with Product Add-ons. I've been trying to add a checkbox, but it's not working for me. Better open a ticket.
Our new support system is pretty smart. Along with these improvements, it also analyses and tries to solves your problems, according to your System Status Report, in real-time.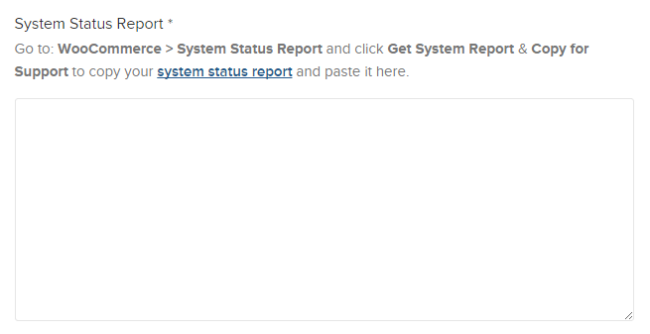 When I filled in my System Status Report, I got back some warnings!
These messages prompt me to update WooCommerce & Product Add-ons. If that solves my problem, I don't even have to open a ticket! If not, I can proceed with the process I've started.
When a new ticket is submitted, you'll be given a confirmation screen and your ticket number:
On this screen you can also tells us what you think of the new ticket experience. Whether you like it or dislike it, you'll be given a text box where you can tell us what you do or don't like, and how else we can improve. Our goal is to make you happy, so don't be afraid to give your feedback here!
Finally, when a Ninja responds — or if you simply want to check on the status — you'll be able to view, reply to, or close your tickets either via email or this new dashboard. You'll never have to leave your account page to have a conversation with us.
There are a bunch of new features that you'll discover as you use our new system. Of course, as with everything new, problems can come up, so do let us know if anything goes wrong! We would love to hear your feedback and suggestions.