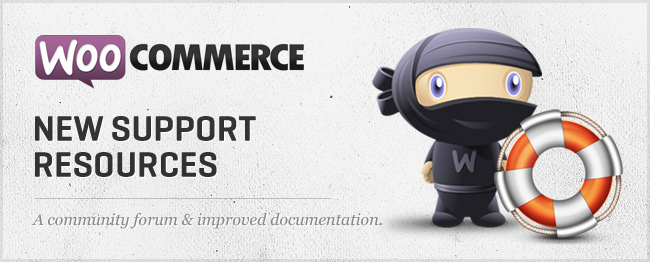 An all new user guide
Along with the release of WooCommerce 1.4 today also see's the release of our new plugin documentation and user guide, efficiently housed in a Wikeasi theme installation. It's a work in progress that we plan to constantly update, but already it's a huge improvement over our existing user guide and codex pages.
View the new WooCommerce Docs
A WooCommerce public forum
After careful deliberation we have also decided to open a forum available to all WooCommerce users who freely register on the WooCommerce page to download the plugin. This forum will be supporting the growing community BY the community. We cannot guarantee any support to be provided by our ninjas, however we will be closely monitoring the threads for bugs, feature requests and general recommendations. We have a lot of active, passionate, and helpful WooCommerce users who would love to interact with likeminded individuals. Perhaps you'll even meet someone in the forums to work on a WooCommerce extension or a client project together? You never know.
View the new WooCommerce Forum


Please note: We no longer offer a free public forum for WooCommerce, the new support forum is only available to paying WooThemes customers. If you would like acces to the forum, you can simply purchase any one of our themes or premium extensions for access.