Download Sensei Modules Today Purchase Sensei Today
A good online course needs a clear structure, and effective content organisation.
Today we bring you two Sensei extensions which aim to improve the way your courses are organised. We're proud to announce that Sensei Modules and Sensei Media Attachments are both available, from today, for FREE!
Sensei Modules
Sensei Modules enables you to group your lessons into various modules, adding further structure to your courses, and helping your students to easily digest their learning.
Your courses could, for example, be divided into:
Unit 1, Unit 2, …
Basic, Intermediate, Advanced, …
Or virtually any structure which suits your content.
Break it down
For example, let's say you teach a course on how to play the guitar.
The course itself might contain thirty or forty lessons, which could seem like a daunting task to any beginner.
But using Sensei Modules, you could break those lessons down into modules such as Basics, Theory, Technique etc, so that your students can focus on completing just a few lessons at a time.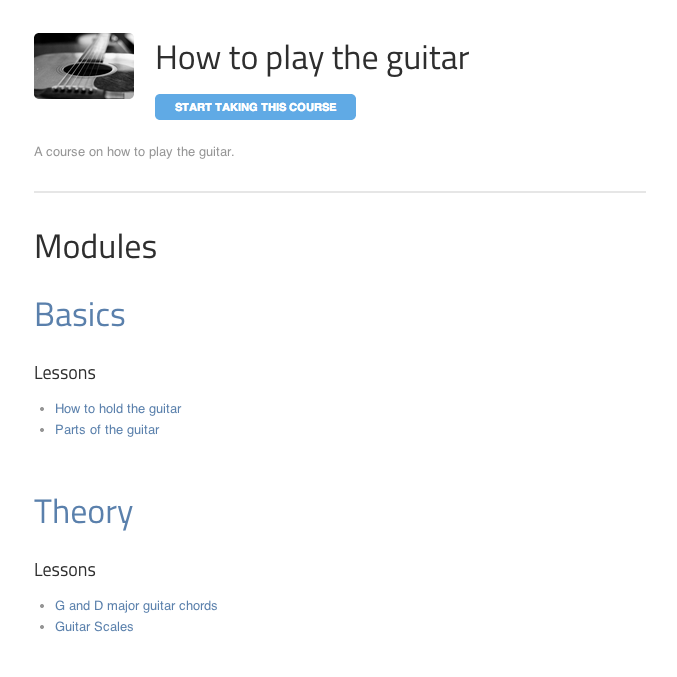 Install Sensei Modules today and help your students to accelerate their learning with a clear, modular, course structure.
Download Sensei Modules Today Purchase Sensei Today
Sensei Media Attachments
Sensei Media Attachments enables you to attach media files (PDFs, audio files, slideshows etc.) to your courses and lessons in Sensei.
The file(s) will then be presented as links in a separate Course Media or Lesson Media section.
Install Sensei Media Attachments today, and provide your students with easy access to virtually any kind of learning materials.
Download Sensei Media Attachments Purchase Sensei Today
We look forward to seeing how you use these two extensions to provide a more structured learning experience for your online students.