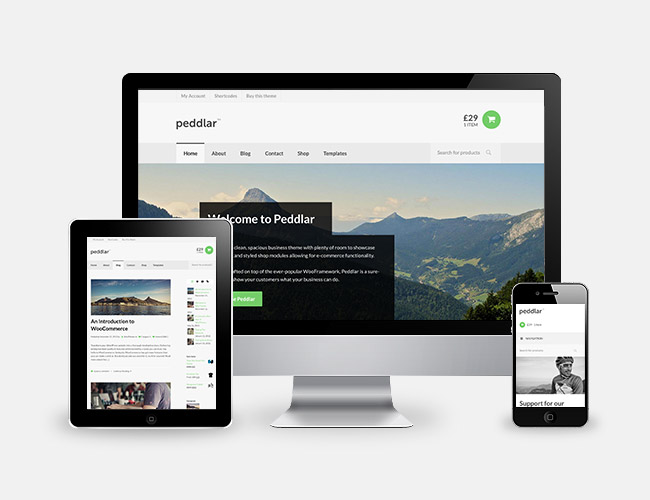 Today, we're excited to share a design with you all which captured our attention from the first moment we laid eyes on it. Clean, crisp and generous with open space are 3 characteristics that come to mind when introducing this bright new entry into our catalog. Ladies and gentlemen… peddling onto stage today is Peddlar, our latest WordPress theme.
Meet Peddlar
When setting up any website, the objective should always be to showcase the content in the best way possible. With its generous amount of open space, Peddlar aims to do exactly this.
As Peddlar is primarily intended as a storefront theme, the homepage includes an area for showcasing the latest products in your catalog, as well as support for the WooCommerce Brands extension for showcasing the brands your company works with.
Designed by Gary Murray, Peddlar can be shaped and crafted as desired with a few small tweaks in a child theme, or using the in-built theme styling options.
With the store functionality powered by WooCommerce, the entire WooCommerce extensions library is also at your disposal to take your online store to the next level.
Full-width Featured Slider
Peddlar includes a full-width featured slider area, for showcasing just about any information you wish to offer your visitors. Powered by its own custom post type, you could place a call to action, a video or just really attractive photographs in this wide showcase area of your homepage.
Not just for online stores
While Peddlar is primarily a store front-focussed theme, the design can be used for anything from a standard business-style layout to your own personal branded nameplate website. With styling support for our Features and Testimonials plugins, as well as a "Blog" and a "Business" page template, your own design is just a few small tweaks away in the "Theme Options" section.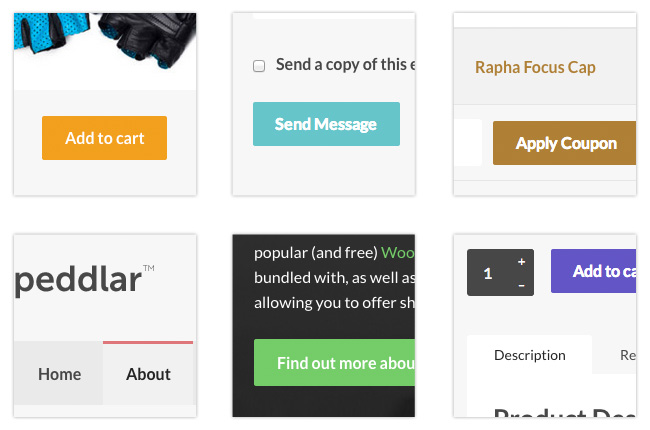 Create quick and simple alternate styles
Customising your copy of "Peddlar" to meet your desires is important to us. With this in mind, no expense has been spared to ensure ease of use and customisation of the theme with a few clicks and your custom eye-catching imagery. Alternate colour styles have also been included, to quickly provide a unique feel on your website. These alternate styles showcase it's flexibility with each CSS file being only a few lines of extra styling.
Discount Coupon
Grab this theme with a 13% discount coupon, valid until 16th May, 2013. Just use PEDDLAR13 as your coupon code on checkout.