When it comes to designing and building themes, there are many varying avenues and approaches one can take. A theme can be really detailed and almost over-designed, or it can be clean and minimalist. At WooThemes, we like to craft a fine balance between the two, creating themes that are cleanly and professionally designed, and are also quick and easy to customise and craft into your own unique creation.
Above all, every WordPress theme has one aspect in common: it needs to function. Without further wait, I present to you, the latest in our catalog of clean and crisply designed WordPress themes.
Ladies and gentlemen, meet "Function"
Designed by Chris Rowe, Function is a crisp, open and flexible theme with a modular homepage, to best showcase your content. Function includes support for a wide range of our existing plugin offerings, including WooDojo, WooSlider and WooCommerce, as well as customised homepage components for your content, an introductory message, your latest features, blog posts and just about any other widget you desire, using the widgetized homepage region.
A unique feature we've included in "Function" is an advanced implementation of FlexSlider, our popular jQuery slideshow script (used by our WooSlider WordPress plugin, as well as in our themes). "Function" has a featured slideshow that uses in fact two FlexSliders. That's right… not one, but two! We've made use of FlexSlider's carousel and asNavFor settings to create a pagination carousel that acts as the navigation for the main featured slideshow. Pretty exciting, right?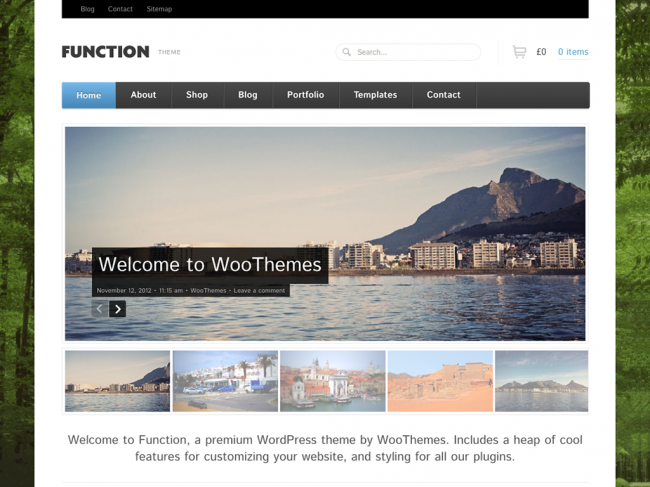 Function comes bundled with a clean and nifty portfolio feature for showcasing your work or services with a portfolio category quick-switcher. This helps with showcasing as much of your work as possible on a single screen, for your visitors to browse. You can also optionally select one of your galleries to be featured above the rest, with a larger images for each portfolio item.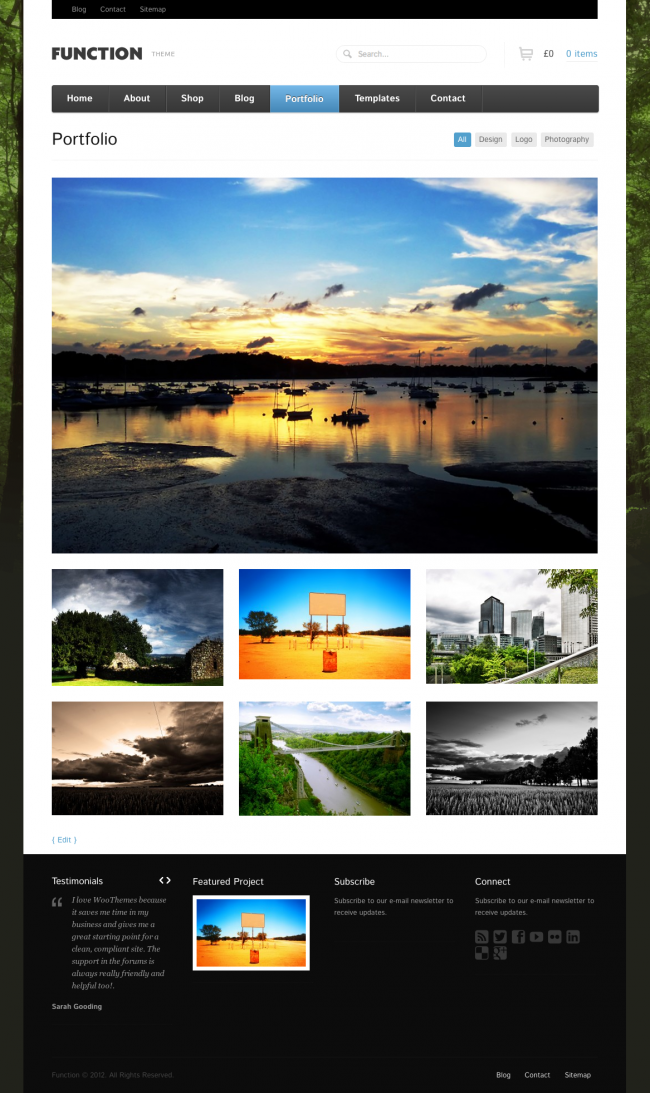 Along with all of these great features and a clean design, "Function" comes bundled with WooCommerce support from day 1. If WooCommerce isn't active, the theme works just as well… and looks just as clean and great. 🙂
Integrates with the "Features" and "Testimonials" plugins as well

Function is the second of our themes to add native support and styling for our new "Features by WooThemes" and "Testimonials by WooThemes" plugins. Read our blog post on these two new plugins for more information about what they are and what exactly they do. If you don't need these features, the theme works just as well without them. No unused code if you don't need those features. If you do, integration is as easy as activating the plugins.
As with all WooThemes themes, Function isn't just for business or commerce. With a few minor tweaks to the comprehensive theme options, Function can transform into a blog theme, a purely business-focussed website, or a personal nameplate homepage. The possibilities are limited only by your imagination.
Discount Coupon
Grab this theme with a 20% discount coupon, valid until 30th November, 2012. Just use WOOMADNESS as your coupon code on checkout.