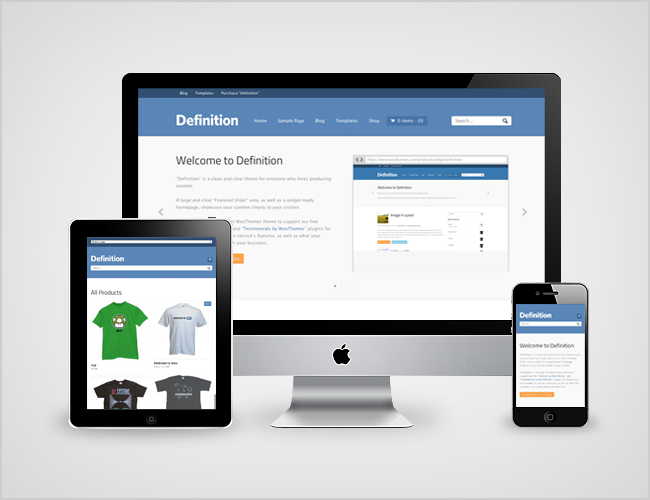 Over the years, since WordPress theming became a popular market, the concept of "what should go into the theme" has evolved in various directions; through stages where themes were crisp and minimal, to times where themes were laden with functionality. There is a shift beginning within the WordPress community to begin to unlearn these old habits and to return to a time where themes are clean, minimal in code and powerful in their offering. Today, we're helping to define that.
Ladies and gentlemen, meet "Definition".
Designed by Chris Rowe, Definition is a clean and flexible theme with a modular homepage, to best showcase your content. Definition includes support for a wide range of our existing plugin offerings, including WooDojo, WooSlider and WooCommerce, as well as customised homepage components for your content (either from a single page, or as a list of your blog posts) and a clear featured slider, to showcase your message.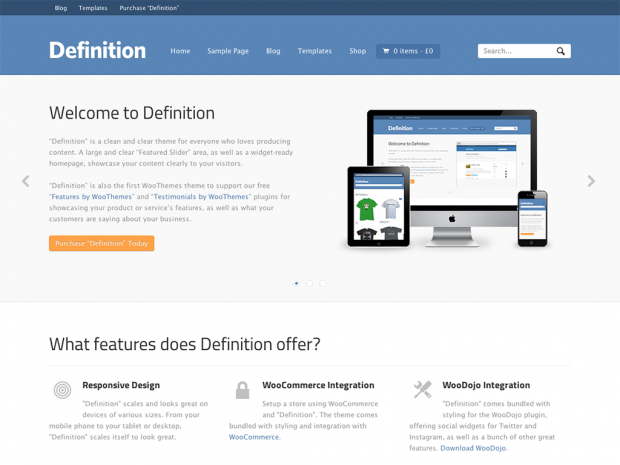 Definition comes bundled with WooCommerce support from day 1. If WooCommerce isn't active, the theme works just as well… and looks just as great. 🙂
Meet "Features" and "Testimonials"

Definition is the first of our themes to add native support and styling for our new "Features by WooThemes" and "Testimonials by WooThemes" plugins. Read our blog post on these two new plugins for more information about what they are and what exactly they do. If you don't need these features, the theme works just as well without them. No unused code if you don't need those features. If you do, integration is as easy as activating the plugins.
You guessed it… a quick teaser
Not to give too much away… the above is a quick teaser of the LMS project we've been working on, here at WooHQ. Definition will be the first theme to support this. We look forward to sharing more information with you as we get closer to launch (an early Christmas present). 🙂
As with all WooThemes themes, Definition isn't just for business or commerce. With a few minor tweaks to the comprehensive theme options, Definition can transform into a blog theme, a purely business-focussed website, or a personal nameplate homepage. The possibilities are limited only by your imagination.
Discount Coupon
Grab this theme with a 12% discount coupon, valid until 31st October, 2012. Just use DEFINITION12 as your coupon code on checkout.