Today we're proud to announce Storefront, a brand new theme that marks the start of an exciting chapter in the WooThemes adventure! Storefront is a lightweight, flexible, free WooCommerce theme and is available for download right now on WordPress.org.
Since launching WooCommerce growth has been incredible – we've recently surpassed a gargantuan 5 million downloads and hosted our own conference! It's amazing to think that just three years ago WordPress ecommerce wasn't even taken seriously and it's been a privilege to play a central role in changing that perception, becoming the global market leading ecommerce solution.
Working with a community of talented extension developers and partners, we've come a long way and, with a robust, empowering and user friendly platform, made the choice of ecommerce system easy. However:
While choosing an ecommerce platform for WordPress is now easy, a decision that remains difficult is what theme to use for your store. The frontend, the very thing your customers engage and interact with. The thing upon which the performance of your store relies so heavily.
We get so many emails from WooCommerce users requesting advice on which theme to use for their shops. Storefront is our de facto answer to that very common question.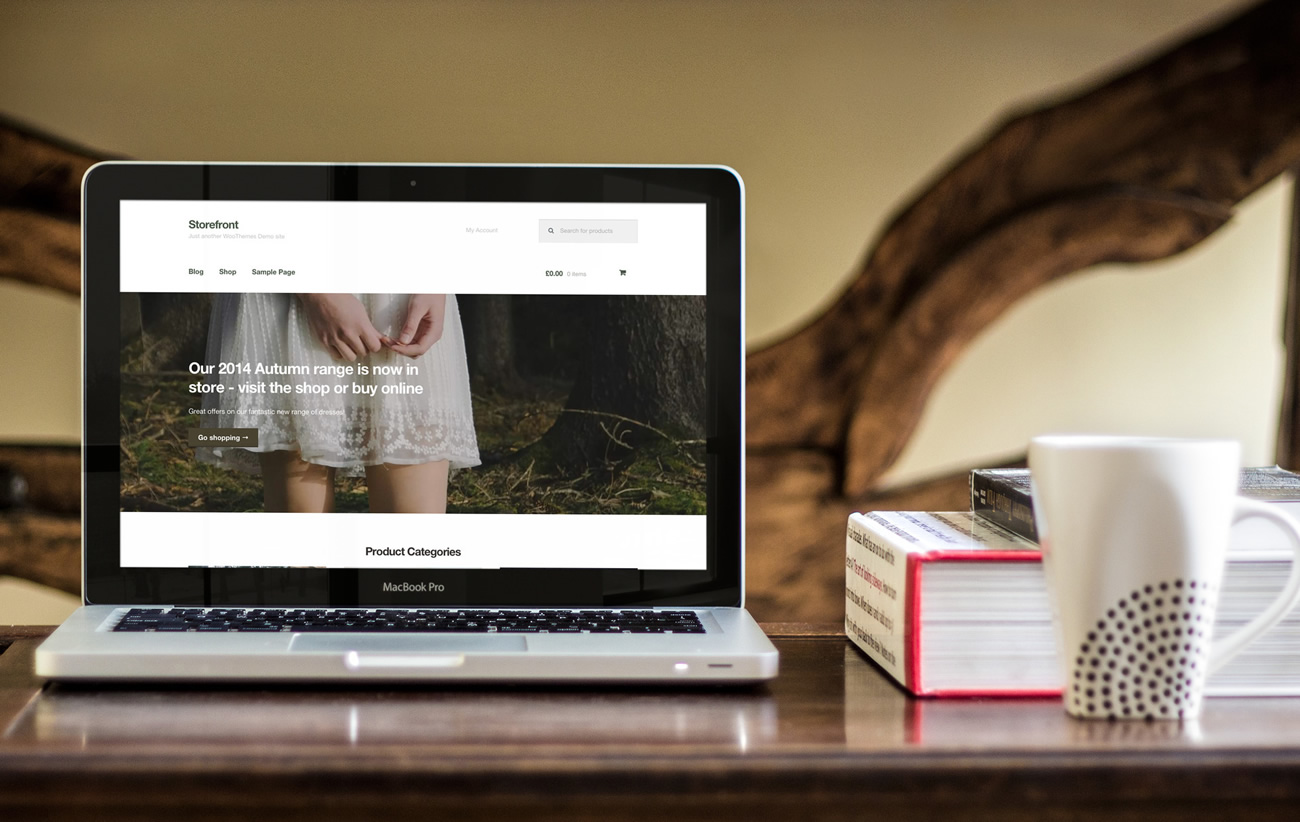 Building a theme you'll want to use
When it comes to ecommerce theme design and development we've noticed two things. The first is that folks want simplicity and flexibility – something that can be used as-is, or customised without touching code to create a unique aesthetic that matches their brand. Secondly, we understand that all stores are different and have their own set of feature requirements.
As far as ecommerce functionality goes this has been satisfied via WooCommerce and its extensions – you can pick and choose the features you need to create the perfect backend for your store. Now, Storefront will give you that same flexibility on the frontend via it's own suite of extensions.
Based on the same model that made WooCommerce a roaring success, Storefront features a lightweight core with the features and customisation options needed to get you up and running with minimal effort. Then, when you need to add a feature you can do so by installing an extension. This keeps the core theme's codebase nice and lean which improves performance and reduces potential security threats.
In production you will only be running the code you need rather than a whole bunch of stuff you'll never use. Storefront is a return to letting themes be themes – the visual layer that your visitors interact with. Features and functionality? Optional plugins.
Canvas is for a website that might be a store. Storefront is for a store that might need a blog.
Storefront should not add further confusion as to what theme to choose in our diverse catalog. We feel the quote above from our product manager, Matty Cohen, at the recent WooCommerce meetup in Los Angeles, makes our intent and strategy clear.
What's included in Storefront?
Much like WooCommerce core, Storefront is capable of holding its weight even without extensions. Here are some of the key included features:
WooCommerce Integration
Storefront features an unrivalled deep integration with WooCommerce core. We've included a dropdown cart link and product search in the header and integration with several customer facing extensions like Bookings, Brands and Wishlists.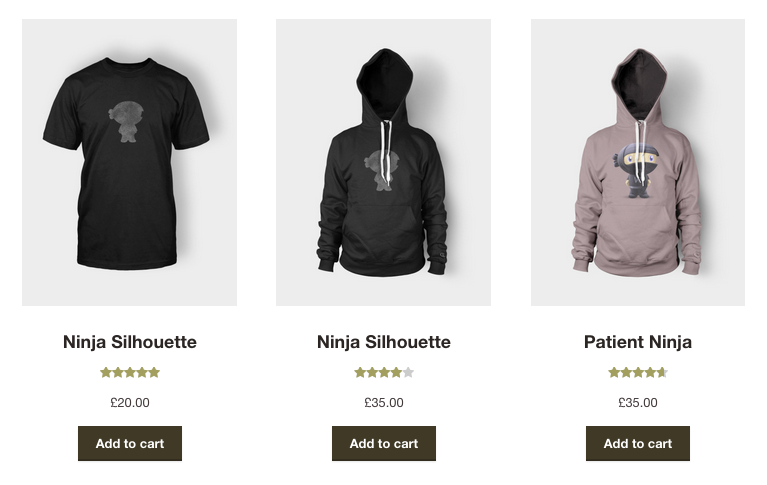 Having been developed by WooCommerce core authors you can rest assured that this integration is bullet proof and compliant with the latest WooCommerce developments and standards. This cannot be undervalued – when selling online your site is one of, if not the most important asset you own and you need to be confident that when there's a major WooCommerce release, your theme is going to work without conflicts. Storefront means you can rest assured that you're always up to date with the latest WooCommerce developments.
Lightweight, robust core
To make it on to the WordPress.org theme repository the theme is required to go through a rigorous review process. So right off the bat you know the theme is well built and reliable. As mentioned before, we've kept the theme very lean and based it on Automattic's popular underscores starter theme. All the themes on WordPress.com are based on the same framework.
To this we've added a flexible design and a sprinkling of developer friendly hooks and filters. Keeping the codebase nice and clean provides plenty of potential to extend and add all kinds of features and functionality via plugins. We encourage anyone interested in the project to get involved via the public GitHub repository and if you have an idea for an extension, please do get in touch!
Design options
Every store is unique and we understand that folks want to create a look and feel that matches their business. In Storefront there are several display settings that allow you to customise the design to meet your requirements.
These settings are all accessible in the WordPress Customiser, allowing you to preview your changes in real time.
Homepage Template
This template is perfect for your shops homepage. It displays a whole bunch of content to immerse the visitor in your products. Included are links to product categories, featured products, recent products, on sale products and popular products. Each of these components can be toggled / re-arranged using our Homepage Control plugin.
What's not included? Sliders, Shortcodes and Page Builders
At first this might not seem like a feature, but it's something we're passionate about and believe it is actually one of the very best Storefront features.
What you won't find are Sliders, Shortcodes or Page Builders. Each of these features add a whole bunch of code and if you're not even going to use them the bloat becomes embarrassing. Including these in the theme also removes your freedom to choose a plugin alternative. We're big believers in allowing you to easily switch themes without having a significant impact on your content.
By not including these features you're free to add them via whichever plugin you prefer, and if/when you switch themes later on down the road all of those features will remain. We firmly believe that building Storefront this way means you will be less likely to need or want to switch, but at the same time wholeheartedly encourage the entrepreneurial opportunity that WooCommerce offers for theme developers far and wide.
Obviously Storefront is compatible with our own WooSlider plugin for your slider needs. You also have a growing choice of Page Builder plugins such as Site Origin, Visual Composer and VelocityPage.
---
Download Storefront View Storefront demo
---
Three Storefront Extensions: Designer, WooCommerce Customiser & Parallax Hero
To coincide with the launch of Storefront we've prepared three extensions that will really make your store pop and satisfy some of the most popular feature requests.
1. Storefront designer
The Storefront Designer extensions adds a bunch of additional settings to the Customiser allowing your to further customise the look and feel of your web site. With the power these settings unlock you'll be able to create a truly unique Storefront site that looks like no other!
---
2. Storefront WooCommerce Customiser
The Storefront WooCommerce Customiser adds a bunch of additional settings to the WordPress Customiser allowing you to further customise the look and feel of your shop.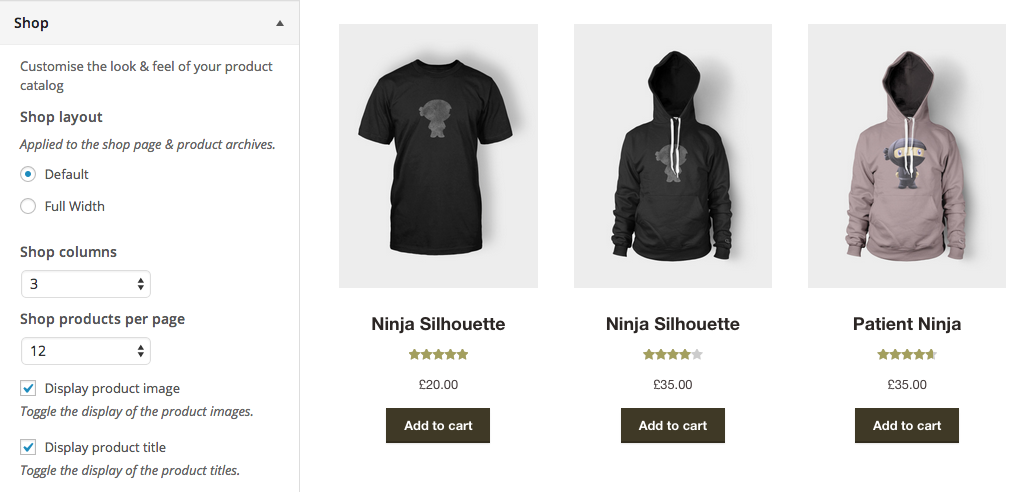 Buy Storefront WooCommerce Customiser
---
3. Storefront Parallax Hero
This extension adds a hero component to the homepage template that features a parallax scrolling background. Like all the other Storefront display features / settings you have complete control via the Customiser. Woo!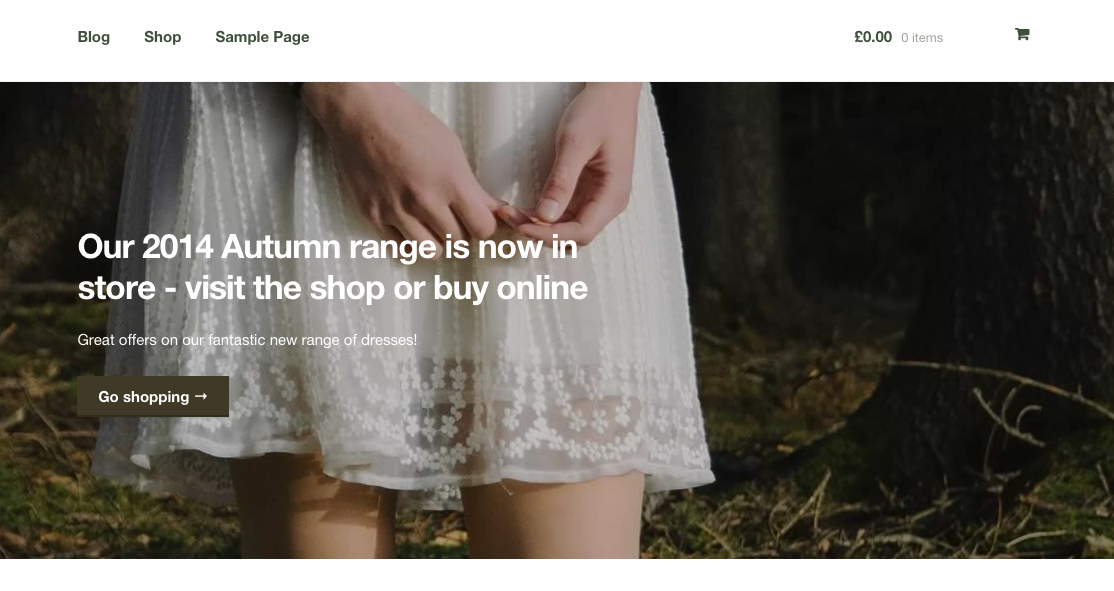 ---
Looking ahead to upcoming extensions
In addition to these three initial extensions, we have a couple others in the works that we hope to have available soon. The first is a Checkout Customiser extension that will provide you with different layout options for the checkout (such as stacking shipping/billing addresses and separating address input and payment details into two separate steps). Secondly we're excited to finally be working on a Mega Menu extension for Storefront which is a feature our users have requested for a very long time.
---
We can't wait to see what you get up to with Storefront! We've prepared a bunch of documentation to help get you started and if you'd like to contribute to the project you can do so over on GitHub.
Over and out.