We take customer feedback very seriously here at WooThemes, and we've been paying close attention to the features you've requested for Sensei on our ideas board.
Hot on the heels of our free Certificates and Modules extensions for Sensei, we're happy to bring you Sensei version 1.5, which offers a whole bunch of improvements for your online learning websites.
Grading Quizzes just got Easier
Many of you pointed out that the old grading dashboard was quite cumbersome and it was difficult to find quizzes which needed grading.
We've completely rebuilt this so now, when you open the grading dashboard, you'll immediately see a list of all submitted quizzes waiting to be graded.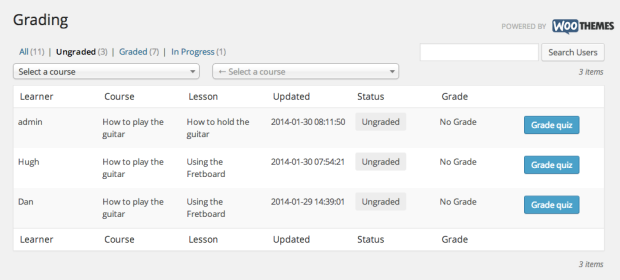 You can still filter by lesson (and also now by user) as well as being able to view all submitted quizzes, or just those that are graded, ungraded, or in progress.
Quiz Mastery
We've made some big improvements to the quiz editing panel in version 1.5.
Upload Your Assignments
We've introduced a new 'File Upload' question type, so that your learners can upload their assignments, if simple text input won't suffice. This is perfect for assignments such as art courses, where students have to upload an image of their artwork to be graded.

Question Images
You can now add an image (or any other media supported in WordPress) to your quiz questions, so you can ask questions based on images, audio or video, rather than just text.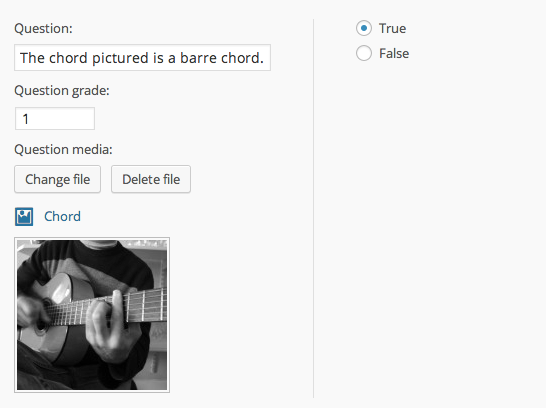 Order all the things
With the new quiz edit panel, you can drag and drop to reorder your questions, or set the order to randomise (previously this was a site-wide setting).
By popular demand, you can now also set a manual order (again drag and drop) for the answers in a multiple choice question, where previously the order was always random. So now you can set questions where the answer is "all of the above" as shown:
Question Bank
Many of you have asked for the ability to create a 'bank' of questions for a quiz, and then display a random selection of those questions to each learner.
Now you can do just that. For example, you could create 20 questions, and set the quiz to display 5 of them at random. Each student who takes the quiz will be given a different set of 5 questions, from the 20 available.
All this and more
Some other improvements in this release:
Lesson tags
Duplicate courses and lessons/quizzes with a single click
Filter by course on the 'All Lessons' screen
Add more than 5 answers to multiple choice questions
Improvements to the login form on the "My Courses" screen
Lots of code refactoring and 'under the hood' improvements
Check out the changelog for full details of all the new features and enhancements.
We're really excited about these new features, and we look forward to hearing how you use them to make your courses even more awesome!
Purchase Sensei Today
Discount Coupon
Get Sensei for just $99, until 11th March 2014. Use the SENSEI15 coupon code at checkout for a $30 discount on any Sensei license.