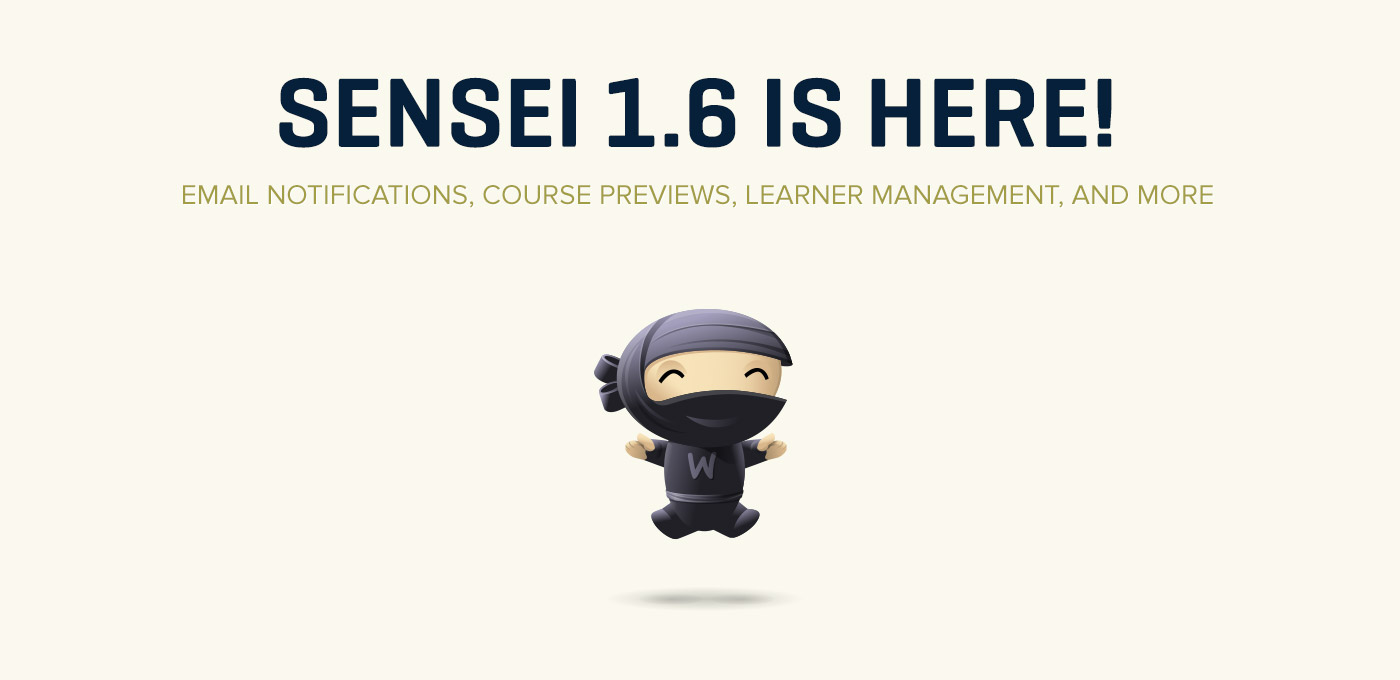 Today we are delighted to announce the launch of Sensei version 1.6, with some of the most exciting Sensei features yet!
Question Bank
Version 1.6 of Sensei takes the question bank feature (implemented in version 1.5) to the next level, including several advanced quiz construction facilities.
The new question bank can be populated with your categorised questions, independently of quizzes, so you can create a quiz containing random selections of questions from any category, and your questions can be reused in any number of quizzes.

We look forward to hearing how you make use of this notable advancement in your online courses.
Email Notifications
You can now have Sensei email you whenever a learner starts or completes a course, or when they submit a quiz for grading.
And learners can get emails when they complete a quiz or a course, and when a quiz they have submitted has been graded.
Course Previews
Give prospective learners a sample of what they can expect from your course, by allowing them to view certain lessons before purchasing.

Once they see the quality of your lesson content, they'll be far more likely to take the plunge and sign up for the full course.
Learner Management
Sensei version 1.6 allows you to manually add/remove learners to/from courses and lessons, giving you complete control over who is taking your courses.
Teacher Role
We've added a teacher role, which you can assign to any user, enabling them to grade quizzes, view course analysis, and manage learners, without having to give them admin access.
Private Messaging
Learners and teachers can now interact directly with the new private messaging system, making it easy for students to ask you questions about your lesson content.
Custom Menu Items
Sensei menu items can now be added and ordered individually, all from within the WordPress menu editor.
A note on updating
When updating to Sensei 1.6, any Sensei menu items you had previously enabled in the settings will be removed, so you'll need to go to Appearance > Menus and add those menu items again from the new Sensei menu panel.
In addition to all of the above, there is also an improved quiz settings panel, simple drag & drop ordering of lessons and courses, and an option to display the full course content, instead of an excerpt, to unregistered users.
See the changelog for a list of all the new features, and check out our improved and updated Sensei documentation for details of how to use them all.
Extensions
In case you missed it earlier this week, we also released three free Sensei extensions, and the Sensei Modules extension has been given a much needed makeover in the latest version, so make sure your extensions are all updated too.
We hope you're as excited about all these new features as we are, and we look forward to hearing how you are using them in your online courses.
Purchase Sensei Today