When setting up a website for your business, a personal blog or to help a friend to create an online presence, the most important aspect of your website is that it is memorable. Captivating content that remains on topic as well as, of course, an attractive design that is easy to navigate.
Today's release is the set to be the most memorable theme release yet. Everyone, say a big South African howzit to Memorable, our latest WordPress theme.
Introducing Memorable
Our main focus with Memorable is to craft a design that has a detailed and customisable layout, with attention to the finer details of the design. Lovingly crafted, Memorable includes several areas for showcasing your important content in a clear and intuitive manner.
Designed by Chris Rowe, Memorable can be shaped and crafted as desired with a few small tweaks in a child theme, or using the in-built theme styling options.
With the store functionality powered by WooCommerce, the entire WooCommerce extensions library is also at your disposal to take your online store to the next level.
Informative Header & Footer Sections
Included with Memorable are informative and easily-customised header and footer sections. Display an introductory call-to-action or a featured product in your header, along with a detailed footer section showcasing your team, recent blog posts or any widgetized content available.
Not just for businesses
While Memorable is primarily a business-focussed theme, the design can be used for anything from a standard blog-style layout to a website showcasing your company's signature product. With styling support for our Features and Testimonials plugins, as well as a "Business" page template, your own design is just a few small tweaks away in the "Theme Options" section.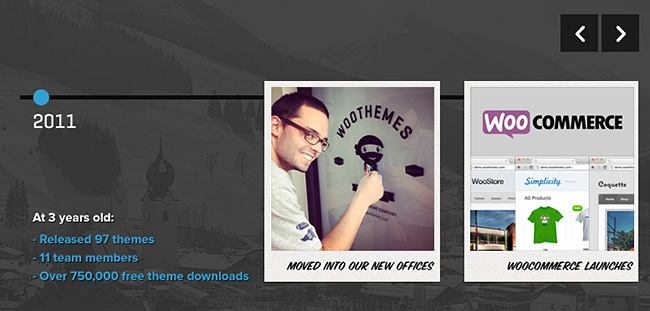 To illustrate this, we've set up an alternate demo website to showcase Memorable and to celebrate our 5th birthday at the same time.
Create quick and simple alternate styles
Customising your copy of "Memorable" to meet your desires is important to us. With this in mind, no expense has been spared to ensure ease of use and customisation of the theme with a few clicks and your custom eye-catching imagery.
View our custom demo we put together celebrating our 5 year birthday. Using the header theme options, a custom background image and a creative use of the featured slider you really can transform Memorable.
Alternate colour styles have also been included, to quickly provide a unique feel on your website. These alternate styles showcase it's flexibility with each CSS file being only a few lines of extra styling.