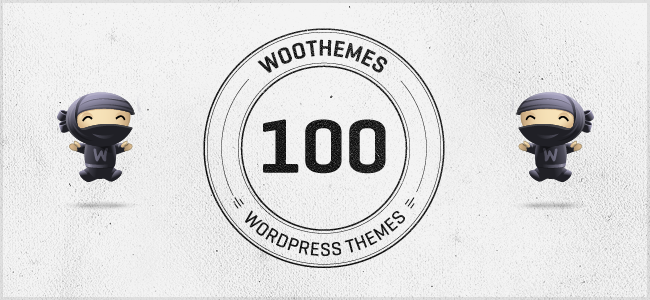 An incredible amount has happened since we launched in July 2008, as we mentioned in our 3rd birthday blog post. Today marks another monumental milestone we are hugely proud about – our 100th theme release.
Introducing Swatch
Swatch is a FREE, yes you read that correctly, business theme with a portfolio module that allows its usage to be completely diverse. This is a big move for us to release a fully-fledged Business theme for free, considering that we've generally preferred to tone down the functionality for our other free themes.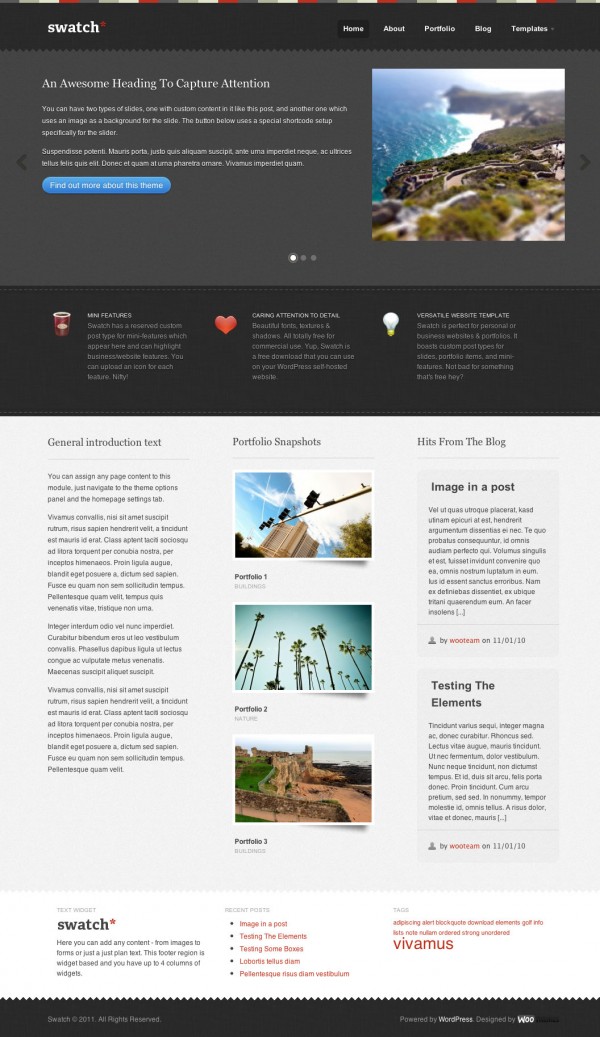 Swatch was designed and submitted to us in March by the talented UK web designer Oliver Long, with WooThemes having every intention to release this theme as a commercial product. It's packed full of the usual features you've come to expect from our commercial themes, and built on the WooFramework that powers all our themes.
Swatch comes with custom post types for the featured homepage slider and mini-features to highlight noteworthy features about your business, service or website, as well as a custom post type reserved for the portfolio.
The homepage boasts up to 7 widgetized regions where you can place a heap of widgets, including 8 custom woo widgets, or just set up your theme options correctly and the homepage will use the modules presented on our demo.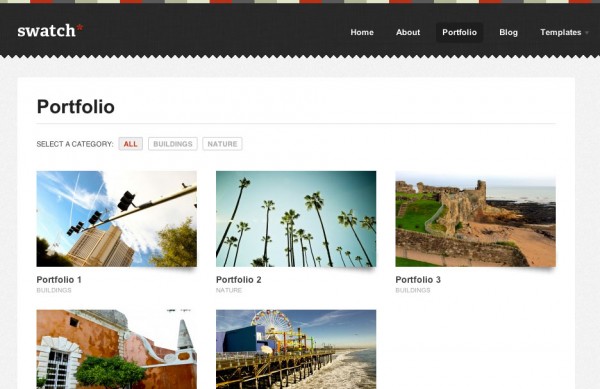 We encourage you to browse the demo to discover all the free goodness available to you, as well as our theme listing page.
Thank you, thank you, thank you to our wonderful community of supportive WooTheme users. We hope this theme results in growing our community even further. We have LOADS in store over the next month so appreciate our existing club member's patience in releasing our next impressive commercial theme.
Celebration Time: 10 Themes for $100
In addition to celebrating our 100th theme release in some free style, we're also extending the awesomeness beyond Swatch… For the next 48 hours, you can purchase 10 Developer Package Themes for only $100.
This is how you do it…
Select the Developer Package for any theme you'd like to purchase and go to the checkout page.
Complete the form and use the coupon code "100themes".
Once you've validated that coupon, you'll see the price decrease from $150 to $100.
Complete the purchase and go to your user dashboard, where you'll see that you have an additional 9 bonus credits which you can redeem for 9 other Developer Package themes. (Note: The bonus credits are only valid for the 100 themes that we have available today and not for future theme releases.)
Spiffy, right? You should totally grab this promotion for yourself, but you should also be a good friend and tell all your friends about this! 🙂