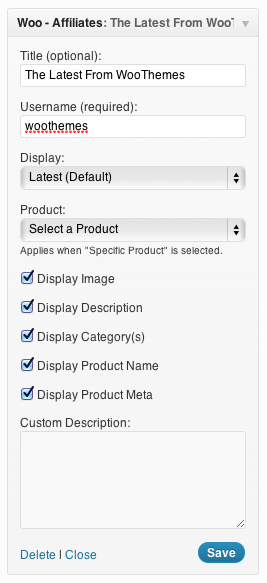 Over the past few weeks we've been brainstorming ways of helping our affiliates advertise our themes in an efficient, professional manner. Previously, you've been limited to advertising banners and text links that you can manually place anywhere in blog posts, text/adsense widgets, sidebars and footers. Today we launch the "WooAffiliates" plugin that takes this a step further.
Available from the WordPress plugin repository you can now download and activate this light plugin that then enables a "WooAffiliates" widget. This widget comes with numerous simple display controls and a place to add your WooThemes username that automagically recognizes you as a WooThemes affiliate. Place this widget in a widgetized region and voila, you can proudly market WooThemes and start making money from sales referred from your site.
With version 1 of the plugin you can display a specific theme, the most popular in the past 30 days, a random theme, or the latest theme. Place this widget more than once if you like to highlight different themes in different areas of your site.
The code wranglers Matty and Warren have loads of plans to make this plugin/widget even more powerful and useful as a sales tool for you, all the while giving you complete control as to what and how you want to display it – subtly or more prominently.
To track sales made you just need to login to your WooThemes dashboard and navigate to the affiliates page. Find out more about our affiliate program here.
Download the WooAffiliates plugin
Find out more about the plugin on it's WordPress plugin repository page.