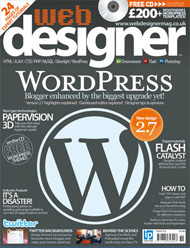 That's right Issue 155 of Web Designer Magazine features us yet again, but this time we have a more prominent feature with a full page dedicated to a Q & A with Adii and a look at the WooThemes headquarters in Cape Town, South Africa.
Issue 155 focuses on WordPress's impressive and biggest upgrade to date – version 2.7. The magazine features explanations of this version's highlights, the dashboard editor explained and designer tips and opinions.
We've teamed up with Web Designer Magazine and launched three of our popular WooTheme wordpress templates for free on their promotional CD.
That's about £200's worth of WooThemes goodness!
Which themes are available on the CD you may ask?
One from each of us. Adii's Geometric business/portfolio theme, Magnus's Freshfolio portfolio theme and my magazine theme – Foreword Thinking.
Head on over to your local UK newspaper shop to get your copy or buy this issue online.