Today marks an important milestone for our team: WooCommerce finally has its own home.
We've moved our site over from WooThemes.com to WooCommerce.com to provide focus for our team, clarity for our customers and to reflect what has become Woo's core business.
Read on to learn some of the history behind WooCommerce and what motivated this change in our site.
Conceiving Woo
In March 2008, sitting in my London home office — and by that I mean a desk in a small bedroom — I fondly remember pushing pixels around in Photoshop attempting to design a logo for a company Adii, Magnus and myself had just named: "WooThemes," a play on "Woot" and "WordPress."
"Woo" text placed in a vector speech bubble. Using the "Apple Casual" font with a back to front "W" character. The symbol looked unique and bold, and with a not-so-subtle gradient we ticked the Web 2.0 stereotype.
That was the start of our adventure and the brand that has carried us on a significant journey. Over time, "Woo" turned out to be the acronym for "winning others over," a slogan we rally behind.
Over time, "Woo" became an acronym for "winning others over," a slogan we rally behind.
A seismic shift in focus
Themes was an obvious suffix to Woo. It's what we proudly built, sold and serviced.
We loved our Woo brand, so we tagged the name onto a lot of our product releases. WooFramework. WooSidebars. WooDojo. In 2011, when our eCommerce plugin launched we had no hesitation in calling it WooCommerce.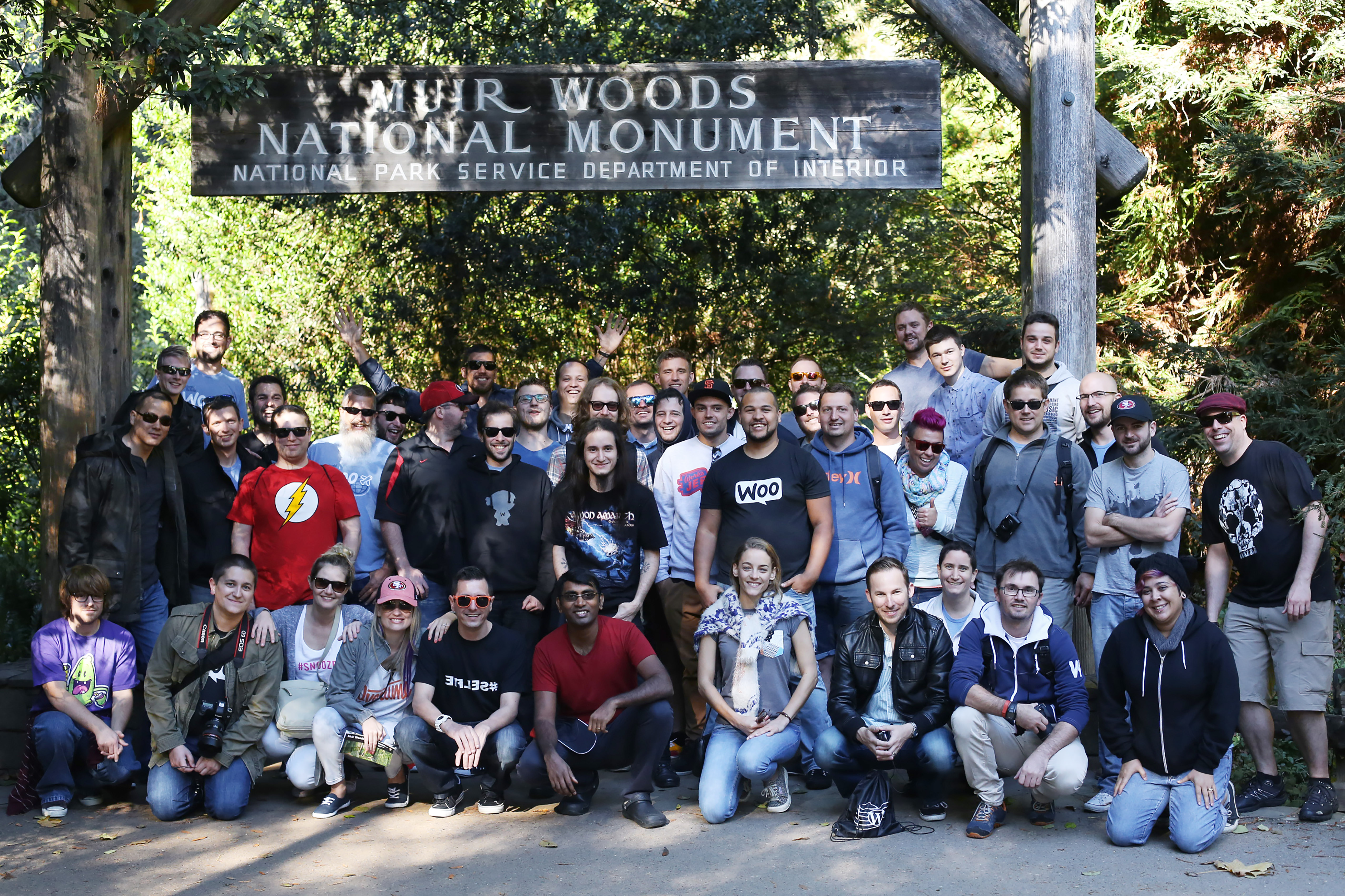 Long story short, WooCommerce exploded, and our focus largely shifted. Ever since then we've been refining, scaling, and extending WooCommerce as a platform, and growing the team that supports it. We've barely come up for air, and somewhere along the way the line between WooThemes as a business and WooCommerce as a product, got a little blurry. 
Moving to a better-fitting home
WooCommerce is an eCommerce solution for WordPress. Built by the Automattic team. Find out more at WooThemes.com
That's a confusing selling proposition, if ever there was one. We knew it was something that needed attention — especially for new customers who haven't tracked our progress and seen us evolve.
As such, today the rehousing of WooCommerce has finally taken place, something we've longed to spend time on and get just right.
With our bigger team we've found time to flip the switch on WooCommerce.com. A huge amount of conversation across all of our teams has taken place behind the scenes over the past months. The discussion and input has made it clear it's that we're hugely proud of our brand, resulting in a host of different ideas as to what was best for all our customers, including those who have been with us from the very start.
What to expect from Woo moving forward
eCommerce has been driving our business for years. Continuing to lead the charge in changing the way people do business online is what makes us tick. We remain committed as ever to open source, the open web and being a business that enables other businesses to thrive.
Over the next months, we will iterate fast on new user experience both within the WooCommerce platform and on this site. We'll continue to hire and train ninjas to improve customer experience and ticket response times. Our elevator pitch will be perfected and we won't leave quite as many people scratching their heads.
On another note, WooCommerce Connect is also entering Alpha 2, watch that space.
Everything has changed and yet nothing has changed. Our quest to win others over continues.
A few FAQs to finish things off
So are you not making themes anymore?
Storefront and Canvas remain our focus and enable our customers to sell more beautifully. All our themes moved over to WooCommerce.com and nothing changes for our customers.
What happens to WooThemes.com?

It re-directs to WooCommerce.com. We have a longer term vision to perform a heart transplant and build a new WooThemes.com — catering for all our Automattic themes — powered by our talented theme wranglers at Automattic. We didn't want to delay any further on WooCommerce.com though.
It's nearly your birthday. Any plans?

Well, a few of our loyal, long-serving customers might be aware the day is around the corner and be asking… For the second week of July our whole team will be in Berlin on WooTrip. Celebrating the last year big year at Automattic, and planning for the future.

Our birthday, July 9th, actually falls on a Saturday this year. We therefore plan to delay our beloved birthday promotion to the end of July. Whilst your business is unaffected by an IRL meeting, we want to ensure we can provide our best support through the busy sale period.
Please have patience with us and keep an eye on your inbox to find out first about commencement of our annual birthday sale.
Thanks for reading and we look forward to hearing your comments and feedback below.