The number seven is widely considered to be both lucky and significant. You win big in casinos if you see 7s on a slot machine, or get three of them while playing blackjack. There's Japanese mythology that refers to seven lucky gods, and in Christian tradition it's the perfect number.
Perhaps this explains why we're feeling so lucky at the moment: WooCommerce has surpassed the 7 million download mark!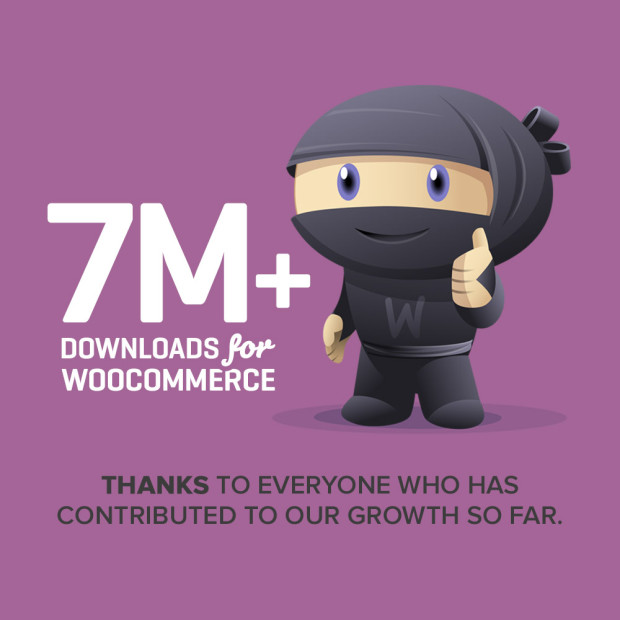 It seems like just yesterday that the team was celebrating reaching the 6 million download mark. Actually, it was just last August that we hit 4 million. And it was only in June of 2013 (less than two years ago) that WooCommerce unlocked the achievement for 1 million downloads.
The rate of growth we've seen has been absolutely phenomenal. It initially took 16 months for WooCommerce to accumulate its first 500,000 downloads. This time around, it only took nine months to accumulate 3 million.
Whoa.
How many sites use WooCommerce?
Of course downloads don't always correlate to installs, so we thought we'd dig a little deeper and find out how many eCommerce stores are actually currently powered by WooCommerce. We did this using BuiltWith, which is a tool that allows you to find websites running a specific software or technology.
First, take a look at this chart showing the distribution of the different eCommerce technologies out there:
According to this, WooCommerce is powering somewhere close to 30% of all online stores around the world. That's pretty awesome, right?!
So now let's see what BuiltWith has to say about the actual number of sites:
Right now, BuiltWith knows of around 688,000 websites running on WooCommerce. This data hasn't been updated in six months, however, so it's likely that the current number is much higher.
In fact, if you take a look at the WooCommerce page in the WordPress.org plugin directory, it appears that we've topped 1 million active installs!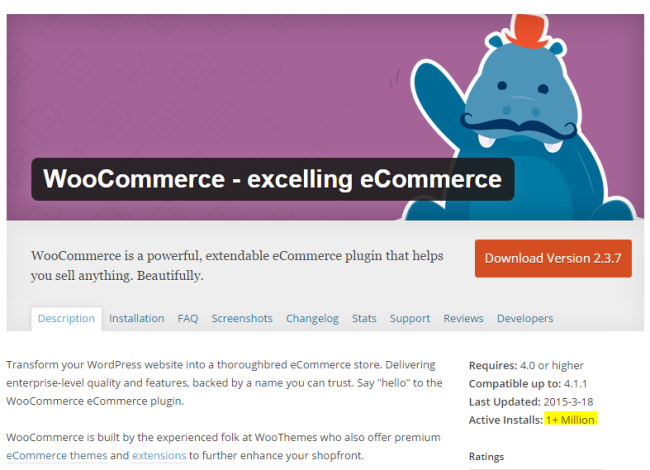 What's next?
The remainder of this year is set to be exciting indeed. By our estimations, we'll reach 10 million downloads around the middle of November. Coincidentally, this is also when we will be hosting the second conference dedicated to all things WooCommerce, this time in Austin, Texas. Watch the video of WooCommerce Conference 2014 if you missed it, and stay tuned for information soon!
We're also working hard on WooCommerce 2.4, which, as rumors have it, will be very "helpful" to users one and all.
Thanks for being with us on the journey to our first lucky seven million installs, and here's to the next big milestone!