UPDATE
:
WordPress 5.0
 will be released on Thursday, December 6. Remember: it is important that you update to the latest version of WooCommerce
before
updating to WordPress 5.0
WordPress 5.0 will introduce the new block editor to WordPress. Through a complete revamping and modernization of the WordPress content-editing experience, content will be created as a series of blocks in a brand new interface.
For WooCommerce store owners and developers, it's the start of an exciting process that will make large parts of the admin interface easier-to-use, and more dynamic – including customization and management of posts and products.
The transition to block-based editing will take place incrementally, and WordPress 5.0 has been delayed, but here is what you can look out for when it drops:
New Block Editor
One of the strongest reasons to use WooCommerce over other eCommerce platforms is because you also get access to WordPress' content capabilities. You're able to write and publish all sorts of promotional content and blog posts for your shop in the same place you manage your products and orders. This is a powerful integration, and it will only be improved by the block editor.
With it, you can create highly-customized landing pages, blog posts, and articles with full control over each individual section, with many different types of sections available.
With thousands of developers in the WordPress plugin ecosystem, it is only a matter of time before all sorts of useful new blocks are available for your content: from blocks for newsletter signups and calls-to-action, to blocks for image galleries and testimonials, to the WooCommerce-specific blocks we're developing.
To test WordPress 5.0 now, you'll need to install the WordPress Beta Tester plugin or download the release candidate and test it on a staging site.
Learn more about the block editor and try it out here.
WooCommerce Blocks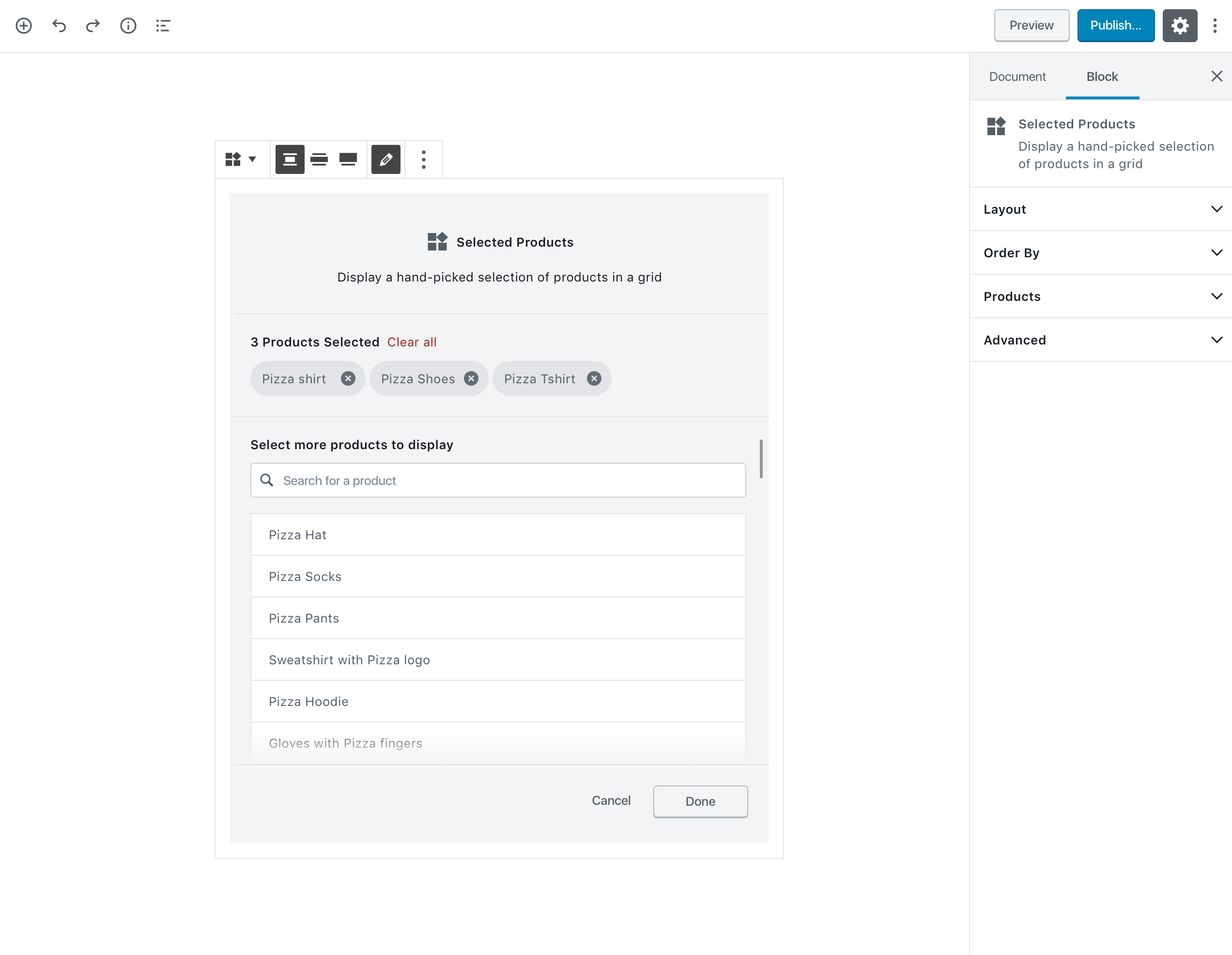 WooCommerce's initial block for the WordPress 5.0 launch is the Products Block. Using this block, you can feature your products in posts and pages. Products can be filtered and sorted by all sorts of criteria, and you can also adjust display features like the number of rows or columns.
It's a much more powerful, visual, and intuitive way of featuring products in content compared to previous solutions such as shortcodes or toolbar buttons in the classic TinyMCE editor.
The Products Block is currently a feature plugin while we refine and polish the user experience to make it as natural and intuitive to use as possible. Once the experience is dialed-in, we will be merging it into the WooCommerce core plugin, where it will be available to all WooCommerce stores.
Read more about the Products Block here – or if you'd like to start using it now: get it here.
Storefront
We've been hard at work getting our Storefront theme ready for WordPress 5.0. The block editor introduces a lot of new blocks and features of which themes can take advantage. Some of these include full-width cover images, parallax images with text overlay, all sorts of different embedded content blocks, and column support for up to six columns.
Storefront 2.4 and higher supports all of the new blocks introduced in WP 5.0. The beta is currently available – please do help us test! You can expect 2.4 to be released before 5.0.
Twenty Nineteen Theme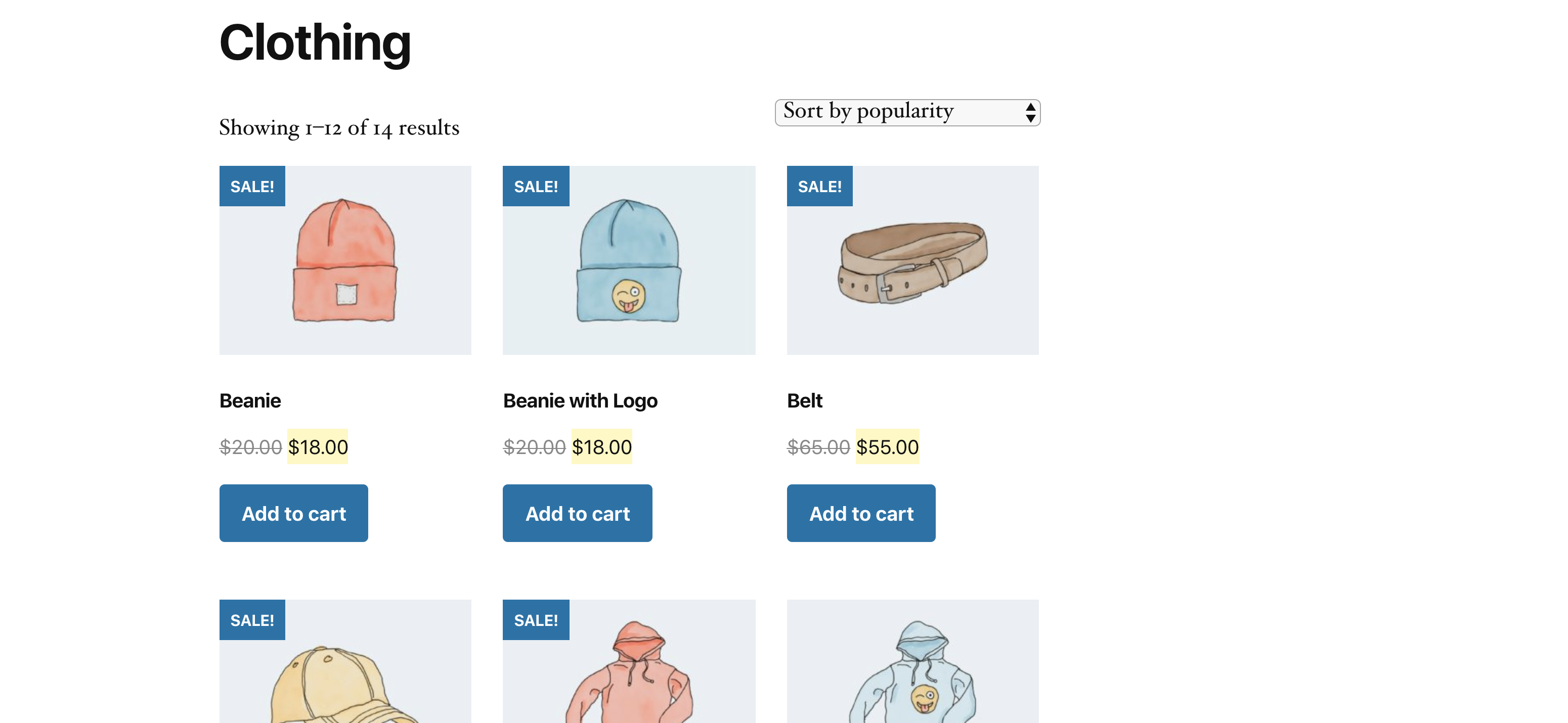 In addition to the new editor, WordPress 5.0 introduces a new default theme: Twenty Nineteen. This theme is designed from the ground up to be super-flexible, taking full advantage of the block editor.
WooCommerce 3.5.2 and higher supports Twenty Nineteen, and you can use this new theme as the base for all sorts of different shops.
Block Editor Phase Two and WooCommerce
Design prototype showing how editing a product might look in the future.
The block editor's next phase will introduce the concept of templates. The specific implementation of how templates will function is still in the works, but this will enable WooCommerce to modernize and improve the product editing experience even further.
Instead of a bunch of meta boxes scattered about the product admin interface, you could soon be editing products using a visual editor, where you can see and customize in great detail how the product will appear in the shop.
We Look Forward To Meeting The Block Editor!
There have been a couple of necessary delays to WordPress 5.0 being released, but we're looking forward to all it will bring to eCommerce on WordPress in the immediate and longer term.
Stay tuned throughout 2019 for more info about phase two, and what it means for WooCommerce.