TL;DR:
Woo Subscriptions
version 2.0 has arrived! You can upgrade via your WordPress dashboard or download it from your My Account dashboard, but first, be sure to read and follow the
upgrade instructions
. Enjoy!
Want to sell different subscription products in the same transaction? Or change the expiration date for an existing subscription? Or perhaps you want customers to be able to view the full details of their subscription, including taxes, shipping method and shipping address?
You can now do all of this, and much more, with the release of Woo Subscriptions 2.0!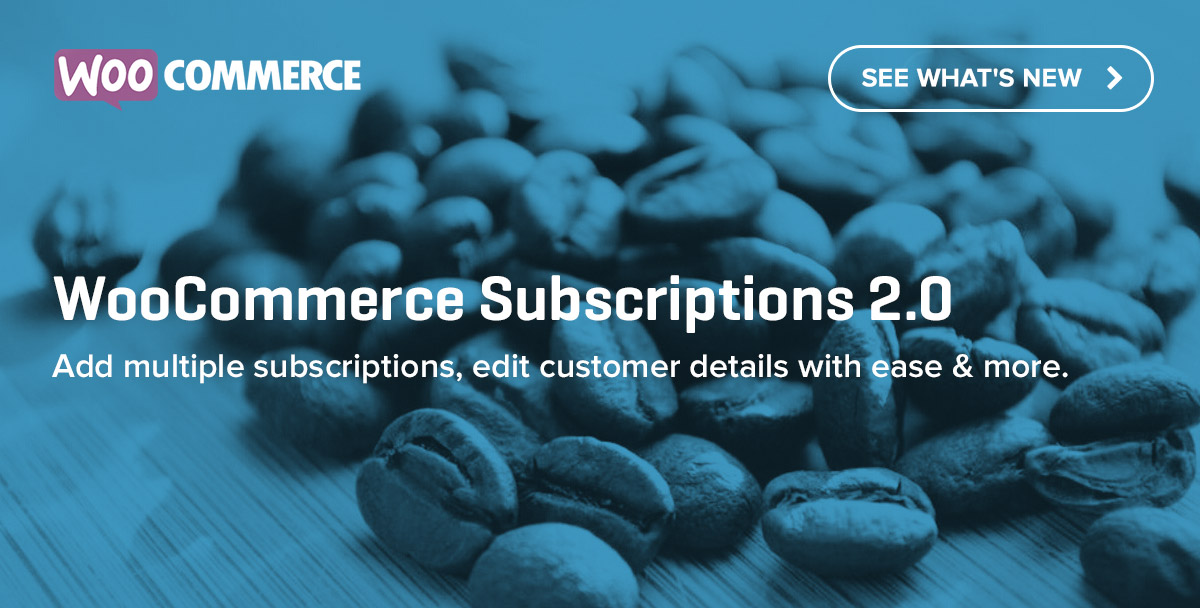 Woo Subscriptions 2.0 reinvents one of our most popular extensions to take into account three years of feedback from store owners. As well as introducing new features, version 2.0 improves a number of existing features and changes the internals, making it easier to customise the extension and scale it to meet the needs of your growing customer base.
Here's a look at some of the best new additions in Woo Subscriptions 2.0.
Multiple subscriptions
Prior to version 2.0, the customer needed to repeat the entire checkout process to subscribe to different products. No more!
Your customers can now purchase any number of different subscription products in the same transaction.
Better yet, Subscriptions intelligently groups products based on their billing schedule. This reduces payment gateway fees by processing the sign-up and renewal of multiple products in one transaction. It also streamlines fulfillment by creating a single renewal order instead of multiple orders for what might be a single shipment.
Learn all about the way this feature works in the new Guide to Multiple Subscriptions.
New add/edit subscription screen
Sometimes, a customer will phone in an order and you'll need to manually add a subscription for them. Other times, you might need to change the terms for an existing subscription when providing a discount or increasing the length of a free trial.
With Subscriptions 1.5, the Edit Order screen was where you could add or modify a subscription. But this was counterintuitive. We knew we could do better.
That's why Woo Subscriptions 2.0 introduces a new administration screen exclusively designed for adding and modifying subscription information.
But that doesn't mean you need to learn how to use yet another interface. The new screen is based on the WooCommerce Edit Order screen. So if you've ever added or modified an order, you already know how to add or modify a subscription.
Now that Subscriptions has a specially designed interface for modifying a subscription, it also provides you with more power over a subscription's details.
You can now add and modify all of a subscription's details, including fields that previously could not be changed or added, including:
trial end dates
expiration dates
payment methods
shipping methods
line items
Learn more about the new WooCommerce > Edit Subscription interface in the Guide to Add or Edit a Subscription.
New page for customers to view subscription information
Woo Subscriptions 2.0 also makes it easier for your customers to view and manage their own subscriptions.
Instead of having to contact you, the store owner, to ask about details, like the shipping address for their next order, they can now view that information on a special page under their My Account section.
Similar to WooCommerce's View Order page, the new View Subscription page comprehensively displays the information about a subscription. Customers will see their billing schedule, payment method, address(es), products, fees, taxes, shipping costs, and other associated line items.
Learn more about the new View Subscription page.
A new way to PayPal
PayPal Standard has always been bundled with WooCommerce and Subscriptions. However, out of the box, the PayPal Standard payment method can't support all of Subscriptions' new features, like multiple subscriptions.
That's why, in Subscriptions 2.0, we're introducing an entirely new way to work with PayPal: Reference Transactions.
This new system makes it possible to sell multiple subscriptions, change recurring totals and billing schedules, and allows your customers to switch the subscriptions they've purchased with PayPal. None of this is possible with PayPal Standard out of the box.
To take full advantage of Subscriptions 2.0's new features, PayPal must enable Reference Transactions support on your account. But don't worry: if you use PayPal Standard and PayPal takes a while to enable Reference Transactions on your account, you can continue to sell until you receive approval. You just won't have access to the system's new features until then.
And much more
Woo Subscriptions 2.0 also introduces:
You can see a full list of features by reading through the docs.
A peek under the hood for developers
Woo Subscriptions 2.0 introduces a new architecture built on the WooCommerce Custom Order Types API. This fundamentally changes how subscription data is stored and accessed.
This was necessary to make it possible to purchase multiple subscriptions, but it also makes it much easier to write custom code on top of Subscriptions.
New subscription order type
By making a subscription an order type in WooCommerce, it is also now a custom post type. This means you'll find subscription data in WordPress's familiar posts, post meta tables, and WooCommerce's order items and order item meta tables. It also makes it possible to use all the familiar WordPress functions to query or modify subscription data.
The best part: because Subscriptions now uses this familiar database schema, subscription data is as scalable as WordPress and WooCommerce core post types, like posts and orders.
New subscription object
As a custom order type, a subscription is also now instantiated as an object at the application level. The cumbersome APIs for retrieving or modifying a subscription's data are gone! Instead, you can operate on a subscription with the new WC_Subscription class.
Because the WC_Subscription class extends WC_Order, you can use its familiar methods for working with a subscription, like $subscription->update_status() or $subscription->get_total().
There's also a few new methods specifically for subscription data, like $subscription->update_dates() and $subscription->get_related_orders().
REST API endpoints
We didn't just improve interfaces for humans, we also improved them for computers. Applications can now create, read, update or delete subscriptions in a WooCommerce store via RESTful API endpoints.
Want to list all the subscriptions on a site? Get /wc-api/v2/subscriptions/. Want the details of a specific subscription? Get /wc-api/v2/subscriptions/<id>/.
Upgrade instructions
Version 2.0 is a major update to the Woo Subscriptions extension. Before updating, please:
update all other WooCommerce extensions
create a backup of your database and site's files
test all plugins, custom code, and payment gateways with version 2.0 on a staging site if possible
To help ensure you have a smooth upgrade experience, please follow the instructions in the Woo Subscriptions Upgrade Guide.
Try Subscriptions 2.0 now, and stay tuned for even more
That's all for now. But it's certainly not the end of the story for Woo Subscriptions.
Now that we've finished this major redevelopment, we're already looking at what to bring you with version 2.1 and beyond. In the future, you can expect better reporting on recurring revenue, a new failed payment retry system, a way for customers to gift subscriptions to someone else, as well as a mini-extension allowing customers to subscribe to almost any product, not just subscription products.
Stay tuned for updates on these new features. But in the meantime, if there's a particular feature or update you'd like to see, submit an idea on our ideas board.
Have any thoughts or questions about Woo Subscriptions 2.0? Let us know in the comments — we're always keen to hear from you.