It's been an incredible first year for WooCommerce. We've already accumulated close to 350,000 downloads, have 100+ extensions and 24 official themes, as well as boasting loads more huge accolades.
To celebrate we've put together an animated info-graphic (designed by the awesome Studio Muti) with all the interesting stats, which we strongly recommend you check out. We've also discounted all our themes and extensions for the week in celebration. Get shopping for themes and extensions now (the discounts have already been applied on checkout).
View the WooCommerce infographic
Offer valid until midnight (UTC time) on Friday, September 28th 2012.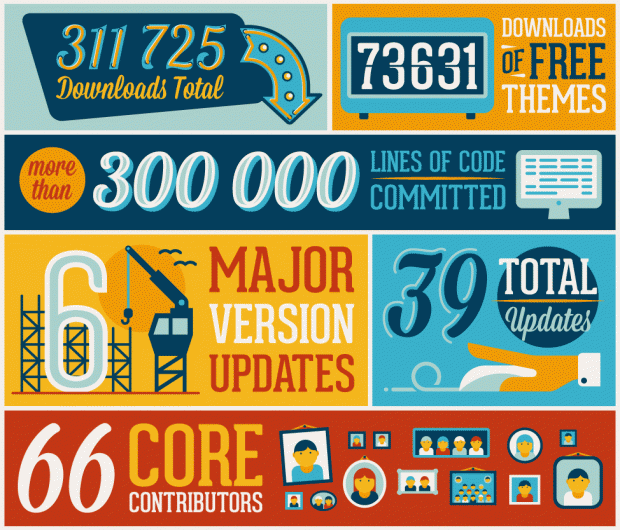 Downtime this weekend
Behind the scenes the WooCrew have been hugely busy working on a top secret project, re-building WooThemes from the ground up. We'll finally be moving our user management and e-commerce system to WooCommerce.
This will hopefully assure you that WooCommerce is the ideal tool even for a company with a userbase of nearly 300,000 users!
Expect downtime this weekend as we move to the new system and push the re-design live. That's right, we've re-designed the entire site!
Important information about extension licensing
With the new system we push live we'll also be introducing a licensing system for WooCommerce extensions. The extension will function perfectly without a license, but you'll need to buy extension license keys for each site you use the extension on should you want support and future updates for that site. This is a carefully planned strategy to accommodate our users the best we can in terms of premium support and it's future scaling.
Importantly, all users who've purchased extensions before next week's launch will still be allowed to use their extensions on unlimited sites. We are grandfathering in all existing users, and you'll be getting license keys from your user dashboard.
Hopefully that's enough reasons to take advantage of our birthday promotion!
We will be informing all users of the promotion, licensing and downtime via email so no one is left in the dark.