WooFramework, the engine powering all of our WordPress themes, has evolved and grown alongside WooThemes since the business first began, back in 2008. Over the years we've adjusted the look and feel, added and removed features and built up a stable base of core functionality available in any WordPress theme purchased from WooThemes.
Today marks the next evolution of the WooFramework: version 6.0.
Introducing the welcome screen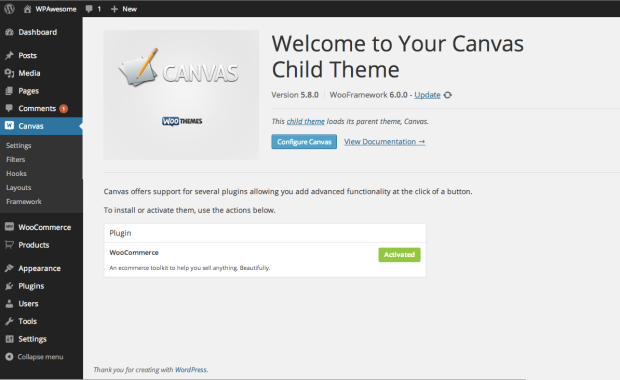 WooFramework 6 aims to ensure a pleasant experience right from the very first click. Once activated, you are presented with a new welcome screen, welcoming you to your newly activated theme of choice. This screen explains a bit of information about the theme, as well as provides the opportunity to install any plugins the theme specifically supports, without leaving the WordPress environment.
If you're offering a child theme to your clients, this screen will shape itself with your child theme's name, screenshot and description as well, passing on the experience to your client.
Now with more WordPress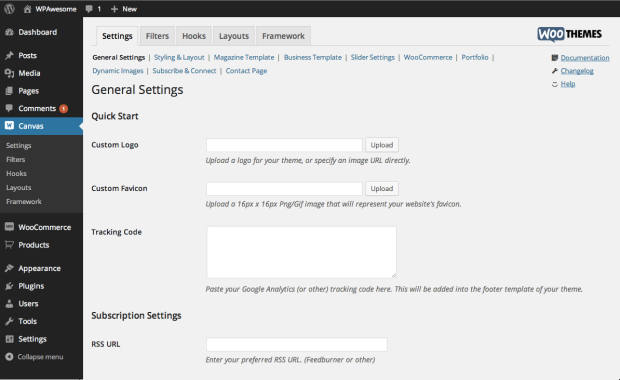 The most noticeable update within WooFramework 6 is a full overhaul of the cosmetics of the system. With a fully rewritten core infrastructure, we now make full use of the WordPress settings screens, to ensure that the user experience of the WooFramework is friendly and familiar to any WordPress user.
The meta boxes (custom fields) on each post type now integrate seamlessly within the WordPress interface as well.
Theme Options becomes Settings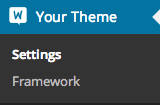 Along with the cosmetic overhaul, one of the biggest updates we have made overall is the messaging within the system. In accordance with our core philosophy of how we approach our products (decisions over options), the WooFramework's "Theme Options" screen has been renamed to "Settings". This ensures a reinforcement of the ideal that themes should work 100% correctly out of the box and should require no setup at all (leaving the "Settings" screen purely for configuration).
A new "Framework" screen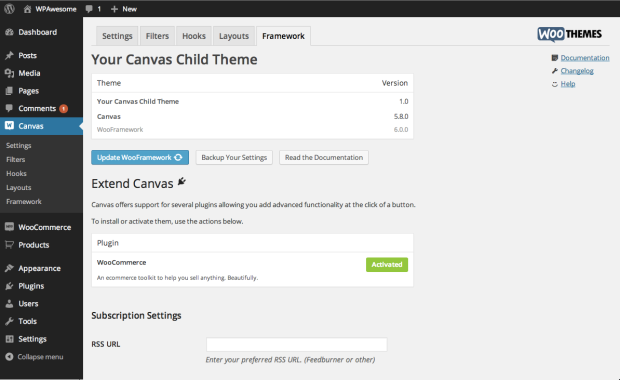 Through our customer feedback, we noticed that the "Framework Settings", "Backup Settings" and "Update Framework" screens are not screens used on a daily basis by you, our customers. We therefore decided to move these unused items out of your way, under a new "Framework" screen.
This screen provides information about your current theme setup, as well as the opportunity to directly install any plugins supported by the theme which you may not have installed via the welcome screen.
You can also backup your settings and update your copy of WooFramework directly from this screen.
Intelligent Breadcrumbs
Breadcrumbs are a key navigation element in helping your visitors to step through the various screens of your website. They can also assist in offering entry points to other areas of your website if, for example, your visitor arrives directly on a product listing and wants to see more of the same kind of product.
The breadcrumbs feature in the WooFramework is now more intelligent than ever! The terms assigned to your single entries (be they post categories or product categories) are now automatically displayed in the breadcrumb, no code required.
If you'd prefer a different taxonomy is used for a specific post type, there is a small filter to make this happen.
Under the hood Updates
As this is a big version update, we've made quite a few updates under the hood within the WooFramework as well (rewritten areas to make extending and development easier, added a new infrastructure and refined areas which required a few tweaks).
For a more detailed look at these updates, visit our theme development blog.
When can I upgrade?
The release date for WooFramework version 6 is the 3rd of July 2014.
As this is a large update, we advise testing on a staging or development environment before applying this to your live website.
While we've had several months of internal and external beta testing, we encourage you to treat this upgrade seriously and to not rush the process. There is no immediate need to update, other than to be on the latest version.
Now with more you!
The overriding aim of WooFramework 6 is that of self help. We want to ensure you and your customers have a pleasant experience when using the WooFramework, and to ensure that, whether a developer, designer or purely a lover of WordPress products, your experience is comfortable and you are made to feel powerful.
Enjoy this update, everyone!