I was lying on my bed, staring into Slack. It was one of those stinking hot Bangkok nights, where all the air conditioning, fans and ice packs in the world couldn't save me. Slack was there though. My mind was occupied not by the heat, but by a conversation I was having with a fellow Woo ninja, Joel.
For those of you who don't know, Joel is our head of business development here at WooThemes, which is a fancy way to say "the guy who makes all the big stuff happen." Joel has been living in Istanbul, Turkey for several months, making my time in Thailand seem a lot less cool. Joel was telling me about his travel plans for the year, and mentioned a possible trip to India for WordCamp Mumbai.
India! Joel! I live in Thailand! That's like, a few hours from India! Why did you not tell me earlier?!
There weren't that many exclamation marks, but I was pretty surprised and curious. After doing a bit of research into the WordCamp (10 seconds on the homepage), I applied to speak and told Joel. We were going to India!
Sven, another Woo expat in Thailand, along with Praveen, our MAI (man in India), were going to join us too. Once the flights were booked and visas sorted, there were quite a few smiley faces going around on Slack that day.
Joel and I both got accepted to speak. We were both pretty bad at getting our slides finished in time though.

But we got through it.
A week and a bit later and we were in Mumbai.
The WooTeam at #wcmumbai , this is going to be awesome. @WooThemes @bryceadams @svenhutchinson pic.twitter.com/KZr9aYqxfU

— praVeen (@spraveenitpro) March 7, 2015
The WordCamp Mumbai team did an incredible job organising the event. I don't think any of us had seen such a well-organised WordCamp before. The venue was great, speakers were engaging and the food was delicious!
It was really cool to see how a WordCamp was run in a completely different country and culture. At WordCamp San Francisco, you couldn't go 5 meters without finding a table full of coffee, but in Mumbai, you'd have to go outside to get one. It was a nice touch not being jacked up on caffeine all day for once.
On day one, I was lucky enough to speak about "The WordPress Settings Experience – Why It Sucks." Don't worry! I also said how to fix it (see my slides here).
Well done @bryceadams ! You did an amazing job delivering your first WordCamp talk. We are proud of you. #wcmumbai pic.twitter.com/dNWSuxdTaT

— Joel Bronkowski (@joelbronkowski) March 7, 2015
And then on day two, we got to see Joel talk about globalization and growing Woo to where it is today.
Time for @joelbronkowski to share the Woo story with everyone at #WCMumbai pic.twitter.com/aOid3p0lJw

— Bryce Adams (@bryceadams) March 8, 2015
As a quick side note, both our talks should be on WordPress.tv soon!
While in Mumbai, we tried to make the most of our experience. That involved a few different things. Like unlimited "Paper Dosas" at breakfast: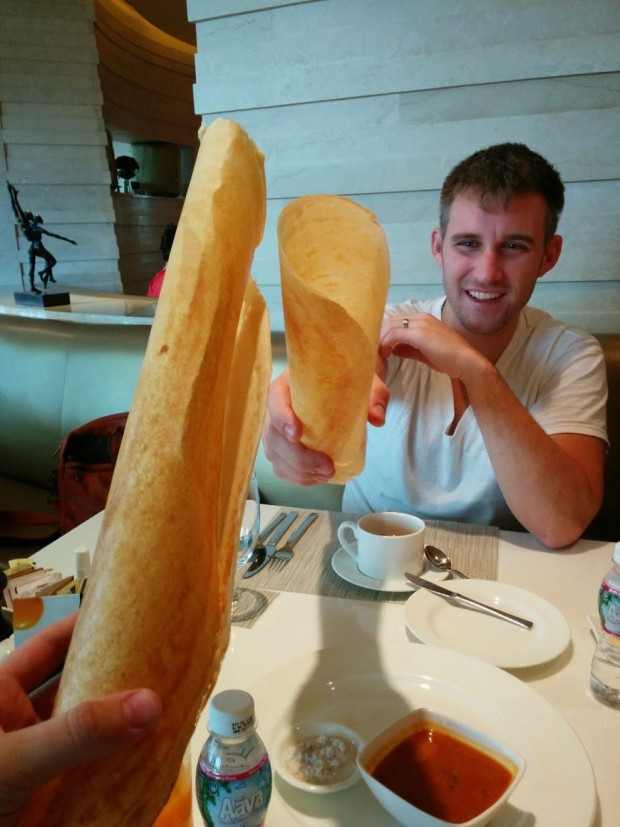 It also included several hour traffic jams with one of our 3rd party developers driving us around, Nirav, the author of Smart Coupons.
We had fun hanging out with the organisers and some of the Automattic folk that were speaking too.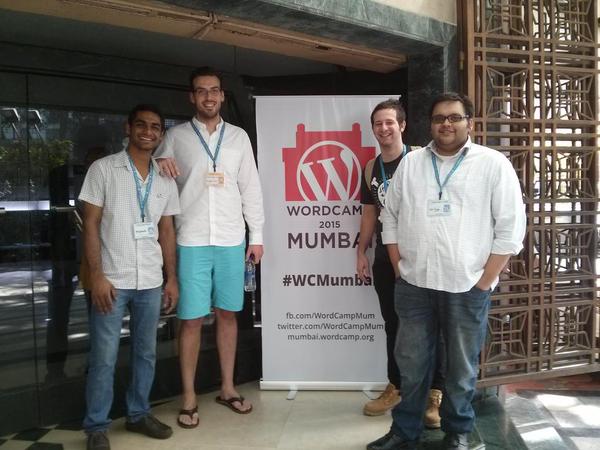 We even went to an Indian wedding with Nirav (I know, he should have been sick of us by then).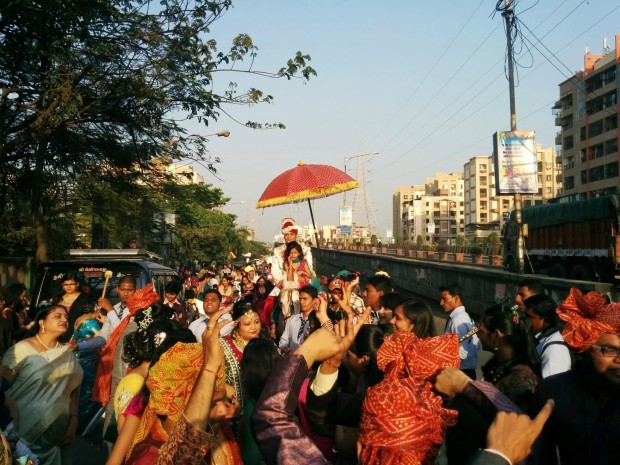 Finally, we got the chance to do something we never thought would be possible. On our last night, we were sitting in the hotel bar, heads on each other shoulders, crying, reminiscing and crying some more. None of us were ready to go home. But more importantly, we were hungry.
I wanted McDonald's and made it very clear to the bartender. They told me to go see the concierge. I went to see the concierge.
Bryce: Concierge, hello. I'm Bryce.
Concierge: Hello sir.
Bryce: I'm hungry. My friends and I would like McDonald's. How can we make this happen?
Concierge: I'm so sorry sir, but the McDonald's nearby is already closed.
Bryce: (I swore a couple times). Sorry, I didn't mean to swear.
Concierge: But sir, if you'd really like some food delivered, there is a website that you can order food from and they'll deliver it here.
Bryce: Oh, really? Really? Really? GIVE ME THE WEBSITE.
Concierge: Yes, sir. It's called Fly By Knight.
I ran off. Several seconds later I was back in the hotel bar, out of breath, Joel and Sven just looked at me.
Sven: Did you order McDonald's?
Joel: I'm hungry, Bryce!
I told them about the website. They were excited, but also sad about the lack of McDonald's.
We opened up one of our computers and were all pretty amazed when we suddenly realized: Fly By Knight was running on WooCommerce! There was a surreal moment as I added three burgers and chips to the cart, checked out and noticed all the little details that made it obvious the site was running WooCommerce.
And then an hour later, the food arrived, and we were setting there, in Mumbai, India, at a table in the lobby, eating burgers that we had ordered, FROM THE INTERNET, using the software that WE MAKE.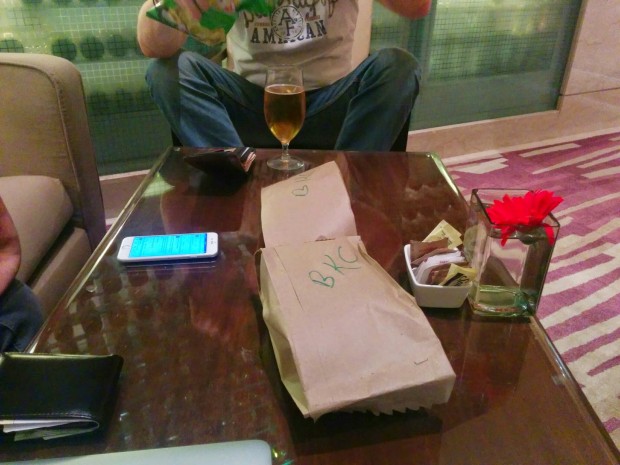 Good times at WooThemes.
Finally, here's a photo of a TukTuk and me!