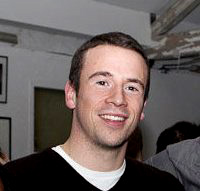 Today we have Tom Ewer, chief blog officer at ManageWP guest blogging on a subject we feel very appropriate for you our WooThemes community. (Please note the below is not a sponsored post.)
As a massive WooThemes fanboy it is an absolute pleasure to be published on this blog.
I've been a fan for a couple of years now — ever since I purchased and installed the awesome Canvas framework on my own blog. With WooThemes continuing to offer beautiful themes and extending their line of products into some pretty awesome plugins, things are looking rather rosy for those of us who await each new release eagerly.
WooThemes are awesome at what they do and I can't fault them for their great products and fantastic customer service. However, the key is in utilizing their products in the best possible way, which is exactly what I want to talk about in this post. I want to introduce you to a way in which you can drastically improve the efficiency of your WordPress website and WooThemes product management.
Multiple WordPress Website Management Made Easy
I won't keep you in suspense for any longer — I am talking about the ManageWP service: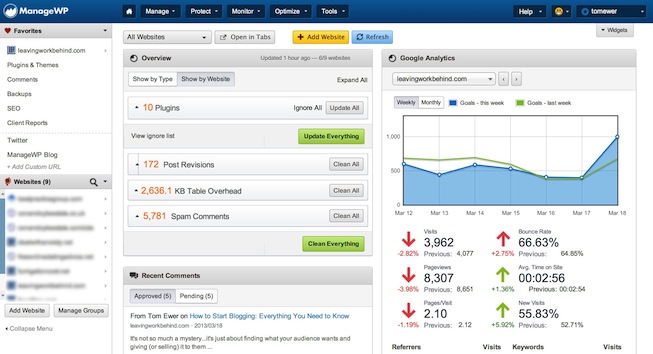 Let's get something out of the way up front: ManageWP operates on a freemium model. While we like giving away free stuff as much as the next forward-thinking company (such as WooThemes) and do in fact give a lot away for free, we do charge a modest price for permanent access to all of our best features.
But I wouldn't worry about that at the moment for two reasons:
There's a 14 day fully featured free trial available for you right now

After that trial expires you'll still have access to a bunch of features, free of charge
So here's the deal: I'm a WooThemes fan, a freelancer who works on a number of sites and a fully-fledged ManageWP user and fanatic. You may well be in a similar position to me, except you may not have given ManageWP a whirl yet. In this post I want to demonstrate to you why you should.
One Click Updates
Let's say you have a bunch of client sites that are running WooCommerce. While you would typically welcome a new update (such as version 2.0 released in early March), there's one unfortunate side-effect: the updating process. It typically involves logging in and out of each and every client website and manually going through the multiple click update procedure on each one. It's the kind of work that a trained monkey could do (if you could just get your hands on one) — simple, yet monotonous and time-consuming.
Now let me suggest that you add your client sites to the ManageWP service. The next time an update comes along, you're looking at just a one click affair to update every single plugin across all of your sites:

Boom! A lengthy and tedious process turned into something quick and easy. You get to enjoy the latest and greatest version of WooCommerce (or whatever other plugins that are in need of updating) without spending your Sunday afternoon wading through site after site.
This functionality applies to all themes and plugins available through WordPress.org. In the future we hope to extend this to all WooThemes themes and plugins — even the premium ones.
Scheduled Backups
To be honest, nothing frightens me more than the idea of losing precious data — especially when it comes to client sites and your reputation is on the line. Whether its to server failure, hackers, or that trained monkey you hired accidentally hitting the Delete key, you've got to protect yourself against data loss.
That's where ManageWP can help as you can set it up to back up every single site you own and/or manage: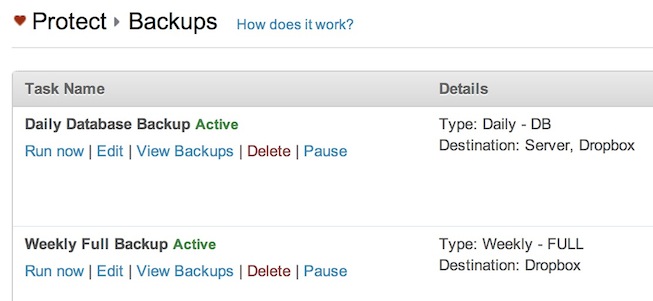 You can choose to back up the database only or all files, which really means everything — including your themes and plugins along with their settings. If your site implodes tomorrow you can have it back up and running on the same day by restoring from a ManageWP backup. Your websites are safe!
Site Cloning
If you'll allow me to digress for a moment, one of the things I love most about  WooThemes' Canvas framework is its flexibility. It gives you a (rather attractive) blank state upon which you can build a huge variety of unique designs. The same can be said for any WooThemes theme — the flexibility offered by hooks and filters allow you to customize with ease.
However, anyone who designs websites for a living can attest to the tedious process of getting a site ready for design. What I mean by this is the process of installing themes and plugins, tweaking settings, and so on. These tasks are invariably the same (or very similar) every time. Wouldn't it be easier if you could start with the tweaked version of your WordPress site, complete with WooThemes products and other bits and pieces set up and ready to go?
Well, with ManageWP's site cloning feature you can. Just set up a template site once and then transfer it in full to other domains whenever you like. The process may sound rather complicated but it can in fact be completed with just a few clicks. Never again will you have to go through that tedious process of setting a site template up more than once.
WordPress, WooThemes and ManageWP: A Match Made in Heaven?
I'm really just scratching the surface here but I don't want to ramble on all day. If you're anything like me then I know the likes of of one click updates, scheduled backups and site cloning will get your juices flowing. However, it would be remiss of me not to mention a few other features that I know you're going to love the sound of:
Access all WordPress dashboards from one central location
Send dynamically generated reports of actions taken on client sites
Manage spam comments, post revisions and database overhead
At-a-glance Google Analytics stats
SEO rank and data tracking
Uptime monitoring
Security scanning
There's loads more too. I could go on all day (but I won't!).
At the end of the day, here's how I see it folks:
I love WordPress and wouldn't dream of using another CMS

WooThemes' themes and plugins are unbeatable — they're always my first choice
ManageWP makes managing WordPress and WooThemes products a far simpler affair
It all just works together. WordPress, WooThemes and ManageWP are peas in a pod.
But don't take my word for it. You already know how awesome WordPress and WooThemes are — now is your opportunity to complete the package. Try ManageWP for free now — what have you got to lose?
If you have any questions or comments at all about the ManageWP service or anything else please don't hesitate to fire away in the comments section!