Add One-Click empty cart button
Old sessions and customer carts remain saved in online store databases for 48 hours. Sometimes store owners don't want to clear customer carts after 48 hours or they want to clear carts early for certain products. WooCommerce empty cart plugin provides full control over customer carts and sessions. It allows store owners to empty carts and clear sessions automatically after a defined time period. Store owners can clear cart sessions in periods of minutes, hours, and days. WooCommerce clear cart and sessions plugin also make sure users are inactive before clearing their carts.
Features list:
Clear cart and sessions after specified minutes, hours, or days

Enable empty cart button on the cart page for customers

Customize text and color of clear cart button

Enable empty cart when the page is loaded

Redirect users to the shop page or any custom URL after clearing the cart
This Plugin is fully compatible with HPOS(High-Performance Order Storage) and Multisite.
Automate cart and session clearing
You can define the session duration in minutes, hours, and days and the WooCommerce clear cart after time plugin will automatically clear the cart accordingly. For example, you can set the session duration to 1 hour which will clear any product, thus resetting the cart to zero.

Add an empty cart button
By adding a WooCommerce empty cart button, you can allow customers to empty their carts and start shopping from the scratch. It helps them remove all the items from the cart with a click.
Redirect customers from Cart
Clear cart WooCommerce enables you to redirect customers to the shop page or any of the custom pages after clearing the cart. Let the customers find more products, categories, deals, and discounts with redirection.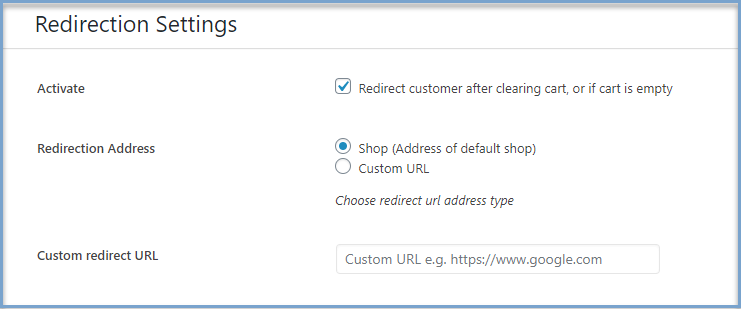 Personalize clear cart button
Empty cart button WooCommerce plugin comes with customization options to help you mold the clear cart button in the overall cart design. You can change the color and text of the button.

Benefits:
The WooCommerce clear cart plugin provides full control over customer carts and sessions

Customers can easily remove all products in the cart with just one click

Redirect customers to the page you want to promote
Compatibility
Our plugins are designed to be highly versatile and also compatible with the most commonly used themes, browsers, builders, and mobile views. We understand the importance of flexibility and integration when it comes to enhancing your website's functionality. Our plugins can effortlessly integrate with the following:
Themes Compatibility
Store Front
Avada
Flatsome
Porto
Woodmart
WooCommerce default theme
Divi
Builders
Also Compatible with
Multi-Site
PHP 8
Mobile Layouts
Get started
Purchase Clear Cart and Sessions for WooCommerce from WooCommerce.com.
Download and install the extension.
Activate the extension.
Go to WooCommerce > Settings > Clear Cart and Session to configure the settings.
Read the full installation guide here.