Clear cart and sessions for WooCommerce allow you to clear customers' carts and sessions automatically after a specific time. Set time in minutes, hours, and days to clear the carts. Redirect users to the shop page or any store page after removing all the products in the cart.
Download Clear Cart and Sessions for WooCommerce and have your.zip file.
At the WordPress admin panel, go to the Plugins section, and click 'Add New' to upload and install the plugin you recently downloaded from WooCommerce.com.
Upload the .zip file to proceed with the installation.
Wait until the plugin installs. After successful installation, activate the plugin, and move on to configuration settings.
At the admin panel WooCommerce > Settings and click Clear Cart and Session tab to configure this extension. Here you can find 3 sections of settings such as Session Expire, Empty Cart Button, and Redirection Settings.
Here you can set the followings.
Activate :  (Enable/Disable Custom Cart Session Time).
Time Format: (Choose time in Hours, Minutes, and Days for clearing cart and sessions)
Time of cart session expiration: (Specify the time in numbers).
Time of checking users frequently: (Specify the time to check if the user is inactive before clearing the cart, e.g., If you set cart expiration time at 24 hours. You should check for user activity after 23 hours. If the customer is active after 23 hours. We will update time and again to start the counter for session expiration.)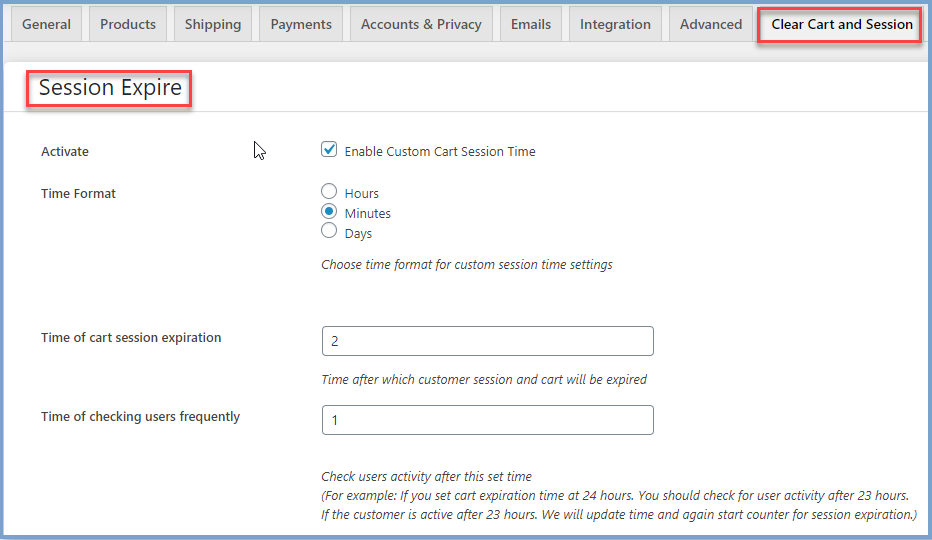 From this section, you can enable the Empty cart button on cart page to allow customers to clear all the products in cart with just one click. You can configure the following settings for Empty Cart Button
Activate: (Enable/Disable Empty Cart Button on cart page)
Custom Button Text: (Customize empty cart button text)
Use Default Theme:  (Check this option to use default theme button design)
Custom Button Color: (Customize empty cart button background color)
Custom Button Text Color:  (Choose empty cart button text color)
Show Confirmation Dialog: (Check this option to ask for confirmation from customer before clearing the cart)
You can redirect customers to shop or any store page after clearing cart from this section. This section has following settings.
Activate: (Check this option to enable redirection)
Redirection Address: (Choose Shop if you want to redirect customers to shop page or custom to redirect to any other store page)
Custom redirect URL: (Specify URL where you want to redirect your customers )