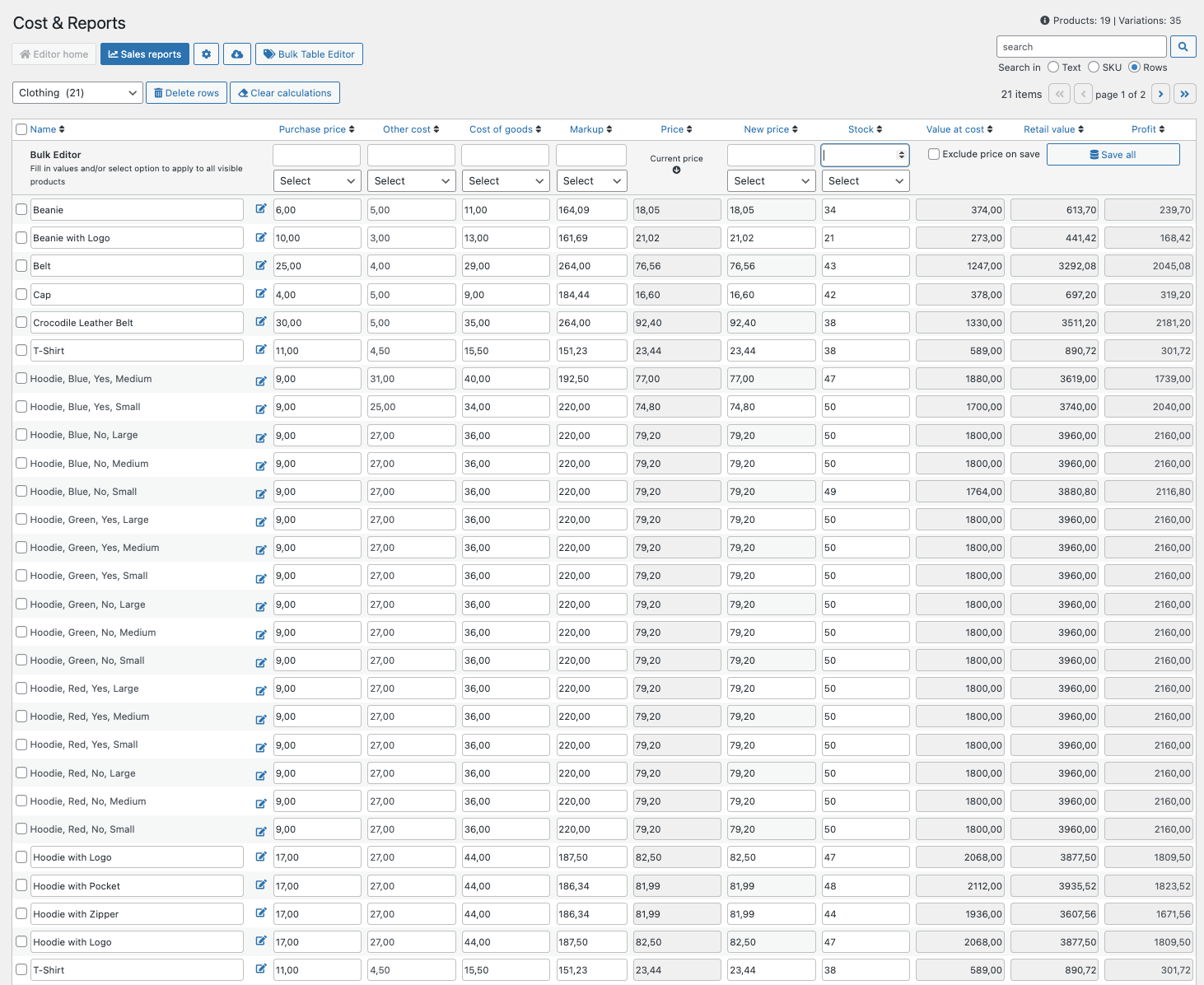 Add purchase price, cost and cost of goods to your products / variations. New prices are calculated and suggested based on these values using your Markup (profit margin). These values give you direct control over your store's profits and revenue. With the included table editor and its bulk features, you can easily add and update all these values. In addition, you can seamlessly update inventory, see value at cost, sales value and total profit.
Cost & Reports includes valuable and unique sales reports. The reports show in detail your actual profits and income, not just bestsellers, but down to product or variation level. Retrieve reports by predefined or a selected date range, see your acceptable profit (green background marking) and unacceptable profit (red background marking). Download reports (CSV) for further processing in applications such as MS Excel or Apple Numbers.
Why use Cost & Reports for WooCommerce?
Adds vital information on your store profit and revenue.
Add valuable fields to your product / variations like: purchase price, cost, shipping, cost of goods and Markup.
Makes more accurate prices for your store (with cost of goods and Markup).
History editable meta data is added to your order lines for purchase price and cost of goods.
Table editor that can bulk add / update your costs, profit margins, prices, stock and more.
Reports per order and product / variation (table view). Including:

Search, date ranges, averages, profits, net sales, taxes, sidebar with summary information and bestsellers.
Bestsellers with information like profit, sales and turnover.
Product reports that dynamically calculates while filtering.
Export option (CSV).
Live reports and counter (new orders)

Compatible with Products, Variations, Subscriptions, Cost of goods and many more
POT file for translations
Table editor

The table editor can bulk update: purchase price, cost, shipping cost, cost of goods, Markup, Price and Stock. It calculates a correct price (suggested price based on item cost and Markup). In addition:
Displays cost value (per row and summed)
Sales value (per row and summed)
Profit (per row and summed)
A number of search / filter options
Sorting by column
Export to CSV file (opens in MS Excel or Apple Numbers)
Easy access to bulk functions!
Most of the columns have bulk functions available to use, here is an example: we type 10 in the input field for "other cost," select "increase fixed amount" and 10 is now added to every row. When this is done, Cost & Reports adds this value to the cost of goods then calculates every row and suggests a new price. If you are satisfied with the new price, just use the "save all" button and this is now the current price on the selected products. If a price comes out with a number like 12.37 you can use the round function on the new price to make a cleaner price like 12.40, the markup is then automatically adjusted to your new price.
Reports per Order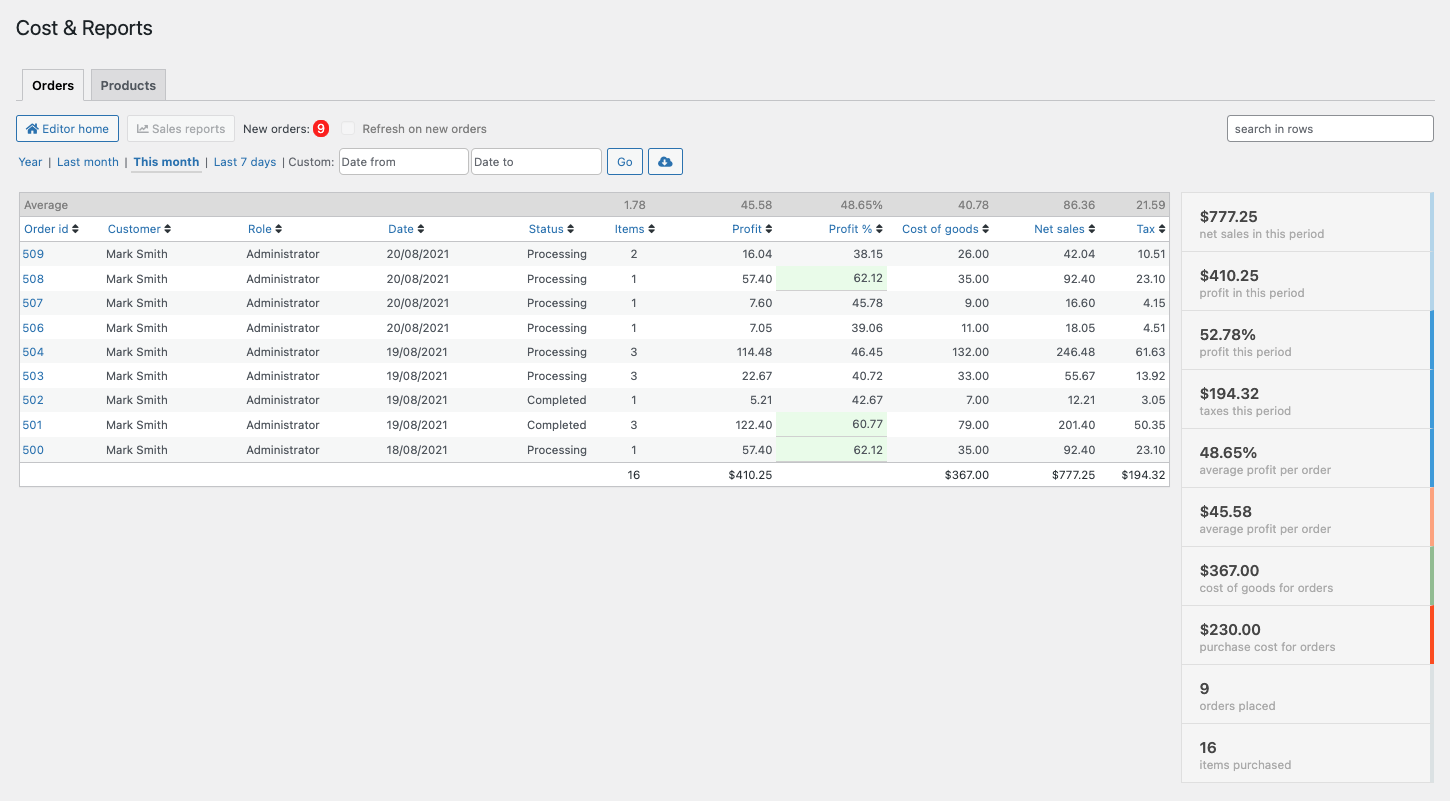 This report view shows all sales in a date range, set your own range using the date selectors or use the predefined ranges. In the table, you will find order ID (links to the order page), customer, role, date, status, quantity of items, profit, cost of goods, net sales and taxes for the selected period. On the right side of the table you find the key values and averages from the period. Color indicators in the table for high and low profit are also included, these can be easily adjusted in the settings. Use the "search in rows" to filter the reports, filter in order id, customer, role and date. The role column is added to support role-based extensions like Roles & Rules B2B.
Reports per Product/Variation
The products view has the same features for selecting date ranges and the download .csv button. This table starting by showing averages then order id, category (link to edit products in category), product/variation name, SKU, quantity, price (when purchased), net sale and profit (including percent). Sort the columns as you like. On the right side of the table is a top products in period based on quantity and profit. And other key values and averages from the selected period.
Row search and automatic calculations
Use the "search in rows" filter to get your selection of products/variations in the Products report. You can use order id, category, product and SKU when you want to filter in your sales. When you filter you the plugin automatically update averages, best sellers, totals and more so you easy can se your gross sales and profit for your selection.
Live reports NEW
The reports now give you an automatic counter for new orders, you also have the option to update the reports automatically (option in settings). You can use this view, for example, as a live report and see the numbers and sold products updated throughout the day.
History Added To Order Items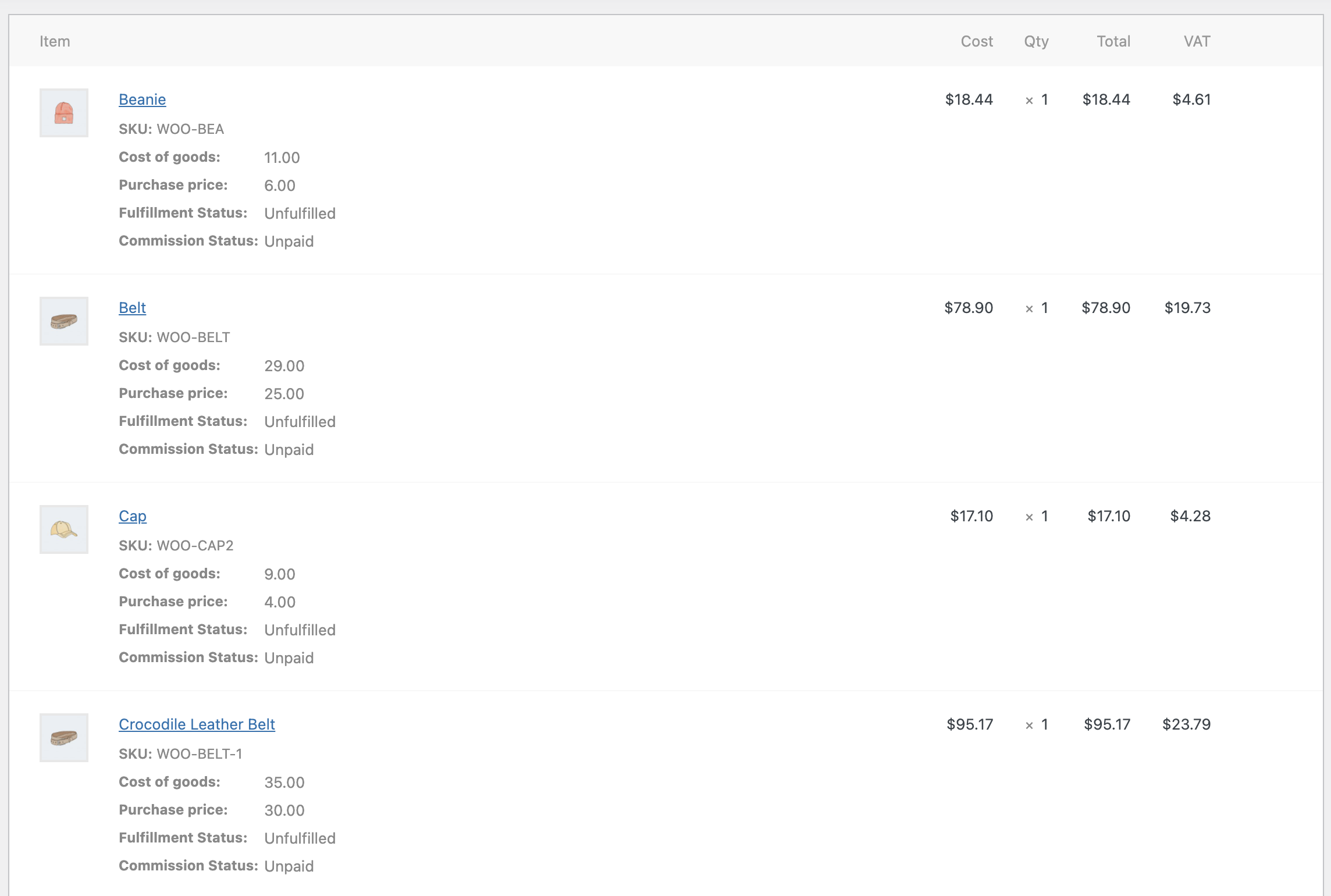 When customers purchase your products, Cost & Reports will add cost of goods and purchase price to each order line. This means that you will be able to see and edit what you bought the item for and cost of goods when you sold your products. This means that historically correct profits will be shown in the extension reports. (Cost of goods and purchase price on order items is for internal use)
Download Calculations and Reports
Download the calculated product list and reports by simply using the download buttons. It is possible to download per category or download all categories. For sales reports you can download per orders or per products for a date range. This (.csv) file can then be opened in applications like MS Excel and Apple Numbers.
Already Using Cost of Goods for Your Products?
If you are already using the cost of goods field for your products, then just go to settings > integration and enter the cost of goods field; Cost & Reports will use this value for cost of goods in related calculations. If you do not have this plugin, Cost & Reports by default creates a cost of goods field that is used on all your products. More information about this integration is available in the documentation.
Using Bulk Table Editor for WooCommerce?
If you work with prices in one category and want to set up sales, the "set up sales" link lets you jump to Bulk Table Editor and set up sales in the same category. More information about your prices and profit will enable giving you the ability to make better decisions when setting up sales on your products. Integration is done automatically.
Key Features
Bulk functions for every price field, markup field, and stock quantity.
Automatically calculate as you enter values in the table or use bulk functions.
Control mechanism for prices and negative profit values.
Adds purchase price and cost of goods fields to your existing products.
Use Shipping cost to calculate cost of goods.
Totals for stock, value at cost, retail value, and profit are shown in table.
Search and filter functions that enable you to bulk set prices for a selection of products.
Function to erase input fields for calculations.
Progress bar when saving.
Clear 0.00 values when in-focus (mouse over), this makes it fast to set correct values when null
Bulk delete products and variations.
Download (CSV) file per category or all products. Includes calculations and last changed date.
Supports multi-site network setup.
Sales reports per order and product.

Reports per order.
Reports per product/variation.
Download as a .csv file.
Color indicators for high and low profit percent.
Search in rows with automatic calculations. NEW
Counter and option for automatic updates of new orders NEW
The extension is compatible with
WooCommerce products and variations
WooCommerce subscription and variations
Integrations
Cost of goods for WooCommerce
Other plugins that uses purchase price and/or cost of goods fields
Languages
English (default)
Norwegian
POT file for easy translating to other languages