Take advantage of role-based and dynamic pricing for your products!
Roles & Rules let you set up and manage all the customer roles you need for your store, both B2B and B2C roles. In addition, every price rule you set up is based on your current product prices. For you this means that you just have to think about what discounts you want to give to your customers.
Dynamic pricing is the option to grant a customer e.g. 10% discount in a category but if the customer purchase more than e.g. 5 products he gets an additional discount (buy 5 and get 15% discount).
For every role you can set up user capabilities, VAT and TAX exempt rules, make the shop private (hide prices for not logged in users), set up storewide sales, hide categories, automatically add coupons and easy add a registration form and more.
Activate any role, create a few simple rules and your shop is ready!

The first tab in Roles & Rules B2B is to enable and set up general rules for your roles. Before you start activating rules for a role, you can use the Roles tab to create your customer roles such as Customers VIP, Wholesalers and other. Once this is in place, add the roles to the General tab (as above) using Select Role. A general rule can be 5% on all items in the store, while a more specific rule can be: 10% on the category t-shirts (Categories tab). If you want to specify rules at product level, for example: 25% discount on Polo shirts, use the Products tab.
The General tab also allows you to set up Storewide sales, such as 20% on the entire store from 10:00 to 21:00. In this tab you also easily add coupons for extra discounts in shopping cart and checkout (is automatically added for customer).
Category rules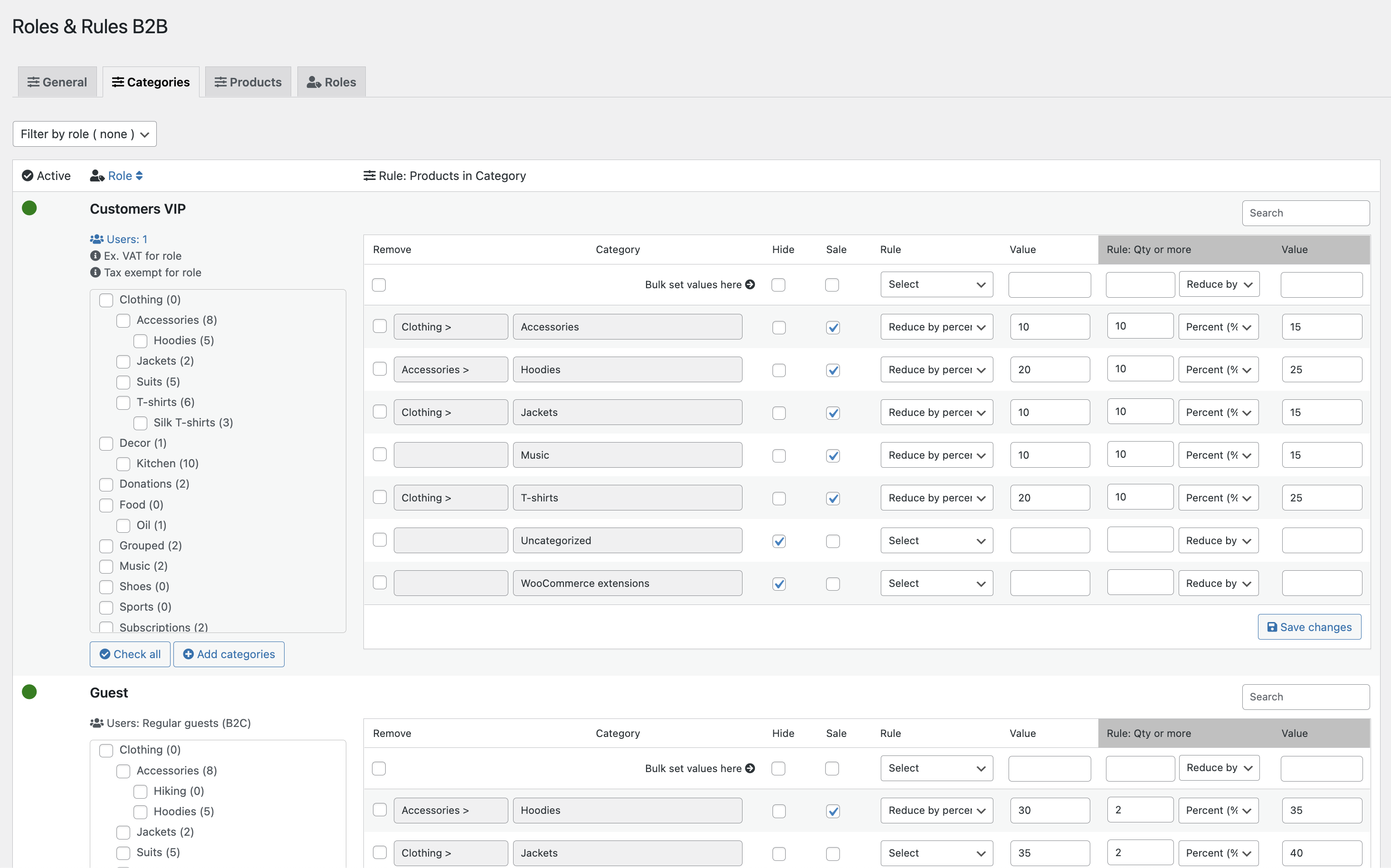 Easily add and set up rules for categories
Set discount rules per category
Set quantity rules per category
Tag categories on sale
Hide categories and associated products
Use bulk functions to set values for roles NEW
With rules for categories, you can easily set up your store with discounts such as category 1 = 50%, category 2 = 30%, and so on—mark the category on sale if you like. In addition you can set up dynamic pricing rules like buy 3 or more, get 40% discount. (will be labeled in the store)
Products, variables and subscriptions
Set rules for any product or any variant in your store. Use the convenient product search and add products to the rule list. Set pricing rules such as: increase or decrease the price in percent or set a fixed price for your product or add dynamic pricing rules like buy 3 or more, get 40% discount. The product list includes a handy image magnifier, product current price as well as various ways to set the right price for this customer role. The products you select a rule, and set a value for, automatically become active, in an active role. There's also an option to hide single products.
Manage roles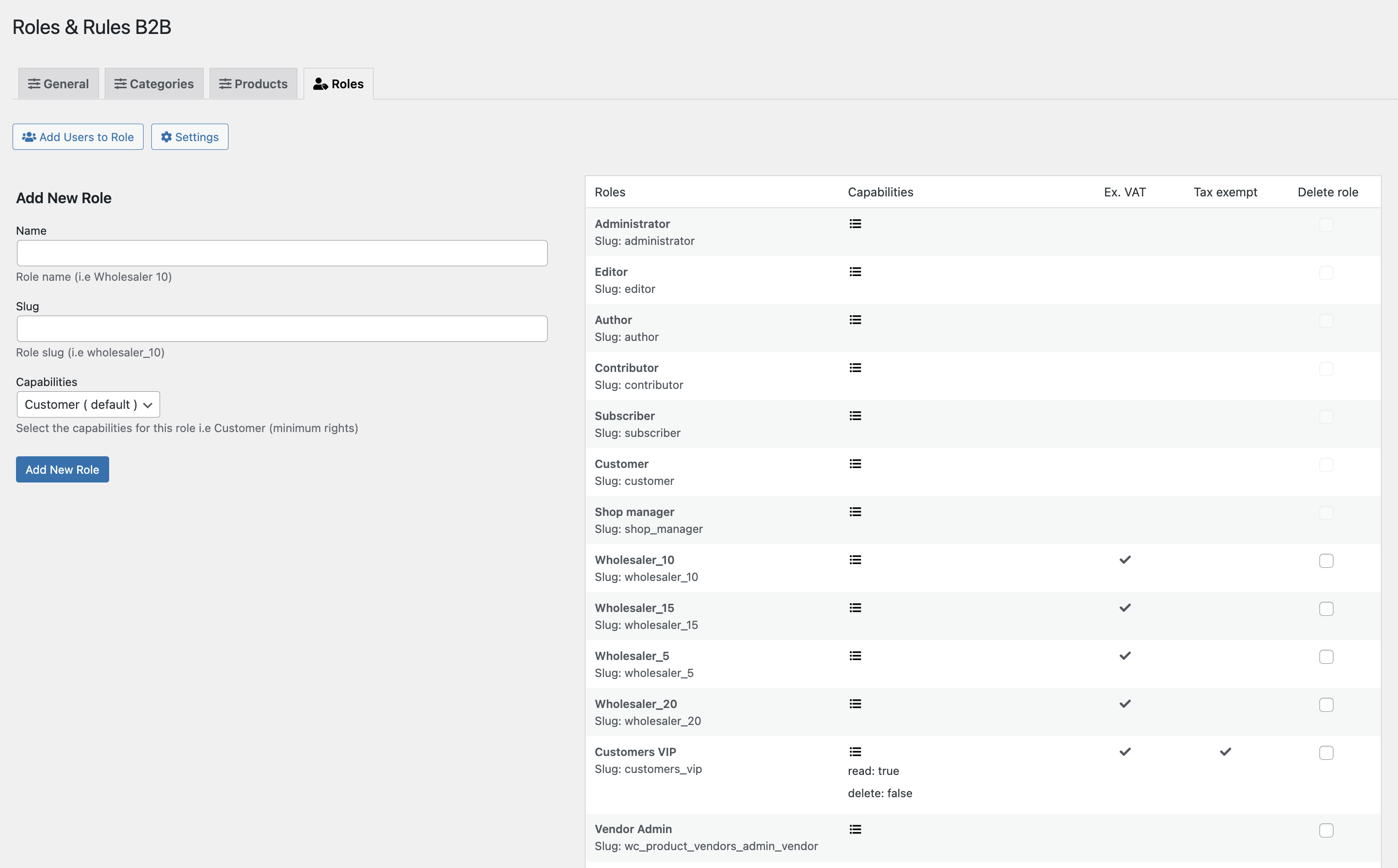 Easy add the roles and capabilities you need for your B2B or B2C store in the Roles (tab). After adding roles you can use the button 'Add Users to Role', then you are directed into user administration and can easily bulk set users to the new role. The table list roles, slug, capabilities (click to expand), Ex.VAT and Tax exempt – easily set up in settings. In addition you find an easy way to delete roles on this tab.
Automatically add coupon discounts
You can easily use the standard WooCommerce coupons and attach them to any role. Give extra discounts if a customer buys a certain amount, or offer free shipping or other discounts. Each rule has a drop-down box with your coupons, and a button to edit these if you need to. The coupons are automatically added to the shopping cart or at check-out for your customers.
Storewide sales for roles
In addition to the general rules, there is an option for storewide sales for a selected role. Setting up a sale is easy, just set "reduce price" by a factor like a percentage, set a start/end date for the sale and start/end time if you like and save rule. When the sale starts, it shows up just like any other sale in your store with sales badges and so on. The sale option enables you to have different sales for different roles whenever it suits you. 
Registration form
Easily create a register form on "My account" page using Roles & Rules. In addition to add the fields you need (set up in settings) we added an option to prevent automatic login on registration. We also added a type of role that you can use that gives the users no rights (for better security), more on how to set this up in documentation. Included:
Enable / disable fields
Set field as required
Set you own labels (if not translated)
Extra textfield for customer information (information will be shown on user/customer)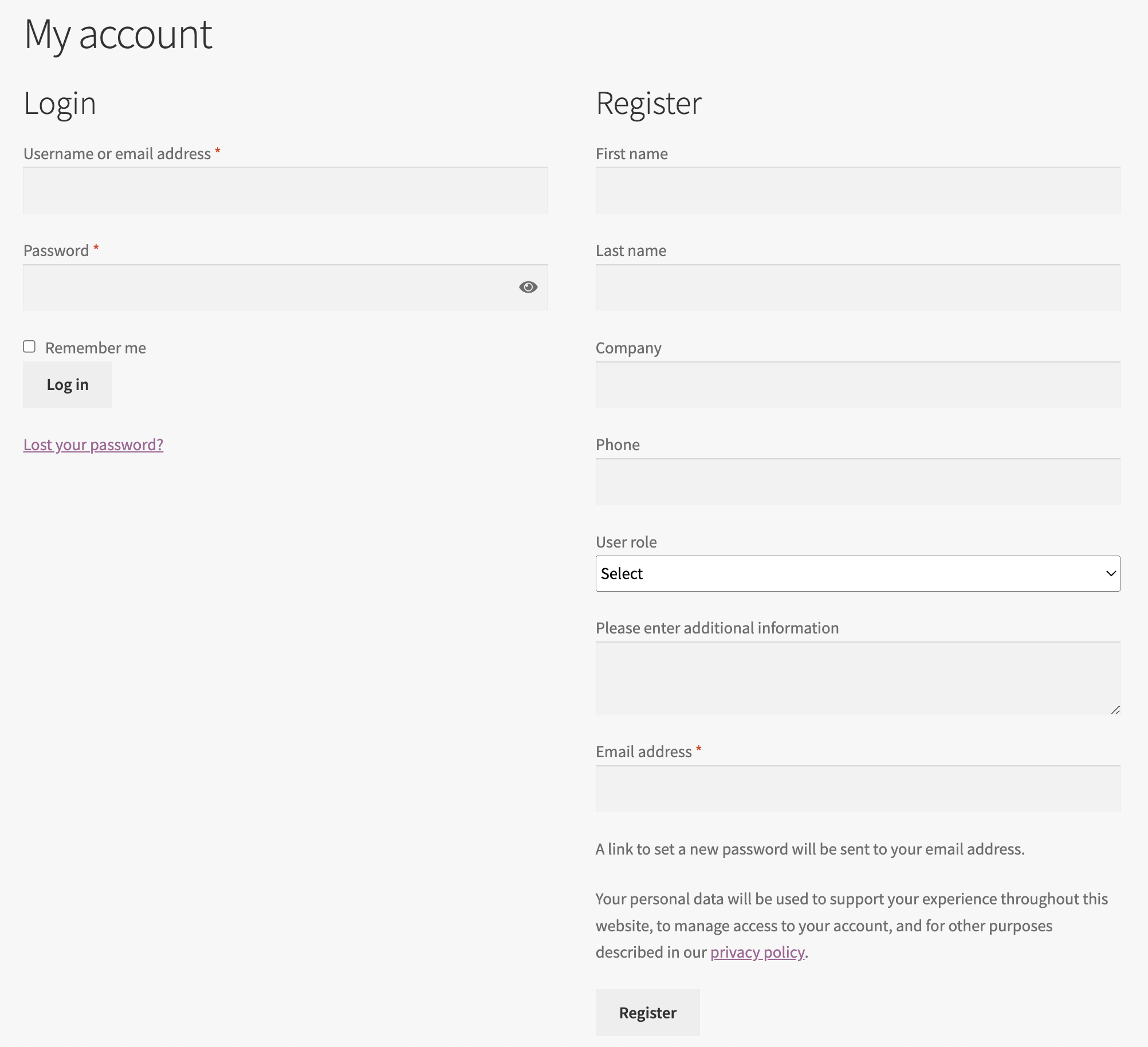 Format prices and labels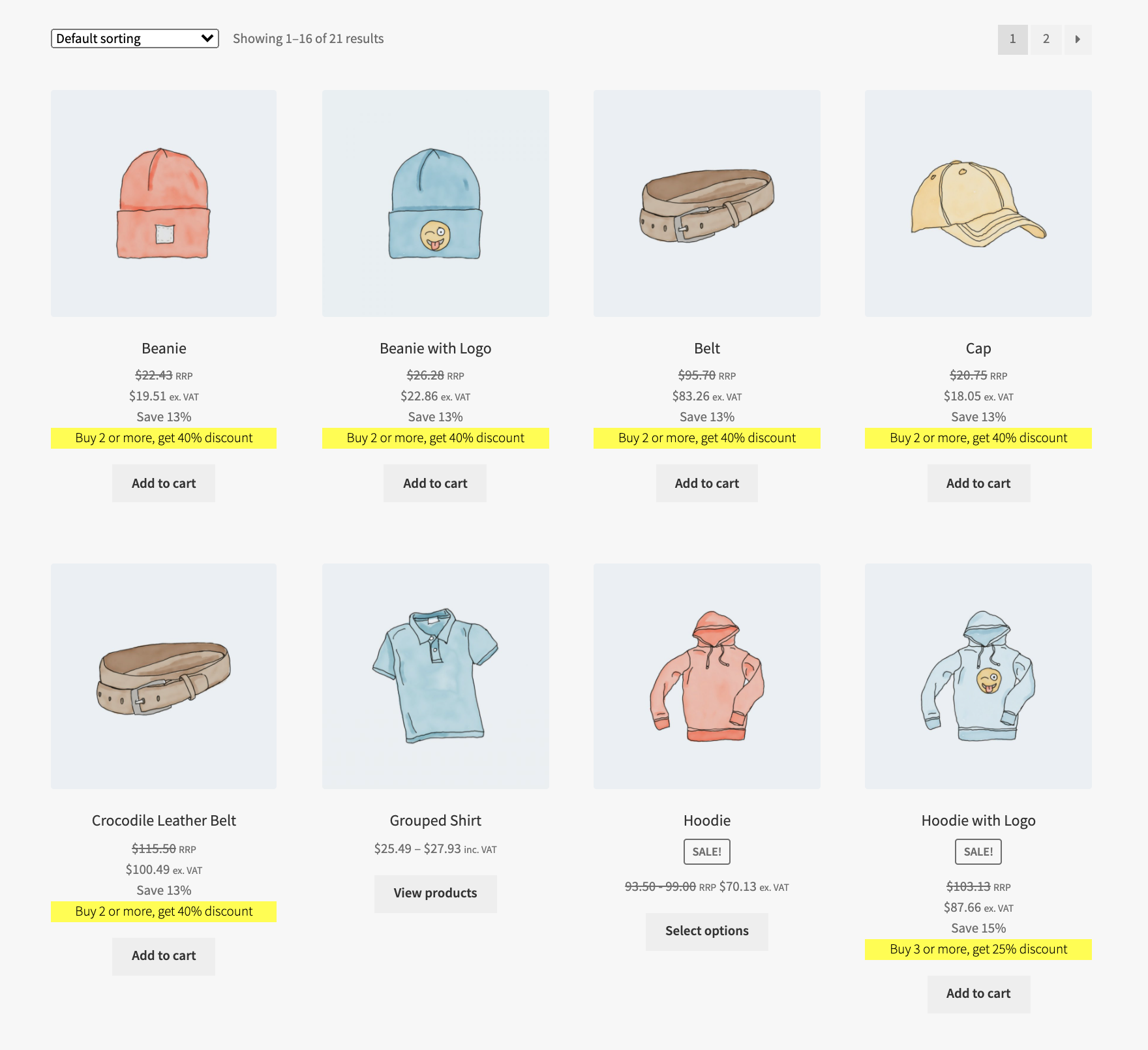 This example shows a role with net prices (ex.VAT). The prices shows reduction in percent (option to set this in settings). Some of the prices have dynamic prices like buy 3 or more, get 25% discount. The yellow background and label is configurable in Roles & Rules settings.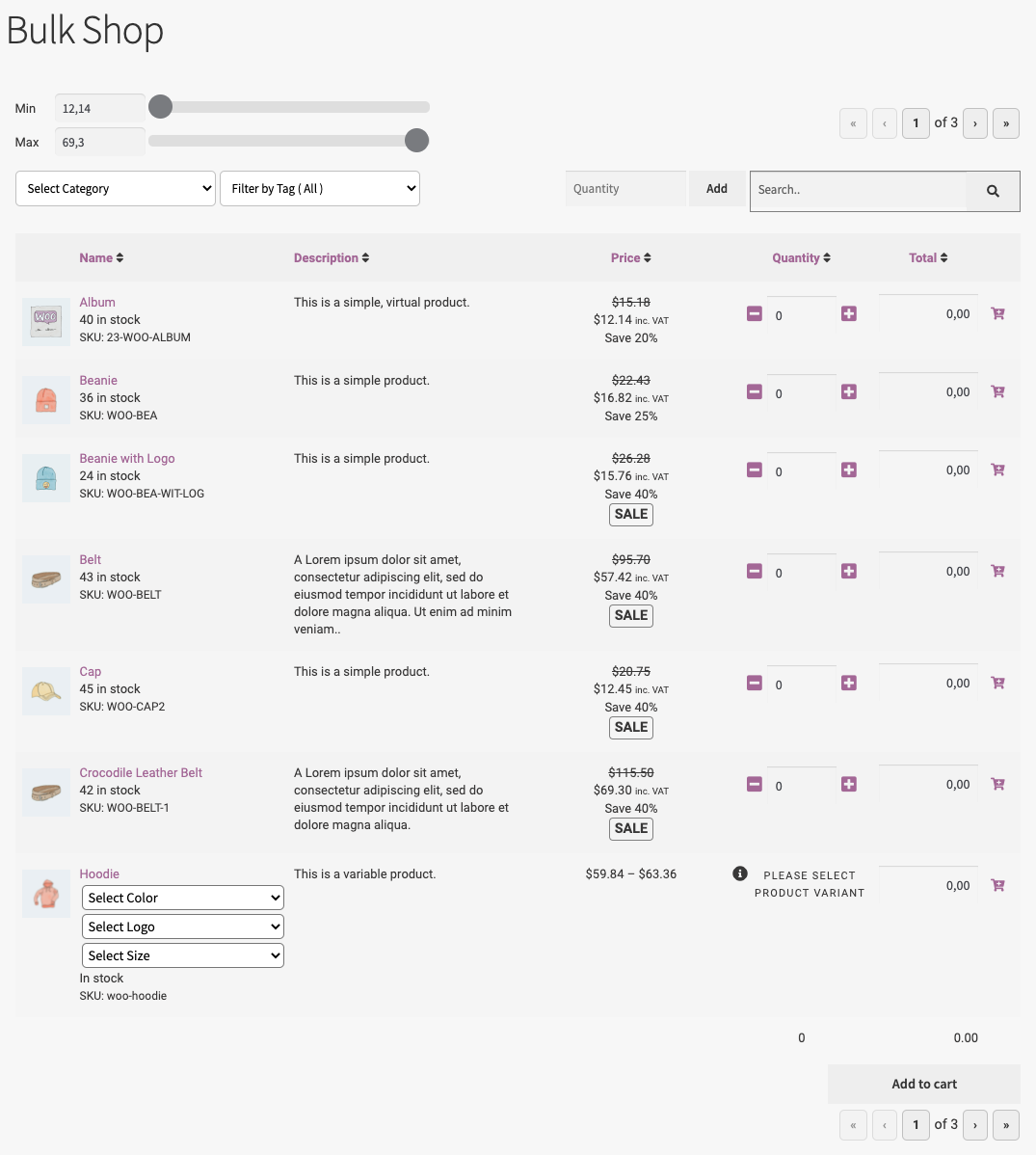 Example shows Roles & Rules used together with our Bulk Shop for WooCommerce extension – enable customers to easy bulk shop your products/variations.
Prices on a variable product page, shown ex. VAT (option in Roles & Rules B2B settings)
Net prices and tax exempt
The cart will calculate prices ex.VAT if this is set up in settings. There is also and option (in settings) to tax exempt so that cart/checkout removes all taxes and execute the orders ex. taxes.
Private store
Hide prices and add to cart easily for not logged in users. Just enter Roles & Rules settings and check private store and you have a product catalog for your not logged in users.
Key features:
Easy to bulk set prices for roles / members / guest users (B2C).
Create bulk or specific pricing rules for categories, products and subscriptions.

Bulk functions to set values – NEW

Create dynamic pricing rules for categories and products like: Buy 3 or more, get 40% discount.

Bulk functions to set values – NEW

Easily set ON SALE for discounted categories or products / variations.
Easily create roles with capabilities you need for your store.

Delete roles – NEW
View role capabilities (expand in roles table) – NEW

Registration form to create new users / customers

Set you own labels – NEW
Extra field for customer messages / additional information – NEW

Create storewide sales based on role, day and time.
Add coupons to your rules for extra discounts/free shipping in cart / checkout.
Private store option.
Exclusive VAT option (net prices) for any role.
Tax exempt option on orders (for any role).
Easily hide products and categories.
One base price (regular price) on your products, makes it easier and less administration for you.
Increase or decrease prices in percent or fixed amount.
A number of possibilities for manipulating the B2B store in settings.
Included POT file and languages:

English
Spanish
French
Norwegian

Easy to set up and a simple user interface.
Works with products, variations and subscriptions
Compatible with:
WooCommerce products and variations
WooCommerce subscription and variations
Product Bundles
Currency Switchers
Information and requirements
WooCommerce 3.0+
PHP 5.6+
WooCommerce
The most customizable eCommerce platform for building your online business.