Want to enhance your WooCommerce follow-up emails?
Email Customizer for AutomateWoo is a powerful extension that allows WooCommerce merchants to personalize and optimize email marketing campaigns without coding.
With this YayMail Addon plugin, you can customize the content, layout, and design of WooCommerce follow-up emails with ease. It offers a WYSIWYG drag-and-drop email builder to make WooCommerce email customization a piece of cake.
One of the key advantages of the YayMail email builder is its ability to add extra elements to automated follow-up emails based on customer activities, such as abandoned cart reminders, related products, or product recommendations.
By delivering relevant messages to customers at the right time, you will be able to generate more sales and drive revenue growth.
Customizing WooCommerce Emails Sent by AutomateWoo
With an intuitive drag-and-drop interface, Email Customizer for AutomateWoo integrates newly created AutomateWoo workflow emails with YayMail Builder. Then you can fully customize the email templates including:
Content: Edit text, heading, greetings, order details table, and other information.
Design: Insert images, logos, banners, videos, etc. The email blocks can have different background colors and designs.
Layout: Add multiple columns, product grid or email signature.
Extra WooCommerce block: Add unlimited custom email blocks, and more!
Shortcodes: It supports all AutomateWoo email variables like personalized coupons and abandoned cart reminders.
How to customize AutomateWoo email templates?
Before you start, be sure to have these plugins installed and activated:
Email Customizer for AutomateWoo (this extension)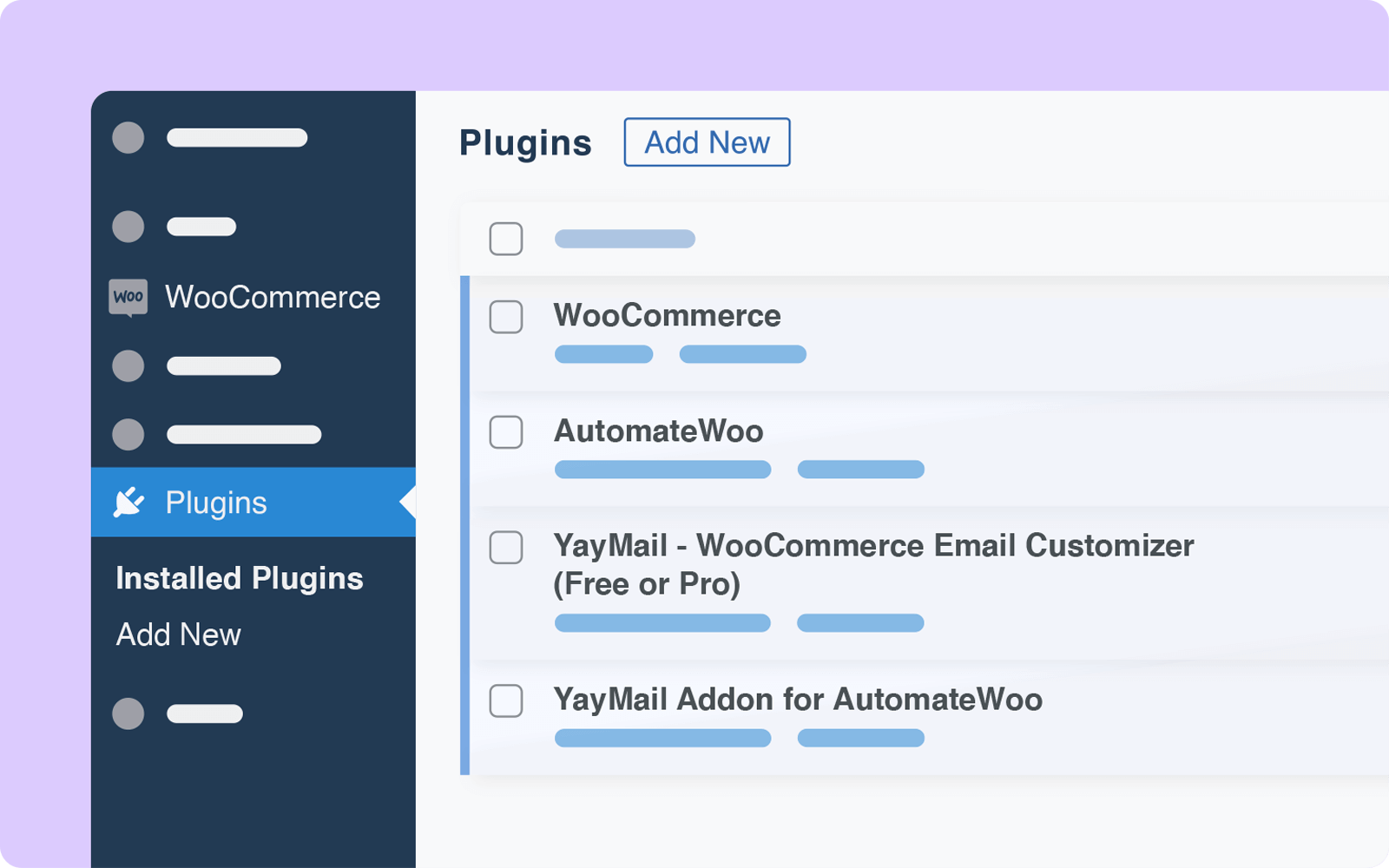 Of course, you should have created automated workflows in your AutomateWoo menu using Triggers, Rules, and Actions within WooCommerce.
Then you will be able to find the email templates by navigating to WooCommerce > Email Customizer.
In the email builder interface, please go to Settings > Enable/Disable Templates to find all the available email templates. There, you can choose to activate all the templates you want to use.
For each enabled template, a green light indicates it is now in use in the automation workflow of WooCommerce.
At any time, you can send a test email to make sure it looks correct on different email clients and devices.
Features of Email Customizer for AutomateWoo
Email template builder options
Copy an element to another template
Clone a full template to reuse in the current email template
Reset template to the default
Set a header or footer email block as a default to apply to all available templates
Preview selected email templates on different devices
Send test email to your own email address
View actual order details and workflows of your store's past orders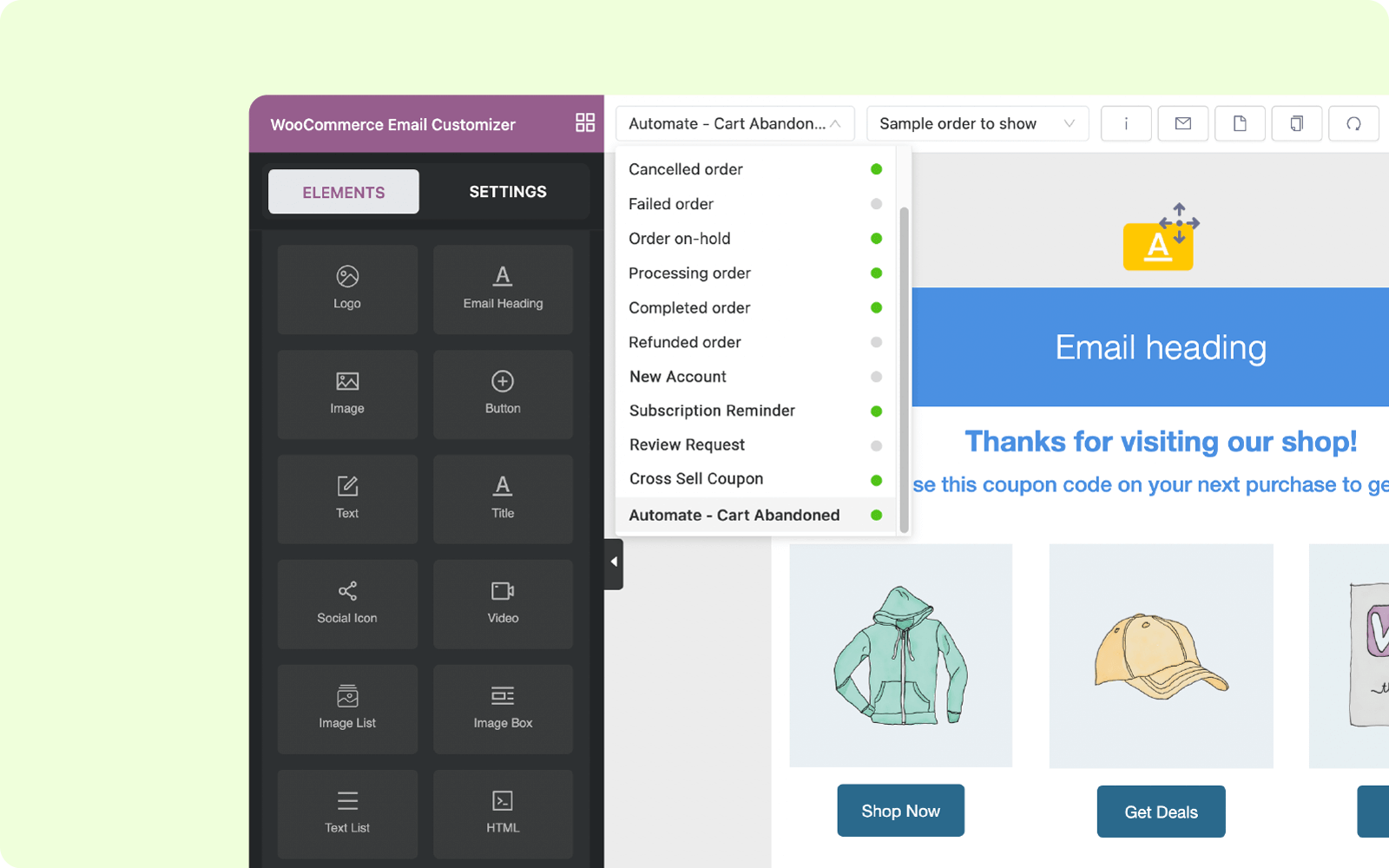 General settings
Language direction: you can compose emails in left-to-right or right-to-left languages
Container width: resizable widths for the whole email body
Product image: automatically insert any product image with custom position and image sizes
Custom CSS: add your own creative adjustments
Shortcodes: insert personalized content to any emails
Like Gutenberg blocks, you can upload and insert your logo and images quickly to an email body. You can resize it by using the image size slider and adding padding/margin area to the image element.
Adding extra elements like videos, animations, gifs, and rich content is made possible with YayMail.
You can use custom blocks to make the WooCommerce email templates stand out, as well as apply colors to text and their backgrounds. You can also embed social media links as brand info to appeal to your readership. These types of customization techniques are extremely easy to do since they are built in the YayMail email editor.
And once you finish the work, you can achieve the look and feel you've always wanted for customizing WooCommerce AutomateWoo email templates.
Compatibility
If you use Email Customizer for AutomateWoo in combination with Email Customizer for WooCommerce, you will have fully translatable email templates. It supports these WordPress multilingual plugins:
WPML & WooCommerce Multilingual with WPML
Polylang
TranslatePress
Weglot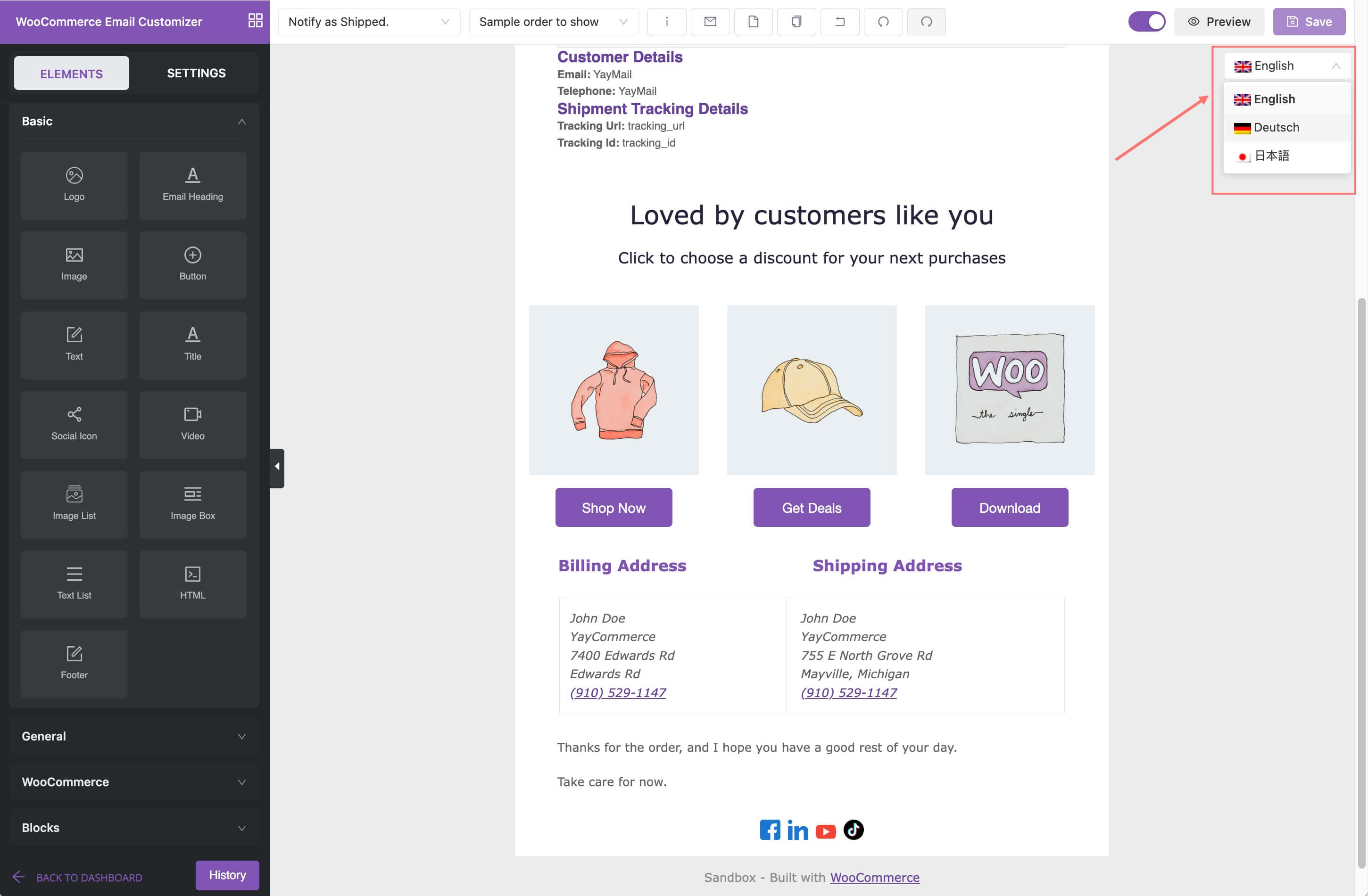 Premium integration with multilingual plugins (YayMail Pro only) will allow you to keep a full backup of your email designs and customizations. It's easy to export all email templates to JSON files and then import them to use in future email campaigns.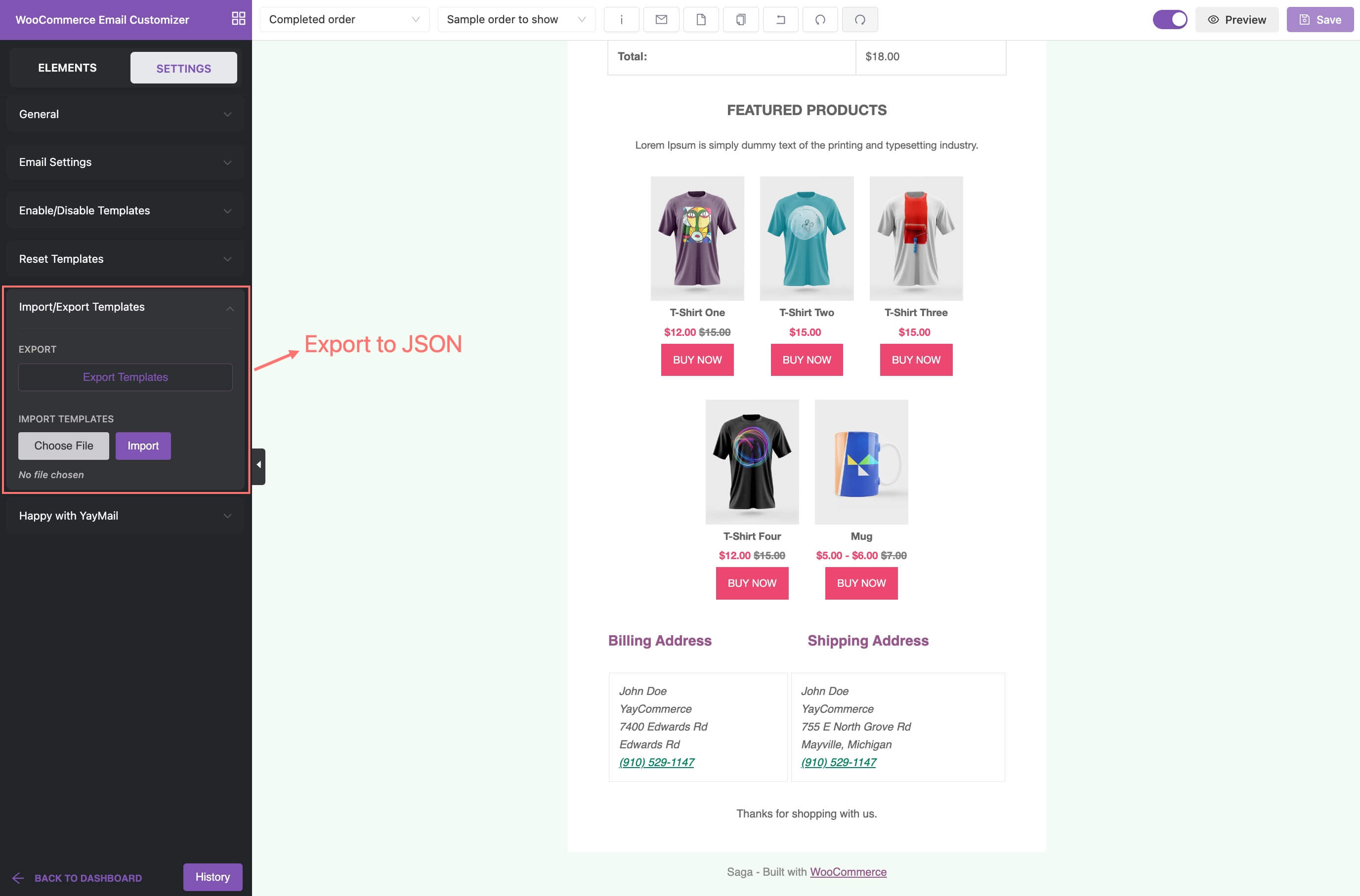 YayMail Pro also offers an extended history of your email edits. These include the list of recent unsaved editing actions and saved email revisions.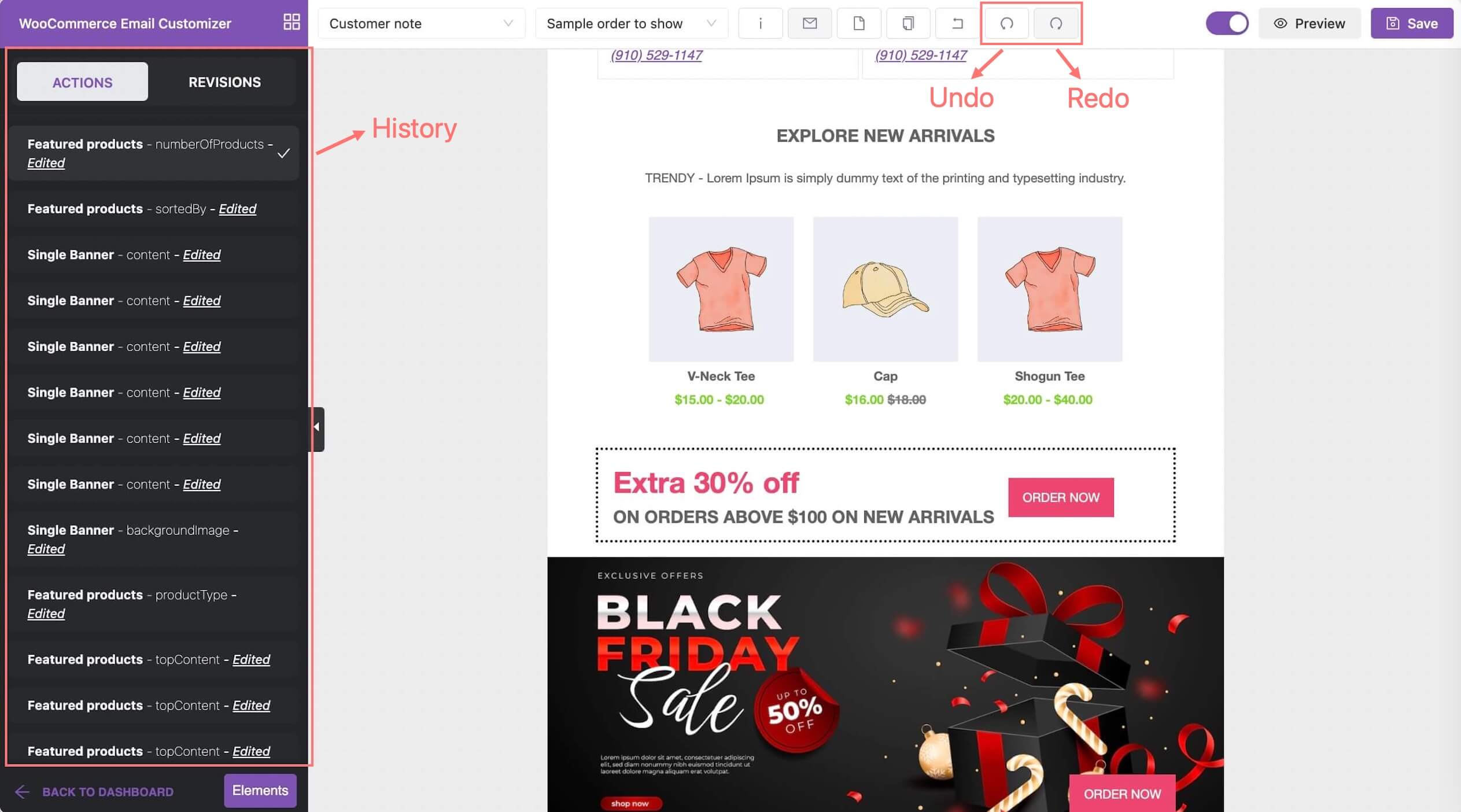 Requirements
Minimum PHP version: 5.6
Plugins:
FAQs
Where do I edit AutomateWoo email templates?
Once you've added a new workflow in AutomateWoo, it will generate a new email with the given name. Now you just go to WordPress admin dashboard → YayCommerce → YayMail and select that email from the top left dropdown.
How do I edit an existing AutomateWoo email template?
All existing AutomateWoo emails will be quickly synchronized into YayMail email builder. If you think there are some emails missing, just contact us and we'll troubleshoot the issue.
Where are the WooCommerce email template files?
If you enable a WooCommerce email template in YayMail, the email template designed by YayMail will override the default AutomateWoo email. So you don't need to modify it in your child theme templates or theme directory files.