Information & Requirements
An evriPay Merchant Account and ID
A WooCommerce store with "South African Rand ( R )" as the currency
Take payments via evriPay
evriPay offers a one step solution to allow your WooCommerce powered store to accept credit card payments.
You have a WooCommerce powered store, but how are customers going to pay you? evriPay is the fastest way to set up online payment on your WooCommerce powered store and accept credit cards. A simple integration into your shopping cart allows your customers to pay securely and easily.
Key features
Simple and effortless integration with the click of a button.
Merchants do not have to manage certificates and the 3D secure process.
128 Bit security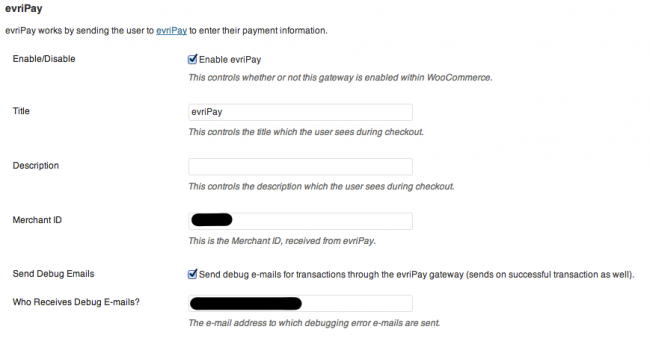 The evriPay payment gateway for WooCommerce will allow any small and medium sized store to easily take credit card payments with just the click of a button, you simply need to enter your evriPay Merchant ID and are ready to recieve credit card payments. There is no need for any third party integration as the evriPay payment gatway for WooCommerce takes care of all the integration for you.
On checkout the customer will be redirected to evriPay's 128bit secure payment pages where they can enter their credit card details and confirm payment and then be redirected back to your store for confirmation. This takes the responsibility of PCI compliancy and security certificates out of your hands and allows you to focus on your main objective that is to sell.