MANAGE YOUR EXPENSES BETTER WITH QUICKBOOKS INTEGRATION
QuickBooks Integration for WooCommerce connects your WooCommerce store to QuickBooks allowing you to sync data from your online store to the platform. It syncs the data for objects like Orders, Customers and Products as per the modules of QuickBooks. QuickBooks Integration for WooCommerce allows you to create Customers, Items, and Invoices on the platform.
Note: QuickBooks Integration for WooCommerce Plugin works only with QuickBooks Online.
Why should you use this Plugin?
QuickBooks Online comes with amazing accounting-related features like revenue management, expenses tracking, etc. However, there was no way to sync your WooCommerce data for tracking, reporting, and management. Now, with the QuickBooks Integration for WooCommerce plugin by WP Swings you can send all your historical and new store data to QuickBooks. Going forward, new store data updates in real-time to manage your revenue-related activities.
Benefits
Easy to set up: QuickBooks Integration for WooCommerce is super easy to set up and use—even those without any technical skills can integrate it to start syncing their data.
Seamless data sync: The QuickBooks Integration for WooCommerce plugin provides frictionless data synchronization with QuickBooks.
Detailed sync logs to save error resolving time: The plugin provides a complete sync log report that helps you easily recognize errors and helps you to rapidly resolve them.
Control your data completely: QuickBooks Integration for WooCommerce lets you map fields for QuickBooks accounts, events, etc., in an object's feed. This enables you to control the data you want to sync and select the event that triggers the synchronization.
Features
1. Sync WooCommerce object data with feeds
This QuickBooks integration plugin provides you feeds that control the data synchronization process for WooCommerce objects. You can configure these feeds to sync your data as per your needs. Feeds for objects include:
Customers
Products
Invoices
These feeds consist of multiple settings you can use to control data synchronization. The following are some of the options for customizing feeds.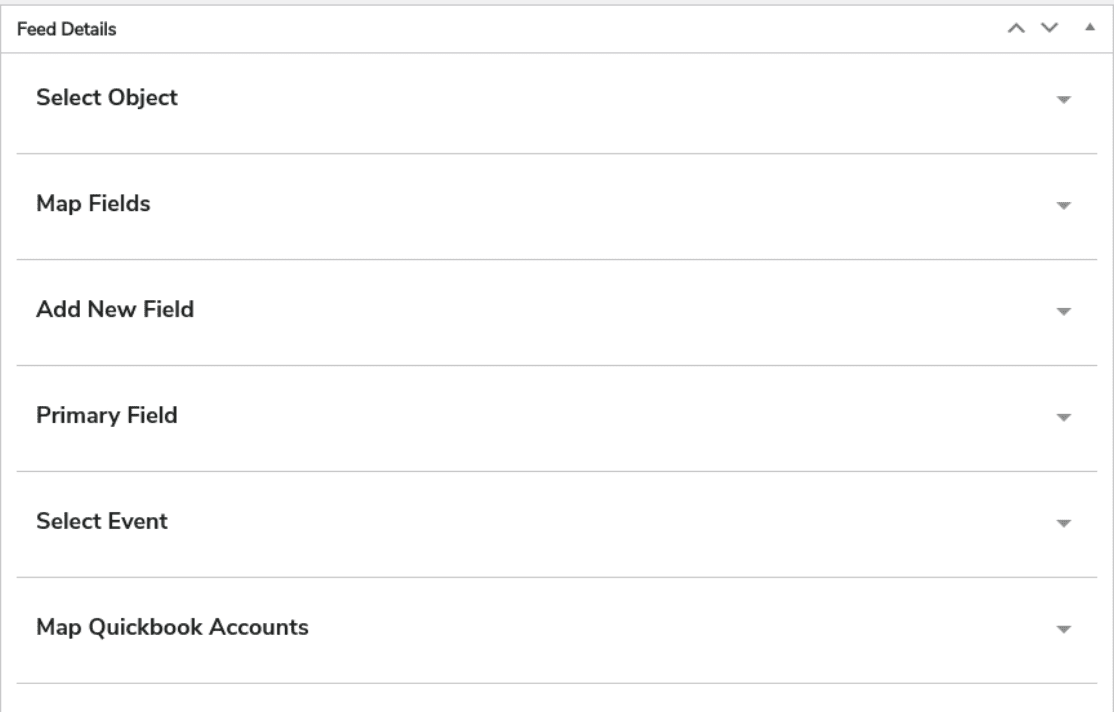 Select object
Choose the type of QuickBooks object you want to send your data in
Map fields
Map QuickBooks fields to WooCommerce fields
Add new field
Add a new field to your feed
Primary field
Select a field that will work as a primary key
Select event
Choose the event that will trigger the data sync process
Map QuickBooks account
Map your Income, Expense, Asset, and Deposit account
2. Sync historical data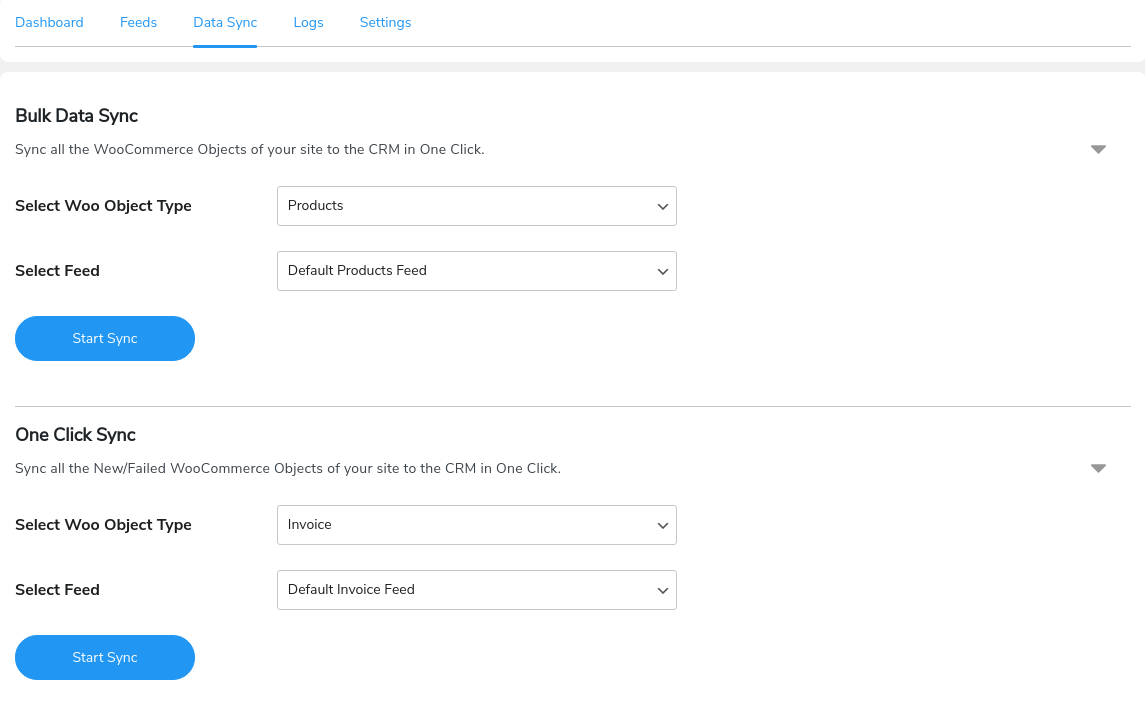 The historical data sync feature in this integration allows you to sync your existing WooCommerce store data on QuickBooks. There are two different methods to sync historical data.
One-click sync
Sync newly added or data that failed to sync previously
Bulk data sync
Sync all data of the WooCommerce object
Select the object and related feed to start sending your existing data over QuickBooks.
3. Detailed sync logs
The QuickBooks Integration for WooCommerce plugin provides a comprehensive report of your sync logs. This log report includes a detailed description of errors with parameters like Objects, Object ID, Feed, etc. This tells you what went wrong and helps you figure out the error and troubleshoot it.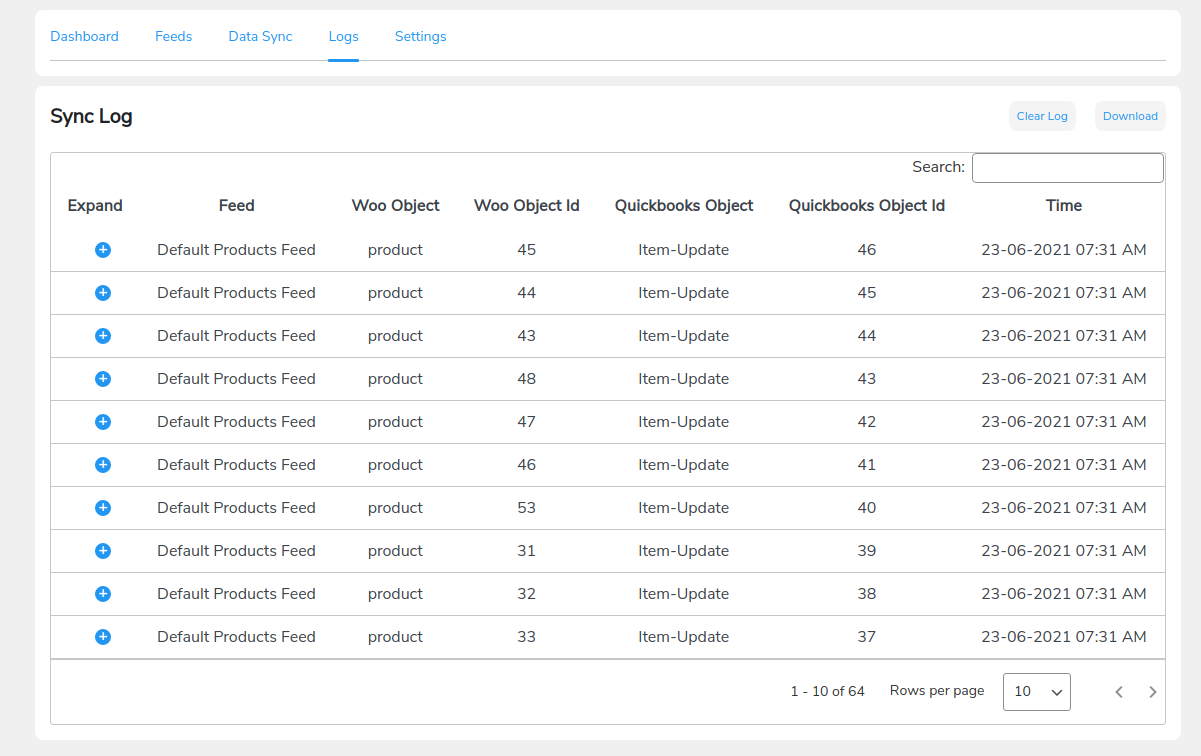 4. Instant sync
With instant sync, you can quickly sync your WooCommerce data to QuickBooks. The instant sync feature depends on an event to trigger the data synchronization. For example, if you select the "Product Created" event, your data will sync over QuickBooks whenever a new product is created.
Disabling Instant sync will require you to sync your store's data manually through the One-click or Bulk data sync feature.
 5. Log storing
Under the Settings tab of this plugin is a feature called Enable Logging. If you turn this toggle on, you can store your log data. Along with that, you can also set the number of days you want to store the logs. The logs will automatically delete after a set number of days you select.
Support
Visit Quickbooks Integration for WooCommerce Documentation to learn more about the features and working of the plugin. If you need support or have questions, kindly submit your query.