Lottery for WooCommerce is a lottery/lucky draw system for WooCommerce. Using this plugin, you can run lotteries, competitions, contests, giveaways, raffles, etc., supporting both free and paid tickets. You can also set up a Question to which the users should Answer in order to participate in the Lottery thereby making it a case of skill rather than just by chance.
Benefits of Lottery for WooCommerce
1. Increases Revenue
Running a lottery/lucky draw system in your shop can bring additional revenue from lottery ticket sales.
2. Convert Potential Prospects to Customers
New users who participate in your lottery/lucky draw might be more inclined to purchase from your shop.
3. Attract New Customers
Users who have won a lottery/lucky draw may be more likely to refer new users to the site.
How Lottery for WooCommerce Works
Lottery for WooCommerce supports two types of lotteries:
1. Automatic ticket generation lotteries.
2. User ticket selection lotteries.
The winner's gift can be configured in two ways:
1. Products inside the site.
2. Products outside the site.
Here's how to configure the automatic ticket generation lottery where the gift is a product inside the site.
Set up the mandatory fields: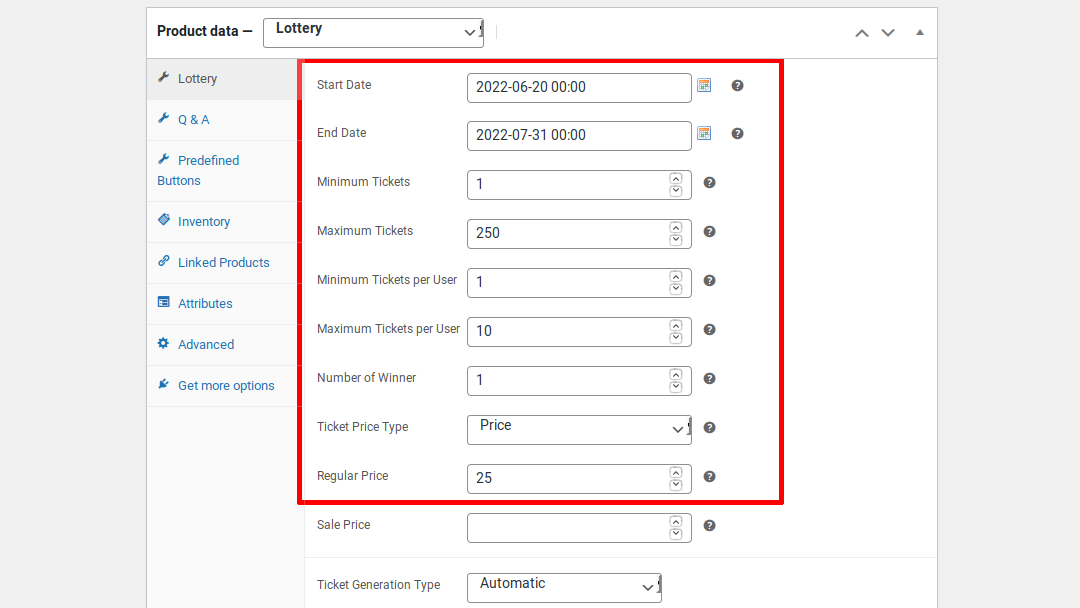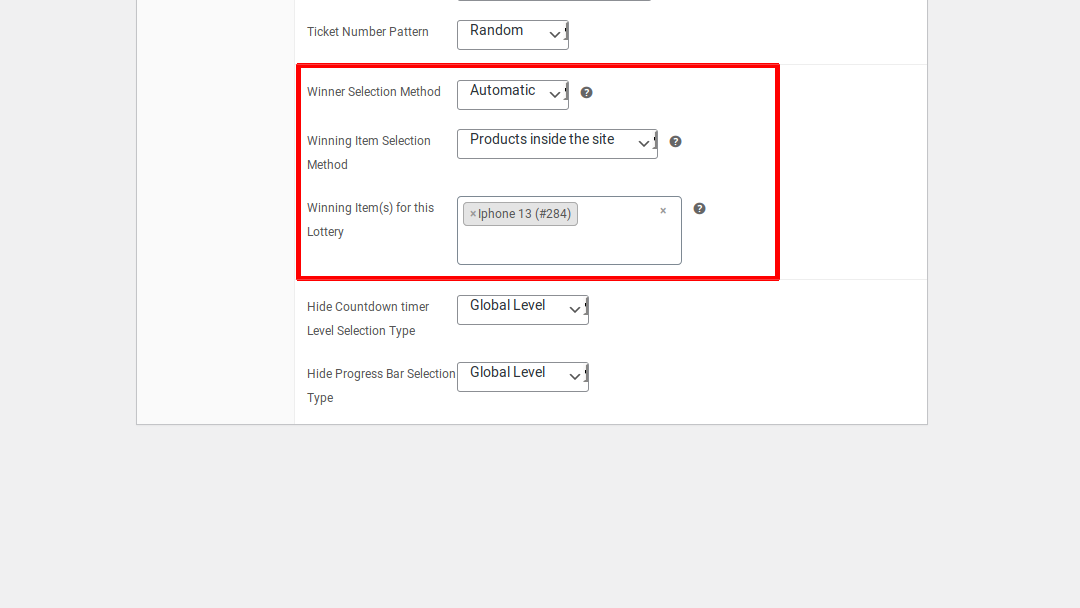 Once configured, users can purchase lottery tickets on the product. Any logged-in customer can participate in the lottery by purchasing the tickets.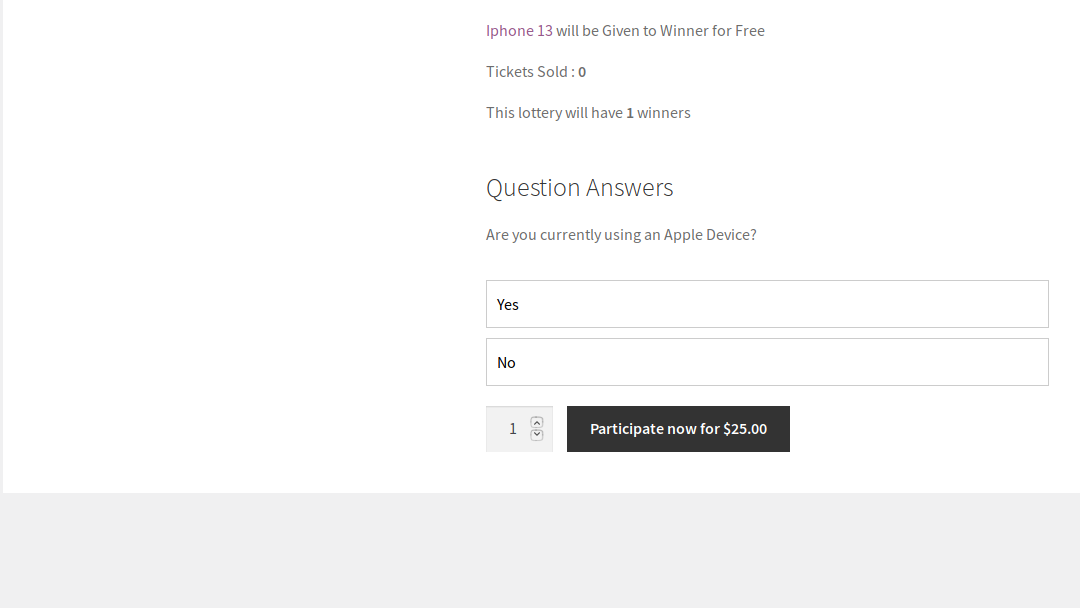 After purchasing the lottery ticket, your customer can monitor the lottery from their lottery dashboard.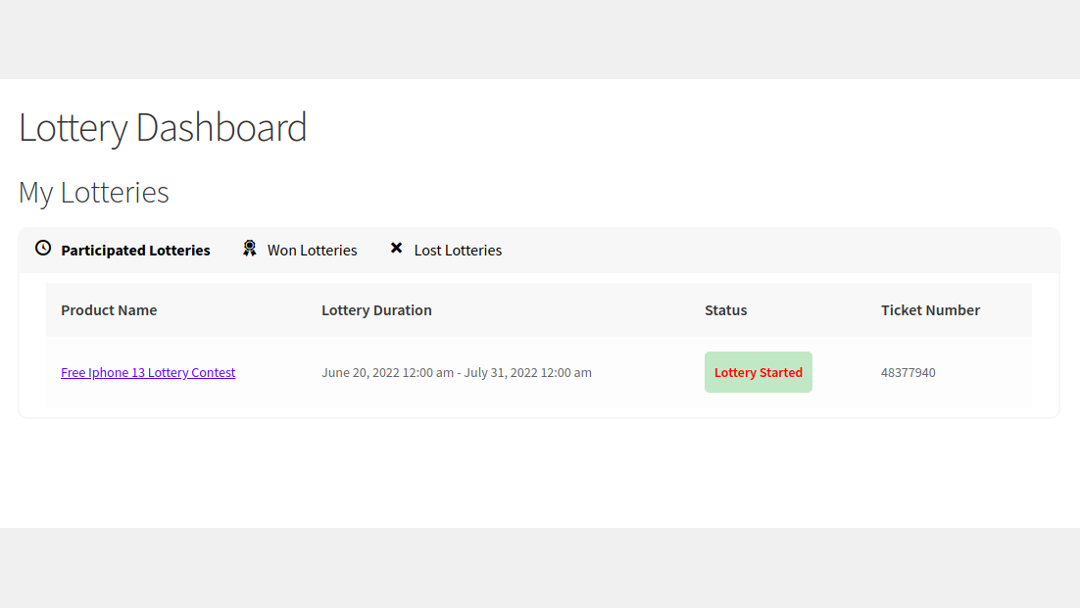 Your customers will be notified by email when the their lottery ticket is confirmed, when the lottery ends, and to announce the winner.
Once the lottery end date arrives, winners will be selected based on the winner selection method in product settings.
Once the winner is declared, an order with the gift product will be automatically created on behalf of the winner, free of charge. You can access this order from the orders section of the My Account page.
Features
Answer a Question Before Purchasing Lottery
You can set up your site to ask a question to your users before they can purchase lottery ticket(s). The following customizations are possible,
Force your users to answer the question before purchase
Prevent users from purchasing lottery if the answered question is incorrect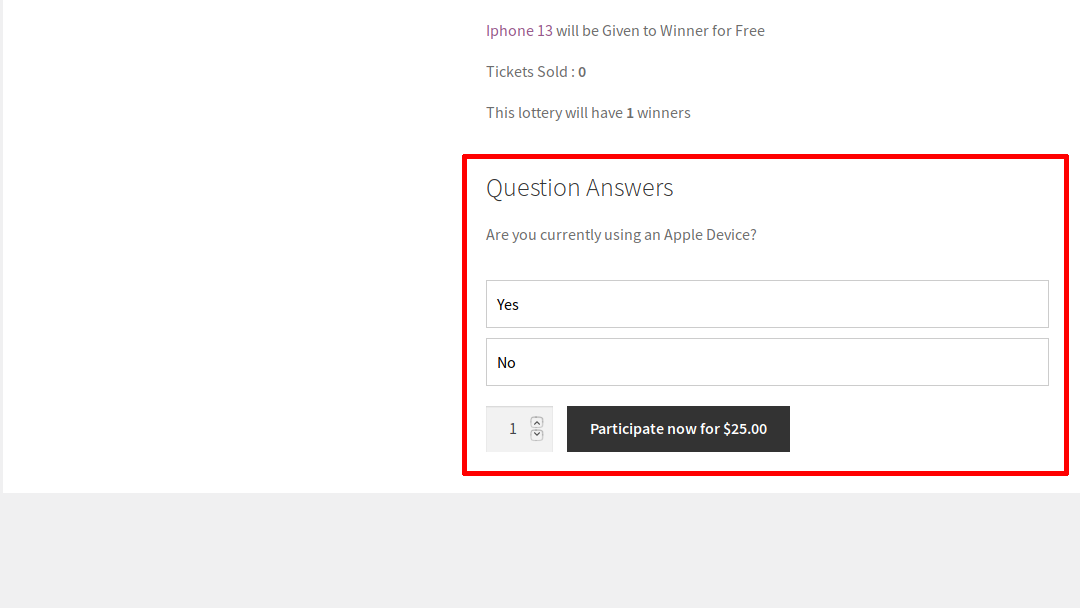 Guest User Controls
By default, when a guest user tries to participate in a lottery, they will be forced to login to the site. Optionally, you can customize the guest workflow in two other ways as per your preference,
Prevent guest users from participating in the lottery
Allow guest users to participate in the lottery
Separate Dashboard for Admin and Users
A separate dashboard for the Site Admin and Users to view and manage the lottery activity.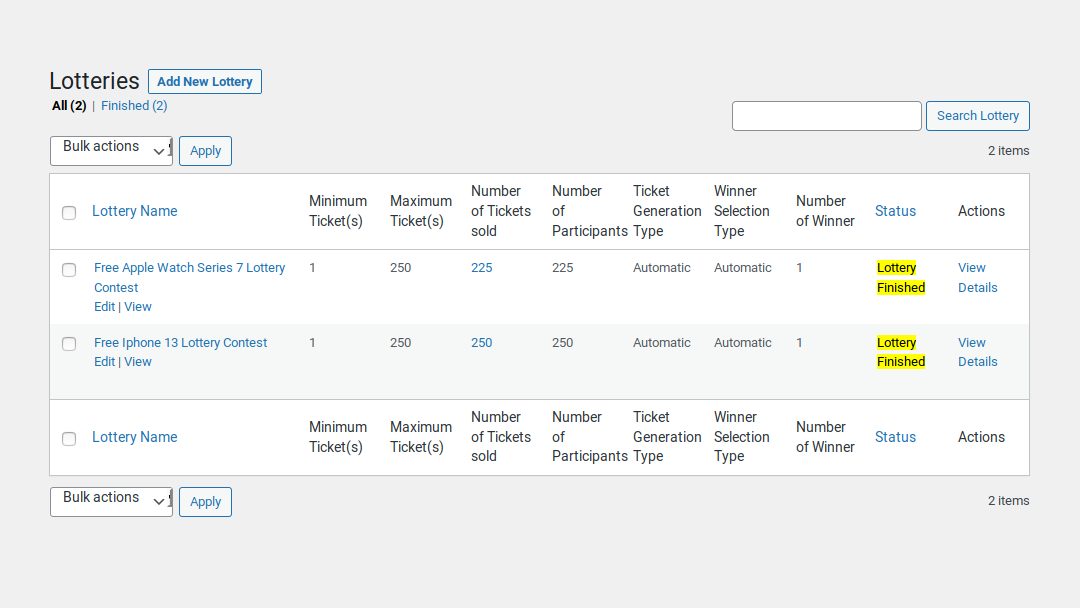 Admin Dashboard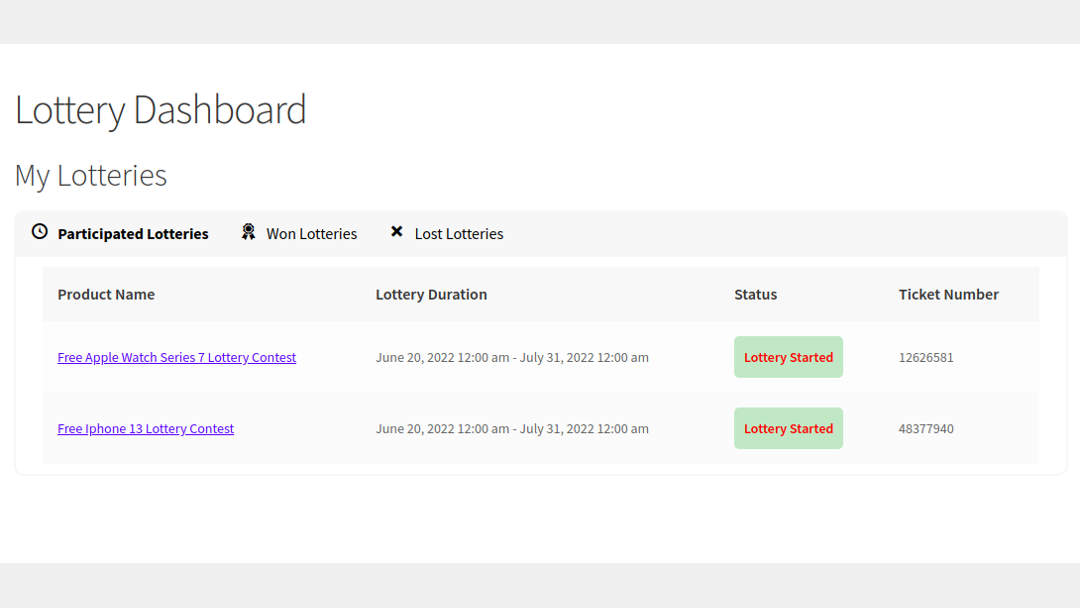 Customer Dashboard
Highly Customizable
You can customize the following for the lottery,
Price
Start Date and End Date
Lottery Ticket Creation Method
– Automatically Generated
– User selects the Tickets(Alphabet Ticket Numbers supported)
Winner Selection Method
– Automatic
– Manual
Labels and Messages can be customized
URL Parameters for lottery dashboard
Option to redirect directly to checkout when the Participate now button is clicked
Option to enable search and select ticket option for the users
Email Notifications
Email notifications can be sent to both Admin and users for all lottery actions.
Offer Tickets at a Discounted Price
Option for the site admin to offer tickets at a discounted price. Site admin can set the number of tickets to purchase and the discount value.
Troubleshoot Option
Option to list the Order(s) for which ticket number(s) were not generated in the lottery post table.
Requirements
Minimum PHP version: 5.6
Lottery for WooCommerce can help you run a lottery/lucky draw system in your WooCommerce Shop.
WooCommerce
The most customizable ecommerce platform for building your online business.