Supercharge your store's checkout & payment experience with PeachPay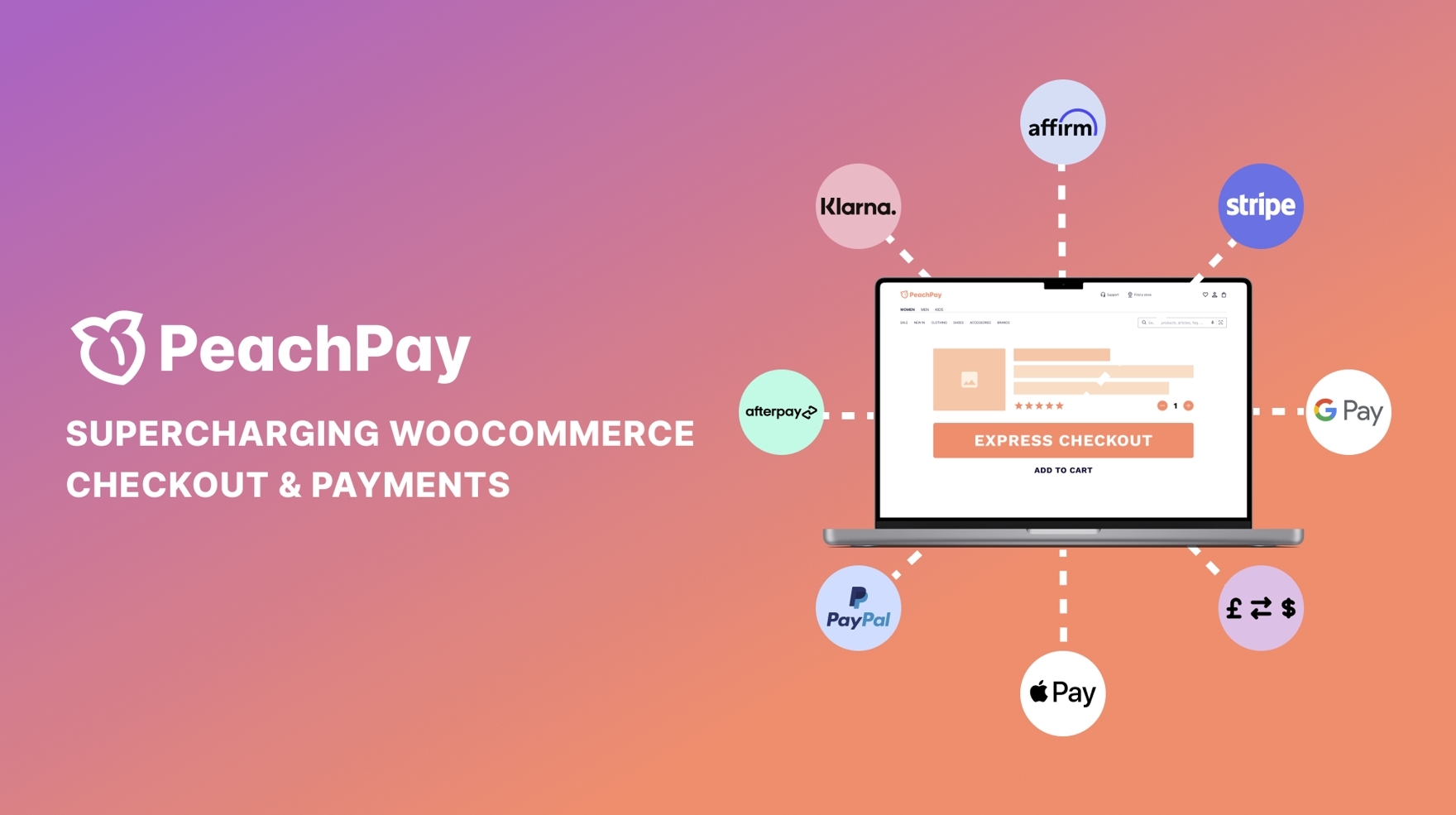 Worried about cart abandonment or failed payments? Then PeachPay is the plugin for you. PeachPay is the most conversion-optimized, stable, and configurable checkout & payment solution available for WooCommerce.
What does PeachPay do?
PeachPay lets your customers check out straight from product pages, the cart page, the mini/sidebar cart, and beyond. With the click of a button, your customers access a conversion-optimized checkout window, which you have full control over. You can enable all your favorite payment methods: Stripe, PayPal, Google Pay, Apple Pay, Klarna, Afterpay, Affirm, purchase orders, and more coming soon. On top of that, returning users get access to one-click checkout.
Try a live demo to see what a supercharged WooCommerce checkout looks like 
Features
– Adds a fully customizable PeachPay checkout button to all product pages, cart page, mini/sidebar cart, and checkout page
– Shortcode support for placing PeachPay button on home page, shop page, etc.
– Choose your PeachPay checkout button color, width, alignment, border radius, visibility by page, and more
– Modify every aspect of the PeachPay checkout window, including fields, coupons/discount codes, product recommendations, order notes visibility, and more
– Built-in field editor that lets you add, remove, and modify fields
– Built-in currency switcher and multilanguage options
– Built-in upsell funnel builder & configurable related products gallery
– Automatically display upsells & cross-sells configured through WooCommerce products settings
– Collect payments with Stripe, PayPal, Google Pay, Apple Pay, Klarna, Afterpay, Affirm, purchase orders, and more (WooCommerce Payments, Square, Authorize.net) coming soon!
– PeachPay lets you easily connect your existing Stripe or PayPal account rather than forcing you to create a new one
– Instant payouts and zero-fraud guarantee through Stripe & PayPal
– 3D Secure with Strong Customer Authentication (SCA) support
– Returning customers have access to one-click checkout
– Customers with prior PeachPay purchases on other stores can purchase from your store with one click
– Test mode allows you to try PeachPay on your live site before customers see it (no payment API keys necessary)
– Fully compatible with WooCommerce subscriptions and its most popular add-ons
Benefits
By making the checkout & payment experience as frictionless & stable as possible, PeachPay lets merchants increase sales, customer loyalty, and even average order value.
Whether you plan to use PeachPay as a supplementary checkout option or as the only way to check out on your store, you can expect to benefit from PeachPay in no time. PeachPay is fully capable of powering your entire checkout & payment process, meaning your checkout page becomes obsolete (you can disable it with the click of a button using the PeachPay plugin settings).
Plus, you get a bunch of functionality typically locked behind paywalls, including a built-in field editor, currency switcher, multilingual capability, and an upsell funnel builder.
The best part about all this? PeachPay is completely free. No monthly/annual fees and no increase to your transaction fees. No fishy business either! PeachPay just takes a % from the payment providers its partners with instead of its merchants.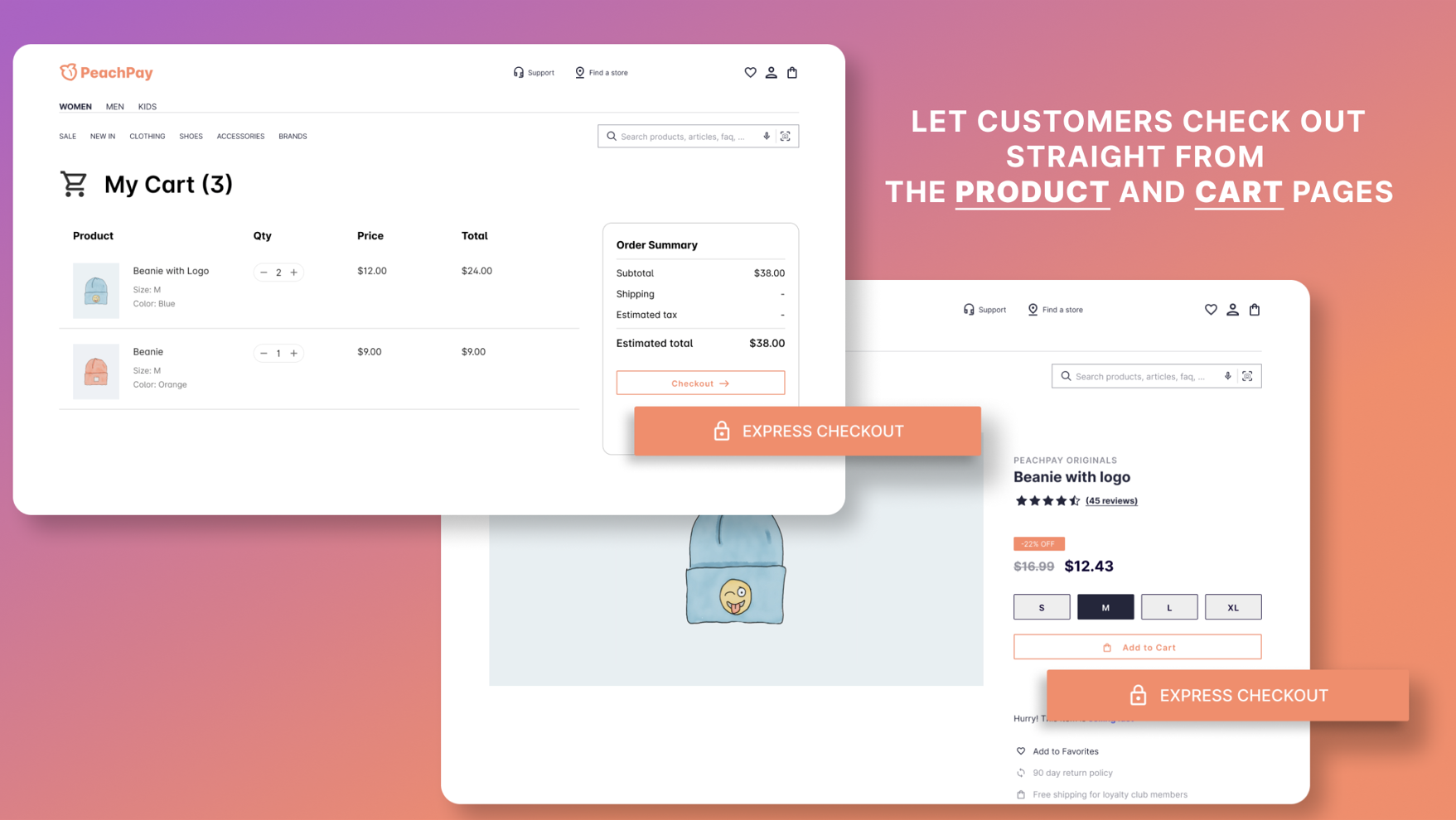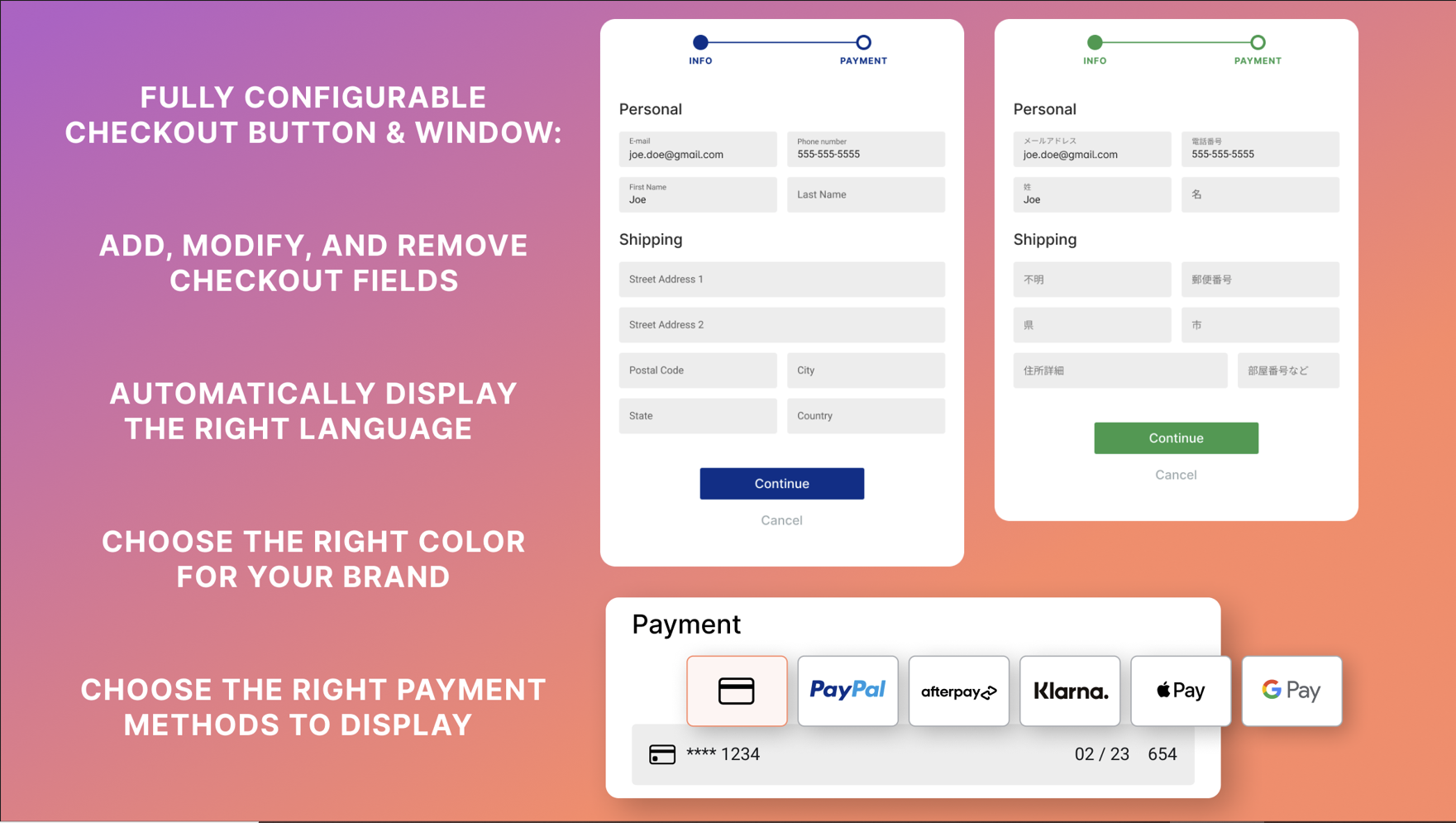 Support
Reach out to us at support@peachpay.app if you have any questions or concerns whatsoever!
Requirements
WooCommerce must be installed and active
You need to be able to use Stripe or PayPal
The minimum supported PHP version is currently 5.6
Still not sure? We have a comprehensive FAQ page.