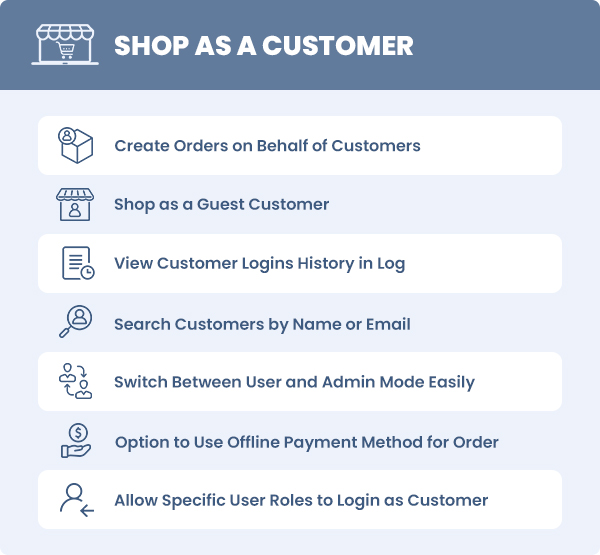 Use your online shop as a customer to create orders on behalf of people who are unable to do their own shopping. Shop as Customer for WooCommerce lets you access the front end of your store as one of your customers. Collect order details via phone and email and create an order on their behalf to increase conversions among customers who are less tech-savvy. Switch between the customer and admin with just one click when needed.
Features
Create orders on behalf of customers
Shop as a guest customer
Switch to any user role
View Customer Logins History in Log
Search customers by name or email
Record orders you take on the phone, email, etc.
Use the store as a customer
Switch between user and admin mode easily
Option to use offline payment method for order
Allow specific user roles to login as customer
Shop as any customer
WooCommerce shop as customer allows admin to switch to any customer easily and create an order for them. It displays a list of all your customers and other user roles.
Shop as a guest customer
This plugin enables you to switch to a guest user to shop as a guest customer on your online store.
View Customer Logins History in Log
WooCommerce create an order for customer plugin, records the history of customers accessed accounts and you can view and export them as well. You can also contact customers via WhatsApp right away.

Search Customers by name or email
Admin can easily find any customers by searching them by name or email with WooCommerce login as a customer plugin.

View customer orders and profiles
WooCommerce Login as a customer enables store admin to select any customer from the list to see their profile and orders and can switch as the specific customer.

Switching back to admin
A bar will appear when the admin is using the site as a customer. Shop as a client for WooCommerce allows the admin to change its status by clicking on the 'Switch Back' button in the bar.

Offline payment method option
Admin can use offline payment method to order the products on the behalf of customers.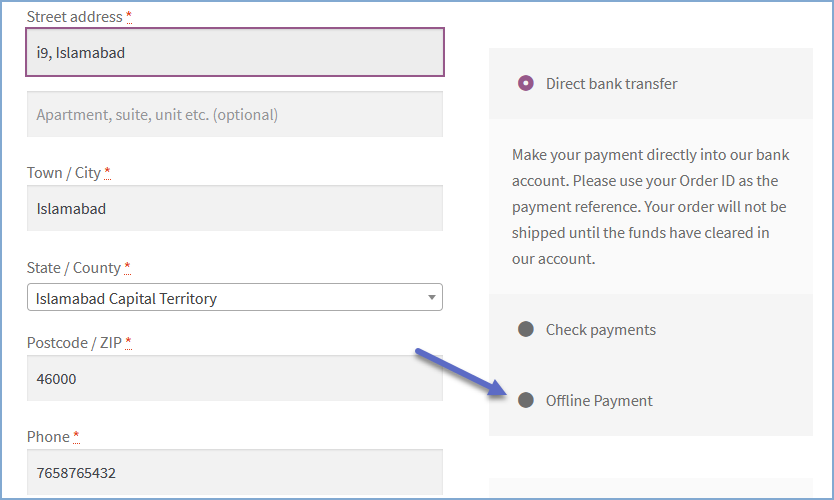 Allow specific user roles to login as customer
You can empower the specific users by giving them roles so that they can also log in and shop on behalf of your valuable customers.