With Wholesale Market Plugin, you can offer your customers a seamless experience in wholesale marketing. The Wholesale Market plugin is a feature-rich tool that allows WooCommerce store owners to handle wholesale and regular customers.
It's a comprehensive wholesale solution that allows store owners to deliver wholesale pricing to wholesale buyers, handle user roles, and run their entire wholesale business without hassle.
So, if you want to sell your goods in more significant quantities without impacting daily retail sales, you should consider configuring your store with the Wholesale market WooCommerce integration.
Why should you use Wholesale for WooCommerce?
The Wholesale WooCommerce extension is perfect for WooCommerce store owners who want to extend their current WooCommerce store to wholesale while keeping their existing customers. It meets the wholesale vendors' needs, offers a pleasant shopping experience for wholesale customers, and serves loyal customers. It offers a detailed approach to managing various stock sizes and prices.
Benefits of the plugin
The wholesale Market gives the consumers a joyful selling experience while also helping them to increase the conversion rates:
Connecting your store to the plugin is simple and easy. Get your store to get going within a few mouse clicks. Instantly add wholesaler consumer positions and wholesale pricing, and you are good to go!
With simple customization, make your wholesale marketing store precisely as you want it. The plugin is user-friendly and brings frictionless functionalities to your WooCommerce store.
Basic features
Monitor wholesale-price visibility and save plugin settings- The Plugin gives you complete control over wholesale-price visibility. You have the option of showing the Wholesale-price to all customers or only wholesale customers. You also get the option to save plugin settings when the Plugin is deactivated, which prevents the loss of previous settings and saves the product metadata added by the Plugin.
General Settings:
You can enable all the Wholesale Market features.
You can also select "Who can see Wholesale price."
Also, show the wholesale price on the product listing page.
Keep the plugin setting on deactivation.
Keep product meta fields added by the plugin on deactivation.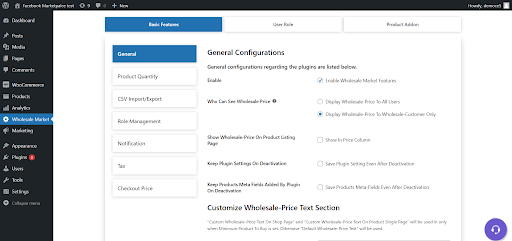 Customize Wholesale-Price Text Section
"Custom Wholesale-Price Text On Shop Page" and "Custom Wholesale-Price Text On Product Single Page" will be used only when Minimum Product To Buy is set. Otherwise, "Default Wholesale-Price Text" will be used.
Product Quantity
Determine the minimum quantity of each substance. The plugin allows store owners to specify the minimum amount of a commodity that qualifies for a wholesale price. You can also use this plugin to set a single universal minimum quantity that applies to all products or a different minimum quantity for each product category.
CSV import/export
Via a CSV file upload, the store owner can import essential product data such as product description, price, and other information. This feature also allows merchants to make changes in a CSV file, upload it, and apply the changes all at once.
Role management
Manage wholesale User roles- You can define different pricing choices for your customers and build and manage user roles for Wholesale-Customers.
Notification
The following updates are covered in the notification feature.
New Request for Wholesale Role Message.
Wholesale Role Request Received Message.
Wholesale Role Request Accept Message.
Wholesale Role Request Cancel Message.
The admin will receive the email regarding the stated request via the Notification feature.
Tax
For wholesale customers, the plugin allows you to delete the tax or add some special tax.
Checkout price
To get the wholesale price, the store owner should set a minimum price that wholesale customers must spend. Customers must then meet the threshold price to complete the checkout process.
User Role
Admin can easily assign and edit user roles.
The feature allows the admin to assign different roles to the users. Admins can further put up price variations to different users as per their assigned roles.
Admin can also edit and change the assigned roles to the existing users.
Add a new user role: feature lets you add a new user.
Add user role: The feature lets you add the user role for the new or the existing user.
Bulk Action: This feature lets you delete the assigned roles to the users.
Product addon
Global percentage discount: For wholesale users, the settings for a global percentage(percent) discount across all shops are described below. You can set a global discount on standard shop-price (i.e., wholesale-price) for wholesale customers on all available products in your shop at once using this option.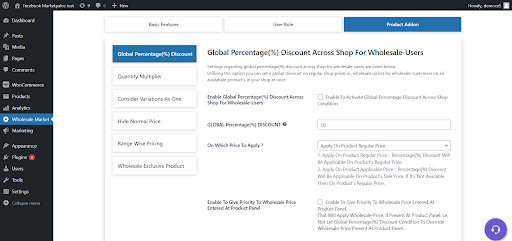 Quantity multiplier:
The product quantity multiplier settings are described below. You may use this option to set a multiplier such that a product can only be purchased in multiples of that multiplier. If multiplier=3, for example, the commodity can be purchased in quantities of 3,6,9,12, and so on.
Consider variation as one:
The following are the options for considering Variations As One. You can set common fields for all variations of a variable product using this option.
Hide normal price:
For wholesale customers, the settings for hiding the usual price across the shop are described below. For Wholesale-Users, you can use this choice to mask standard WooCommerce pricing.
Range wise pricing:
For wholesale users, the settings for "Range Wise Pricing" are specified below. For Wholesale Users, you can use this option to set a "Range-Wise-Pricing" Scheme for a commodity. In the last row of range-wise pricing, use "-1."
Wholesale exclusive product:
The following are the settings for Wholesale Exclusive Products. You may set an exclusive wholesale product using this option, and that product will be listed automatically in the admin-created "Wholesale-Shop" tab.
Additional benefits
In addition to allowing you to leverage your wholesale expertise for your clients, the wholesale market offers:
An account manager who is dedicated to you With the purchase of the Wholesale market for WooCommerce, you will be assigned a dedicated account manager who will work with you in the process to resolve problems with the plugin's setup, installation, and other management.
Our professional staff will be available to you 24 hours a day, 7 days a week, to assist you in selling effectively. You can communicate with us via chat, phone, or Skype.
Summing it up is The perfect wholesale plugin for your WooCommerce store.
Since maintaining several locations becomes difficult, many shop owners choose to sell vast amounts of merchandise and appeal to loyal customers within the same retail store. With this plugin, you can manage wholesale customers on your own without interfering with frequent customers' shopping experiences. Our experts will be available to you 24 hours a day, 7 days a week, to assist you in selling effectively.