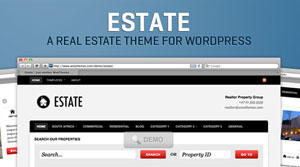 Estate (formerly known as Realtor; R.I.P.) – the WordPress real estate theme solution is finally here!
The WooTeam (especially Jeff & Cobus) have spent months in perfecting Version 1 of Estate and we're so excited to now hand this over to all the awesome WooFans to try it, experiment with it and obviously: build your next WP-powered real estate website using Estate.
One of the main reasons that Estate took a little longer, and required more love (in comparison to our other themes), is the fact that we've included quite a bit of niche functionality that we had to develop specifically for Estate. So it wasn't just a case of mixing & matching code from our existing themes; nope, we had to develop Estate from scratch. The other reason for this development process relates to all the new custom post type & taxonomy goodies in WP 3.0 that we've utilized, because we wanted to release a real estate theme unlike any other WP theme that you may have encountered up until now.
Estate's (special) landing page covers all of its features in detail, but we wanted to highlight a few of the most awesome features right here…
Custom Post Types & Taxonomies
We built Estate using the latest WP 3.0 functionality, which allows us to create a specific post type (a property listing) that can be published with specific taxonomies (for example: locations, property types & additional features to the property). This also means that property listings won't be confused for blog posts / articles, as they exist within a whole different sphere of your WordPress installation.
Advanced Search
If you've been a WordPress user for a while, you'll know that the default search functionality isn't overly advanced. So we developed our own search functionality that allows the visitor to search for different properties based on whatever search criteria they desire.
Google Maps
By now you should now that we love Google Maps and no real estate theme can claim to be a proper real estate theme if it didn't include some form of map integration. The beauty of Google Maps just makes this easy…
OH… And did we mention that we included an optional space which can be used for a Virtual Tour? 🙂 Any Flash embed code will work just fine in there!
Design Controls
Everybody loves Canvas, because it includes so many design controls which are great for easy customization of the theme. We have therefore included some of these controls in Version 1 of Estate to allow you to modify your site on the go, without hacking into the template's code.
You'll also see that there are a bunch of template pages (such as single property listing, archives / category listings, & search pages) that has two alternative layouts available to you. This is just further building on our aim in terms of making Estate super-customizable & easy to use.
---
There are probably quite a few other features that we have neglected to mention here, but there's a few more on Estate's landing page. You should also definitely have a play with Estate's demo if you want to see some real awesomeness in the works.
As mentioned before: this is the first version of Estate and once we've seen it working in the wild (i.e. once you guys & girls start using it & hack it to shreds… hehe), we'll start working on implementing a few more features that we have on our to-do list. So at this stage, grab your copy of Estate and fire away with any suggestions or feedback!
NOTE: Estate also introduces, and justifies a new price point on WooThemes: $200 for it's themepackage. This package includes the PSD files for the theme, but does not include any bonus themes. Both Standard & Developer Club Subscribers do however also have access to Estate; so grab that from your account if you're a subscriber.