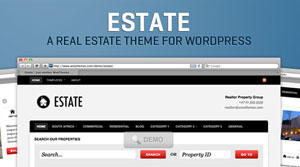 Estate (formerly known as Realtor; R.I.P.) – the WordPress real estate theme solution is finally here!
The WooTeam (especially Jeff & Cobus) have spent months in perfecting Version 1 of Estate and we're so excited to now hand this over to all the awesome WooFans to try it, experiment with it and obviously: build your next WP-powered real estate website using Estate.
One of the main reasons that Estate took a little longer, and required more love (in comparison to our other themes), is the fact that we've included quite a bit of niche functionality that we had to develop specifically for Estate. So it wasn't just a case of mixing & matching code from our existing themes; nope, we had to develop Estate from scratch. The other reason for this development process relates to all the new custom post type & taxonomy goodies in WP 3.0 that we've utilized, because we wanted to release a real estate theme unlike any other WP theme that you may have encountered up until now.