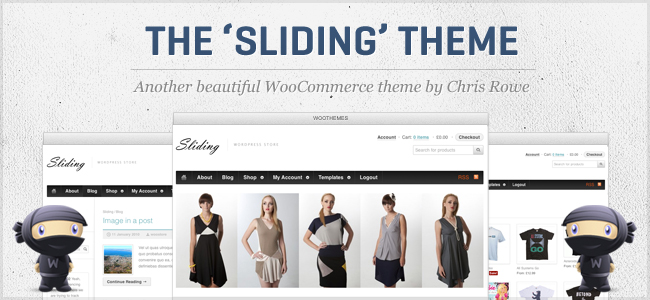 Today's release is a beauty. A few months back we asked the talented Mr. Chris Rowe, who's helped design a handful of our business, photography and personal themes, to design his first WooCommerce specific theme. Needless to say, he didn't let us down and brought his usual attention to detail, clean styling, and crisp typography to the table to produce "Sliding".
Sliding is a design that although hugely flexible in implementation I believe is tailor suited for online fashion stores. With a flexible slider designed for portrait shaped imagery your product line is presented professionally, whilst easily accessible. They key to any online store's success is good photography and this theme shines with it.
The homepage also boasts horizontal sliders to fit in lots of products, whilst keeping the homepage relatively short and compact. The shop page however lists all your products in the typical grid format, and that layout could easily be applied to the homepage should you prefer it. Characteristics of other popular Chris Rowe's designs can be seen, like similar blog post styling and the featured slider of Delicious Magazine.
You've still got access to the usual WooCommerce shortcodes to place sticky notes and flash sales banners on the homepage and widgetized regions in the footer to place more accessible information.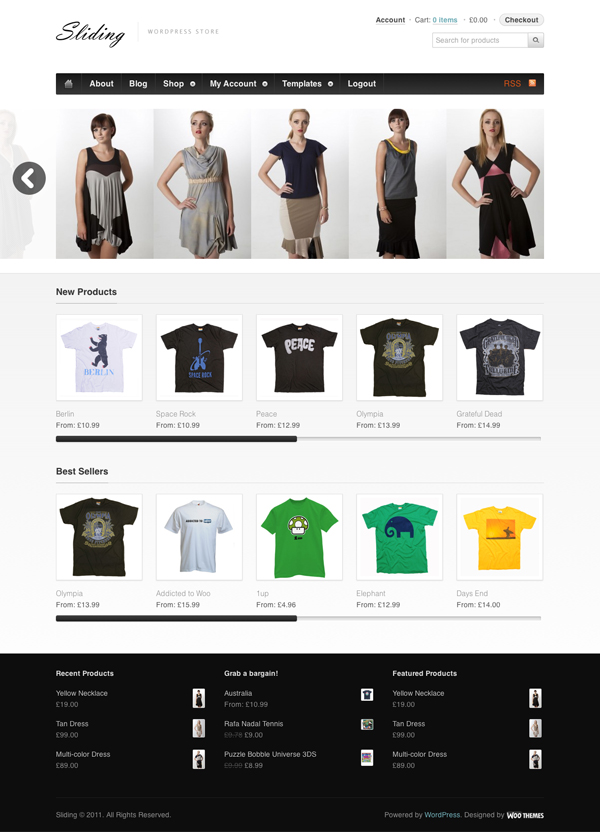 Have a look at Sliding's complete feature set here or experience Sliding in full on the demo before letting us know what you think.
2011 is almost coming to an end, but we're still celebrating each new release with a 11% discount coupon. Use "SLIDING11" to grab 11% off Sliding today. Valid until 15 December 2011.
WooCommerce v1.3.1
Including many minor bug fixes and improvements to the core, all of which you read about in the changelog, the most noteworthy features of today's release are the ability to re-order payment gateways and choose a default, as is shown below.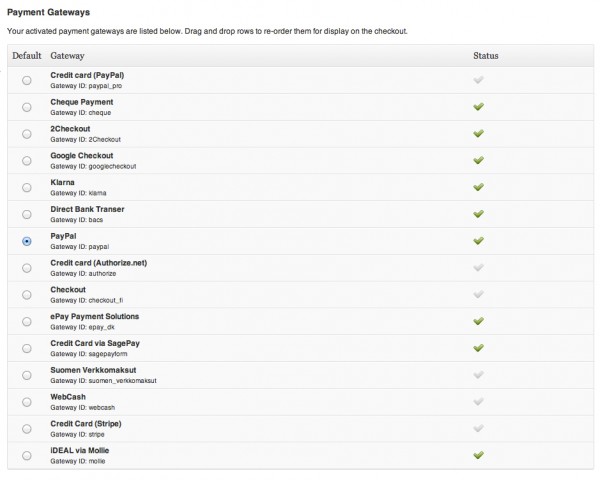 As well as a new "Shipping class" taxonomy for grouping products and an enhanced flat rate shipping system to give a flat rate  to each shipping class. An example of this would be grouping products under "T-shirts" and then setting flat shipping rates for that particular product group.

This is currently only available for flat rates, but eventually we will be applying the same logic to table shipping making it an even more powerful extension.
Download WooCommerce v1.3.1
New extensions
Today also see's the release of two payment gateway extensions.
Suomen Verkkomaksut Gateway

Quite a name we know. Suomen Verkkomaksut Oy is the leading e-payment method provider in Finland. The Suomen Verkkomaksut plugin extends WooCommerce allowing you to take payments via their payment portal. You need to register yourself to Suomen Verkkomaksut portal and make a contract with them to actually use this module. You can only use EUR as the currency of your WooCommerce shop.
View this extension
Stripe

With Stripe you can accept all Visa, MasterCard, American Express, Discover, JCB, and Diners Club cards directly on your store. At the moment, you must be based in the US to receive payments; this involves both having a U.S. address, and having a significant shareholder of the company with a valid SSN. Â Stripe has no setup fees, no monthly fees, no card storage fees, no hidden costs: you only get charged when you earn money. You can also setup automatic money transfers to your bank account from Stripe. Stripe will then automatically transfer the money to your bank account seven days after the payment was made.
View this extension