Nine ways to use Name Your Price to improve the customer experience and increase revenue
Allowing your customers to choose what they're willing to pay for your products and services may seem a bit counterintuitive. After all, why would a business want to let customers pick a price rather than requiring a set amount?
But used the right way, this tool offers an opportunity to build unique relationships with customers while remaining within the pricing boundaries that you set.
Consider these nine ways you can use Name Your Price.
1. Donations for Nonprofits
For nonprofits, the Name Your Price extension provides a straightforward, flexible way to collect donations.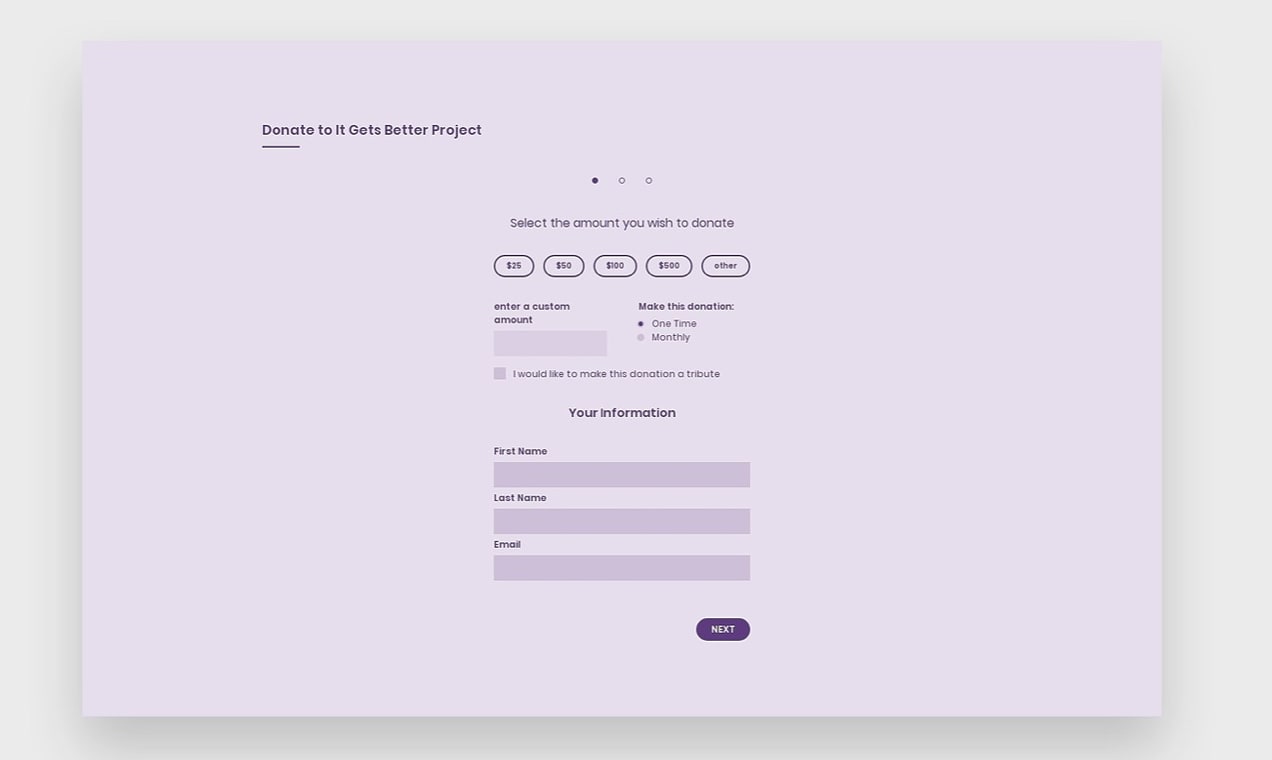 For example, the It Gets Better Project suggests four commonly-gifted donation amounts using radio buttons, but also includes a custom amount box for donors who want to go above and beyond. Customers may also give lower amounts – but 25 donations of $5.00 are just as good as one $125 donation. In addition, there's an option to turn the one-time gift into a recurring donation.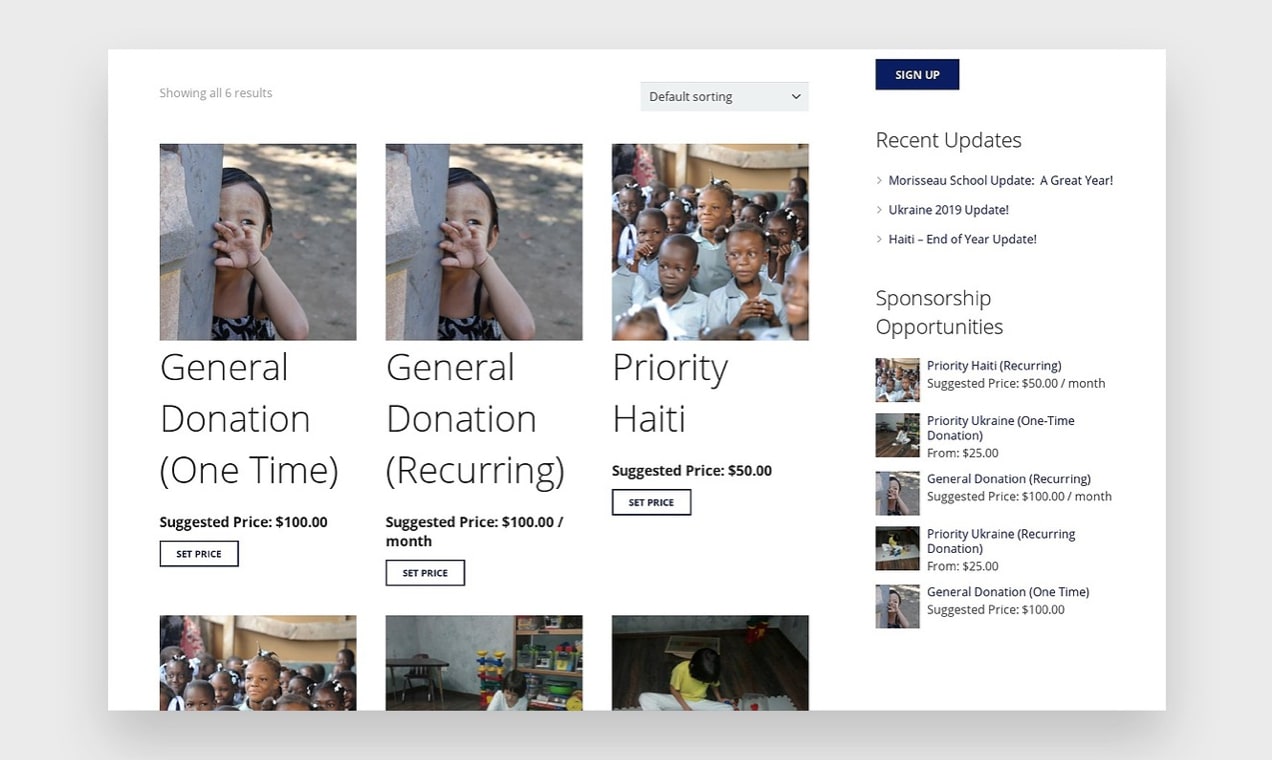 Priority One Worldwide displays a suggested donation of $100, but still allows benefactors to change the amount to anything over $10.00.
If your nonprofit sells physical products, you can set a minimum price so that you never lose money on a sale, but also don't miss an opportunity for a larger donation.
Similarly, many for-profit businesses sell items and donate a portion of their sales to charitable organizations. Businesses using 'cause marketing' in this manner can offer buyers the chance to donate an additional item (buy one, donate one), or add a gift amount to their order.
Grocery stores do this frequently at checkout. Before prompting customers to slide their card, tellers will sometimes ask for a small donation to a cause supported by the store.
Explore the WooCommerce Showcase to see how other nonprofits use Name Your Price.
2. Adding a Tip
Similar to asking for donations, you can include a box on the order form for tips. This works well for online delivery services, where the customer can add a tip for the driver.
If you sell a free product (like a plugin or digital download), you can even add a way for your users to buy you a cup of coffee or contribute to your work. Many people will donate a dollar or two out of appreciation – and it all adds up!
3. Limited Supply or Clearance Promotions
Scarcity is a time-tested marketing strategy for increasing demand and making a product irresistible to potential buyers.
If you have inventory that you were just going to get rid of or donate, Name Your Price can be a great way to recoup the investment that you made in those products. Even a few dollars for your inventory is better than nothing!
With the WooCommerce Name Your Price extension, you can create a sense of urgency when you have limited supplies or products that have been discontinued. Let the customer choose the amount they are willing to pay – with a minimum price set – knowing that time is running out or that there's a limited supply. This lets you recoup at least a portion of your investment and might even generate repeat customers who get a thrill from scoring a great deal.
4. Paying a Bill
Thanks to the versatility of the Name Your Price extension, you can offer clients a way to pay their bills on your website. Remember the 'amount box' from earlier? Simply change the text to "Pay Bill" instead.
Don't set a minimum or suggested amount here. Leave it blank so the customer can enter the exact amount on the invoice they received.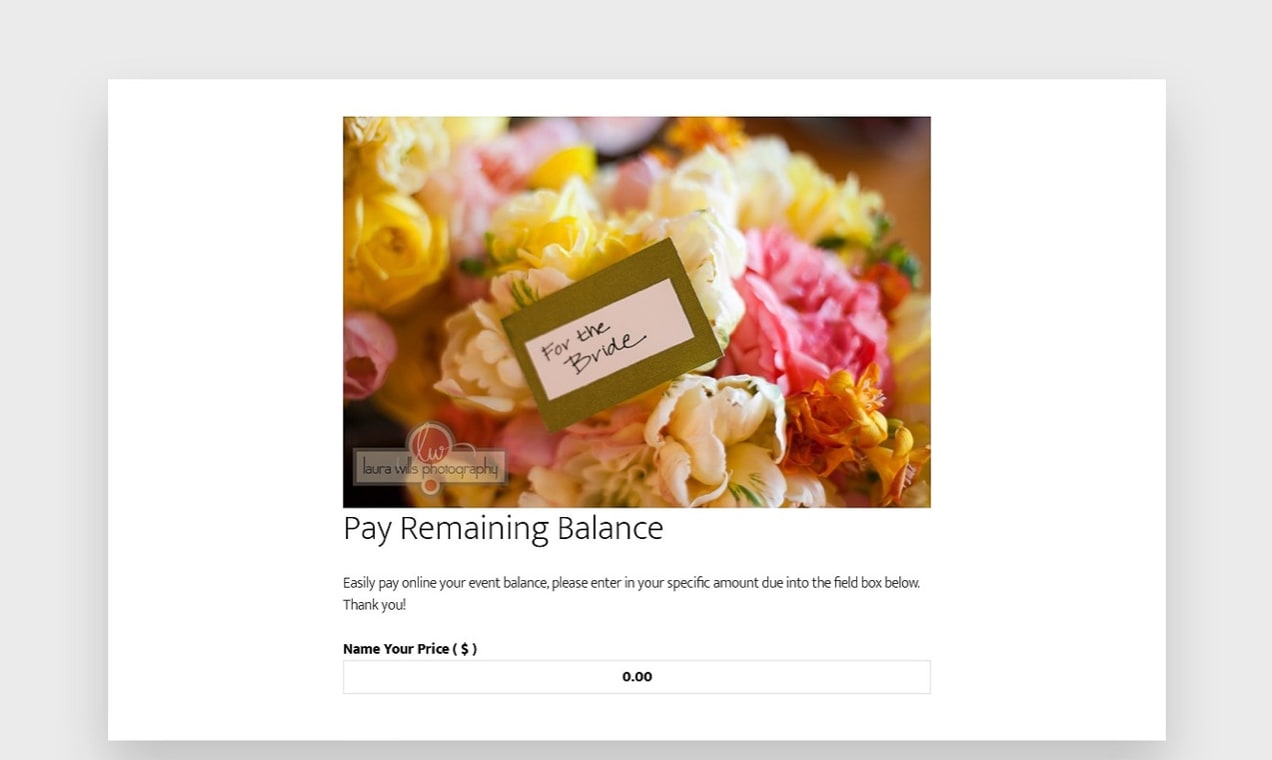 Poppy Floral uses Name Your Price to do exactly that. For events, they first collect a set deposit amount, then allow their clients to come back and fill in the remaining amount that they owe. This makes it easy for them to combine their event services and flower centerpieces into one, cohesive store.
Think about your own business. How might you be able to utilize a customizable 'amount box' to increase your revenue and make it easier for customers to engage with your products and services?
5. Subscriptions
Name Your Price integrates with the Subscriptions extension, making it possible for your customers to choose their billing periods. Instead of choosing the amount they want to pay, they choose when they want to pay.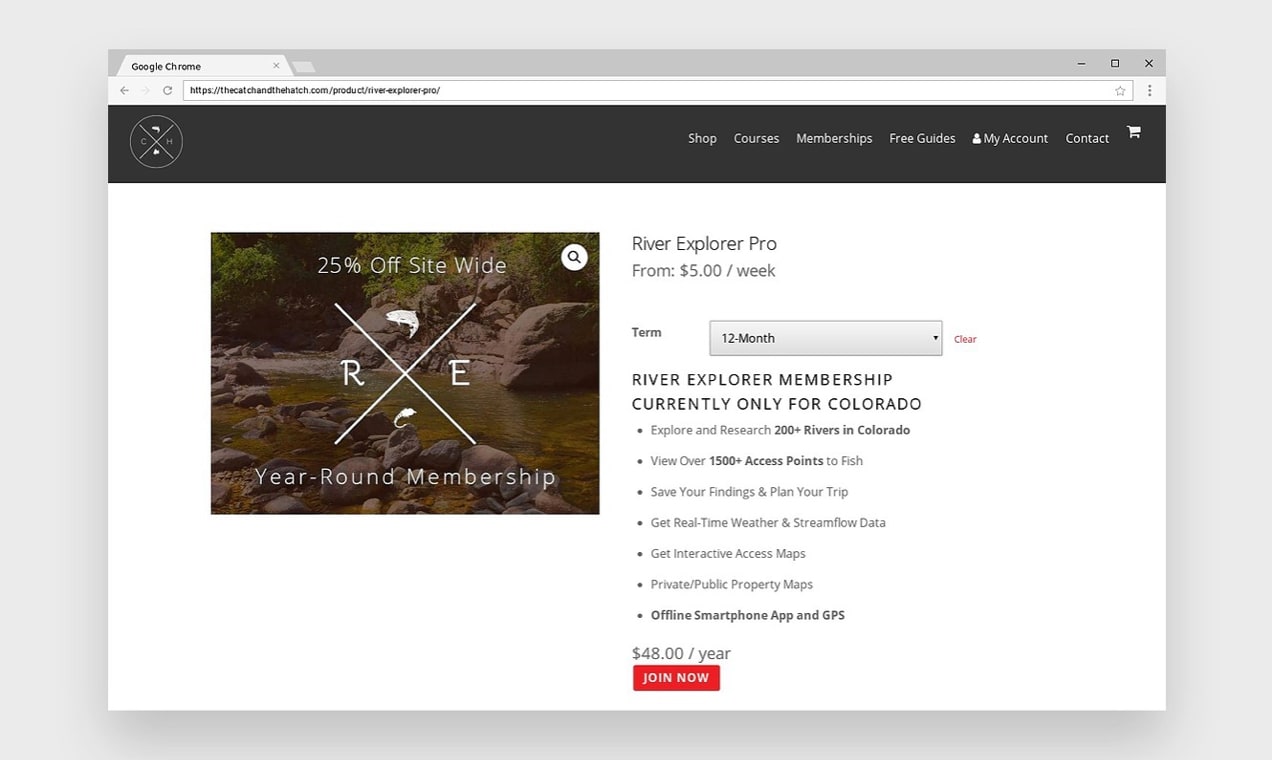 The Catch and the Hatch sells fishing memberships that get customers out into the wild and provides them with valuable fishing data. They offer a variety of term lengths – weekly, monthly, 6-month, and 12-month – that meet everyone's needs.
Offering this kind of flexibility to your customers will increase the likelihood that they'll make a purchase and make it more feasible for them to do so.
6. Product Bundles
The Product Bundles extension allows you to offer combos, product kits, and bundles with discounts when certain items are purchased together. By using Product Bundles in combination with Name Your Price, you can allow buyers to choose the amount they pay for a collection of products.
You may have seen commercials for a certain insurance carrier's Name Your Price tool. This integration allows for a similar concept. The customer can choose the amount they want to pay, and the options that they can afford adjust accordingly.
7. Pay What You Can
During financially strenuous times, you may offer a special where the customer can choose to pay what they can afford. You'd want to set a minimum, of course, so you're not losing money, but this gives the customer some freedom in what they're able to pay.
Suggest the retail price, and then let the customer change the amount. You may find most people will pay only the minimum. But you might be surprised at how many, given the choice, will pay more.
8. Determine What Your Product is Worth
If you offer a product that's new to your industry, you may not know what to charge for it or how much your customers are really willing to pay. A great way to conduct market research is to use the Name Your Price Extension.
Start with a set inventory amount and offer a limited-time deal for your audience. Create a compelling landing page that demonstrates your product's value and include a Name Your Price box. Of course, you can always set a minimum amount to ensure that you don't lose money and that you account for shipping (if applicable).
Once your inventory is sold out, you can review the prices that customers paid and get a good idea of what the market is really willing to spend. Use this valuable information for pricing your products in the future.
9. Offer Gift Cards
Name Your Price is a great way to offer gift cards to your brick and mortar location. Start with the PDF Product Vouchers plugin and create downloadable PDF vouchers for offline goods and services. With Name Your Price, you can set choices for common amounts ($20, $50, $100) and also offer shoppers the ability to add any amount of their choosing to a gift card.
Not only will this give your loyal customers a way to gift your products to their friends and family, it will also drive foot traffic to your location. It's a win-win!
Leverage the Versatility of Name Your Price
The Name Your Price extension is a valuable and versatile tool for your online store. You can collect donations or tips, allow your clients to pay their bills, or provide a way for your shoppers to pay what they can. Be creative! There are a variety of ways this can tie into your existing marketing strategies.
Name Your Price works as a differentiator in a crowded marketplace. Especially if you're a startup, this can be just the right thing to set you apart from your competitors.
Your customers will appreciate being given options, in the right circumstances, and you'll be able to foster better relationships with them.