You have a website or are looking to set up a new one. You're furiously writing content, working up a sweat and tirelessly creating amazing blog posts and pages to put all your content out there for the world to view and admire. You're now ready to choose a design to best showcase this content. Your website is just that; yours. Be a Show Off and show off your content to the world.
Today's release is a real looker. Everyone, say "howdy" to "Show Off", our latest WordPress theme.
Introducing Show Off
Show Off has one main driver; showing your content to the world. It's clean lines, bold typography and open-spaced design help to ensure your content is the main focus on each screen of your website.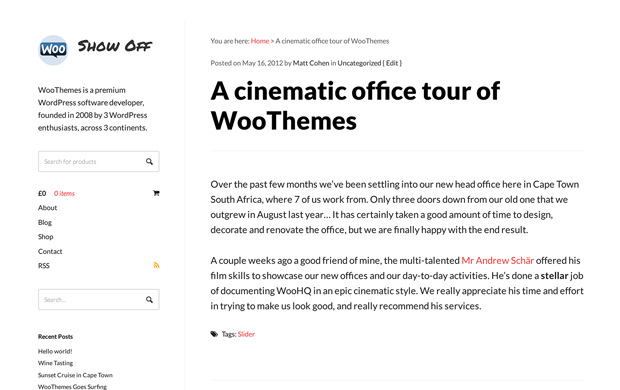 Designed by Cobus Bester, Show Off can be shaped and crafted as desired with a few small tweaks in a child theme, or using the in-built theme styling options.
With the store functionality powered by WooCommerce, the entire WooCommerce extensions library is also at your disposal to take your online store to the next level.
Content Components
Included with Show Off are several components for displaying content. Display an introductory call-to-action or a featured product, text content, features, testimonials, recent blog posts or any widgetized content available.
Not just for blogging
While Show Off is primarily a blogging-focussed theme, the design can be used for anything from a standard blog-style layout to a website showcasing your company's signature product. With styling support for our Features and Testimonials plugins, as well as a "Business" page template, your own design is just a few small tweaks away in the "Theme Options" section.
As long as you have content, Show Off can meet your needs.

To illustrate this, we've set up an alternate demo website to showcase Show Off and to share our love for burgers at the same time.
Create quick and simple styling adjustments
Customising your copy of "Show Off" to meet your desires is important to us. With this in mind, no expense has been spared to ensure ease of use and customisation of the theme with a few clicks and your custom eye-catching imagery.
Quickly provide a unique feel on your website, using our tailored selection of customisation options. A few simple clicks, your logo and your branding colours can transform Show Off into your very own, uniquely-branded, website.
Discount Coupon
Grab this theme with a 13% discount coupon, valid until 29th August, 2013. Just use SHOWOFF13 as your coupon code on checkout.