A true maverick's tale of the rise of superbuildings. A finely printed monograph on three-dimensional typography works. A monument of Italian cookbooks, graphically re-imagined for 21st-century kitchens. These kinds of book projects might each inspire a cult following among art lovers and bibliophiles, but financing and publishing them has become challenging, if not downright impossible, in an increasingly paperless world.
What's an independent book creator (or collector) to do?
Ship it with Volume, an innovative publishing platform founded last year by Lucas Dietrich and Darren Wall.
Lucas and Darren worked with Norwegian design agency Heydays to build a crowdfunding platform with WooCommerce—and they shared with me the story behind their project.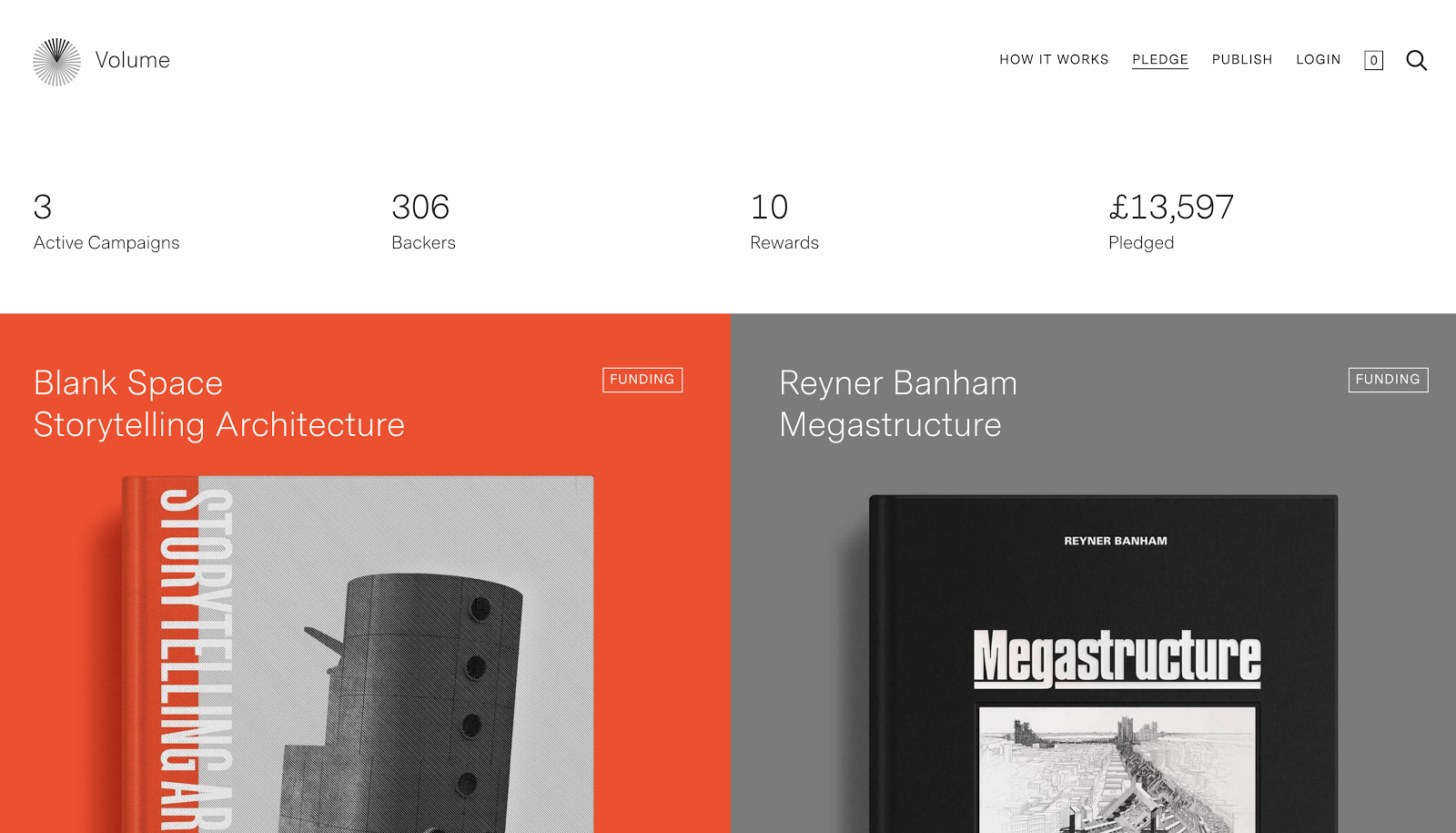 The Goal: Challenge the Digitization of Publishing
Over a third of the bestselling eBooks on Amazon are self-published.
The digital age has introduced fierce competition into a number of traditional industries, including book publishing—even more so when it comes to niche, creative art books. An effective model for producing high-specification books at the same pace and scale as providers like Amazon was hard to find – until last year when Volume hit the ground running.
International art publisher Thames & Hudson (T&H) has decades of editorial and design insight, production and printing expertise, and unparalleled distribution to the global book trade. They are known for creating beautiful books at scale—but what about newcomers, small volumes, and very niche audiences?
Publishing is about passion, and publishers still have a vital role in helping creators find their audiences. – Lucas Dietrich
The family-owned publishing business was looking for a way to pass on decades of accrued knowledge to a new generation of creative talents and print-savvy audiences. At just the right time, Lucas Dietrich, editorial director at T&H, collided with Darren Wall, an independent publisher and art director.
Darren is the founder of Read-Only Memory, a unique crowdfunding eCommerce site for high-end video-game books. It has gained impressive traction and disrupted a corner previously held almost exclusively by Kickstarter.
Read-Only Memory publishes high-quality books that document great moments in video-game history. Their books recognize the pioneers, milestones, and titles that have shaped the industry.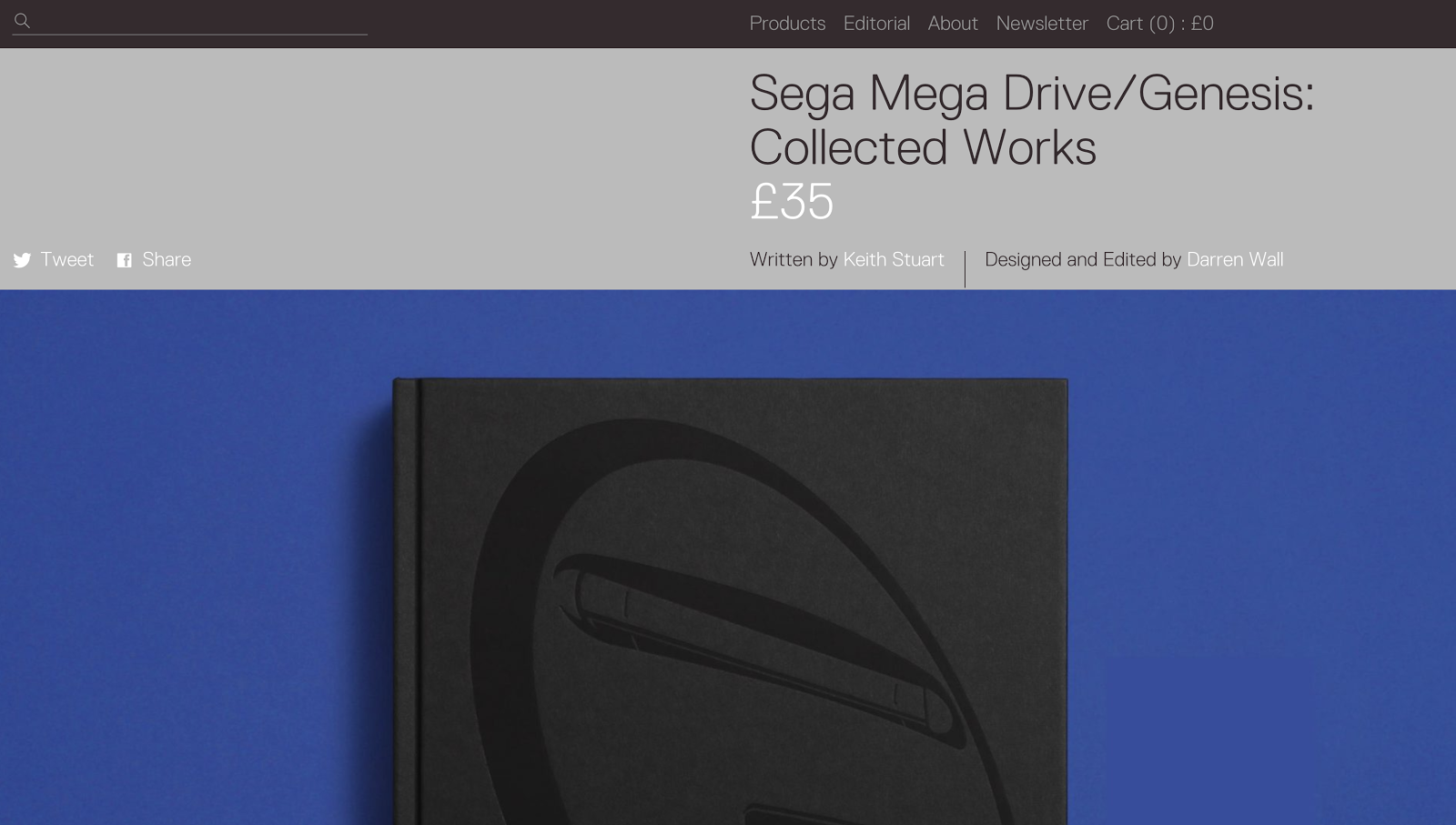 Conversations between Darren and Lucas soon led to an idea: Build a platform to give creatives the opportunity to test and share their book concepts before bringing them into the world.
They believed they could empower people to publish their ideas by connecting creators with fans, building momentum, and gauging interest— or even securing funding upfront—through pledges.
The result would be the publication of extraordinary books across a wider, more inclusive spectrum of specialized topics than the one conventional publishers work in. Creatives across the United Kingdom and beyond would have the power to test niche book ideas, talk directly with their followers, and publish their work.
Technology has had a major impact on how we experience content, and the channels of the book trade have altered irrevocably. Volume steps into this breach by offering an online platform that celebrates the spirit of individual creativity and those who want to take part it in though beautiful books." – Lucas Dietrich.
Where traditional publishers might shy away from niche editions due to their production demands and high costs, Volume allows for a market test, advertising, and crowdsourcing to happen all at once.. It broke open the world of illustrated-book publishing, dominated by enterprise-level publishers and authors, and invited the crowd inside.
The project needed a robust, beautiful online home with more than out-of-the-box eCommerce features.
Darren had worked with Heydays, a WordPress- and WooCommerce-focused agency based in Norway, on previous projects. They stood out to him thanks to their unique design expertise. When he needed to find a partner to transform Volume from an idea to reality, he knew where to turn.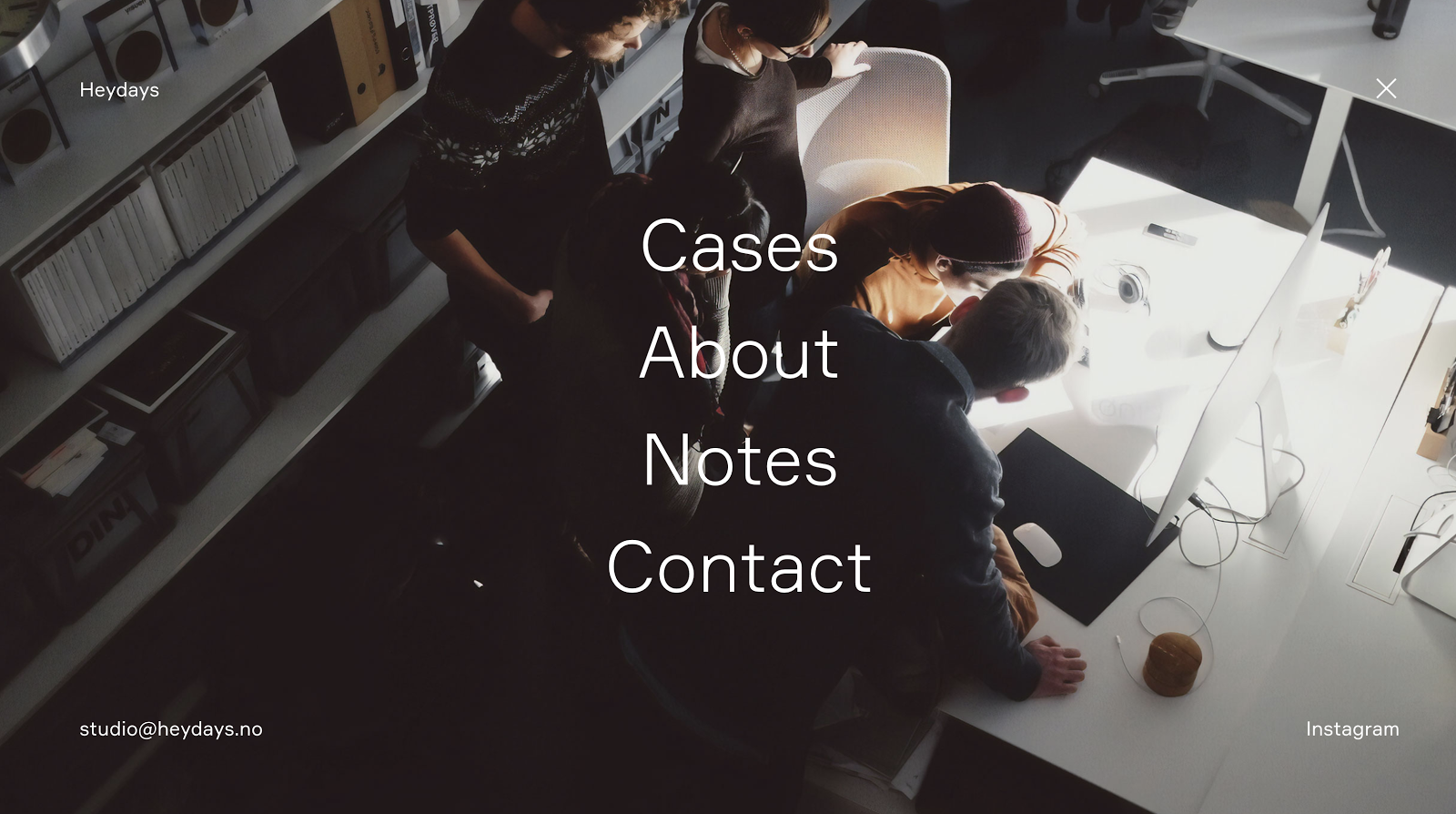 Building Vol.co on WordPress and WooCommerce
Heydays started out in 2008 as a group of friends with a curiosity for the impact of design. They've since evolved, and the business is currently focused on simplifying brands, products, and environments for clients. Vol.co is the fifth WooCommerce site their team has built.
WordPress is really easy to customize and WooCommerce is equally as flexible, letting you customize anything. – Martin, Heydays.
The current version of the Volume website has custom functionality that enables the crowdfunding features, powered by the WooCommerce Pre-orders extension and Advanced Custom Fields: When you pledge, it's simply a pre-order.
To maintain the very specific aesthetic of the site, Darren has full control when it comes to publishing approved projects pitches. Creators submit an idea, and Darren builds out an individual marketing page that fits within Volume's characteristic look and feel.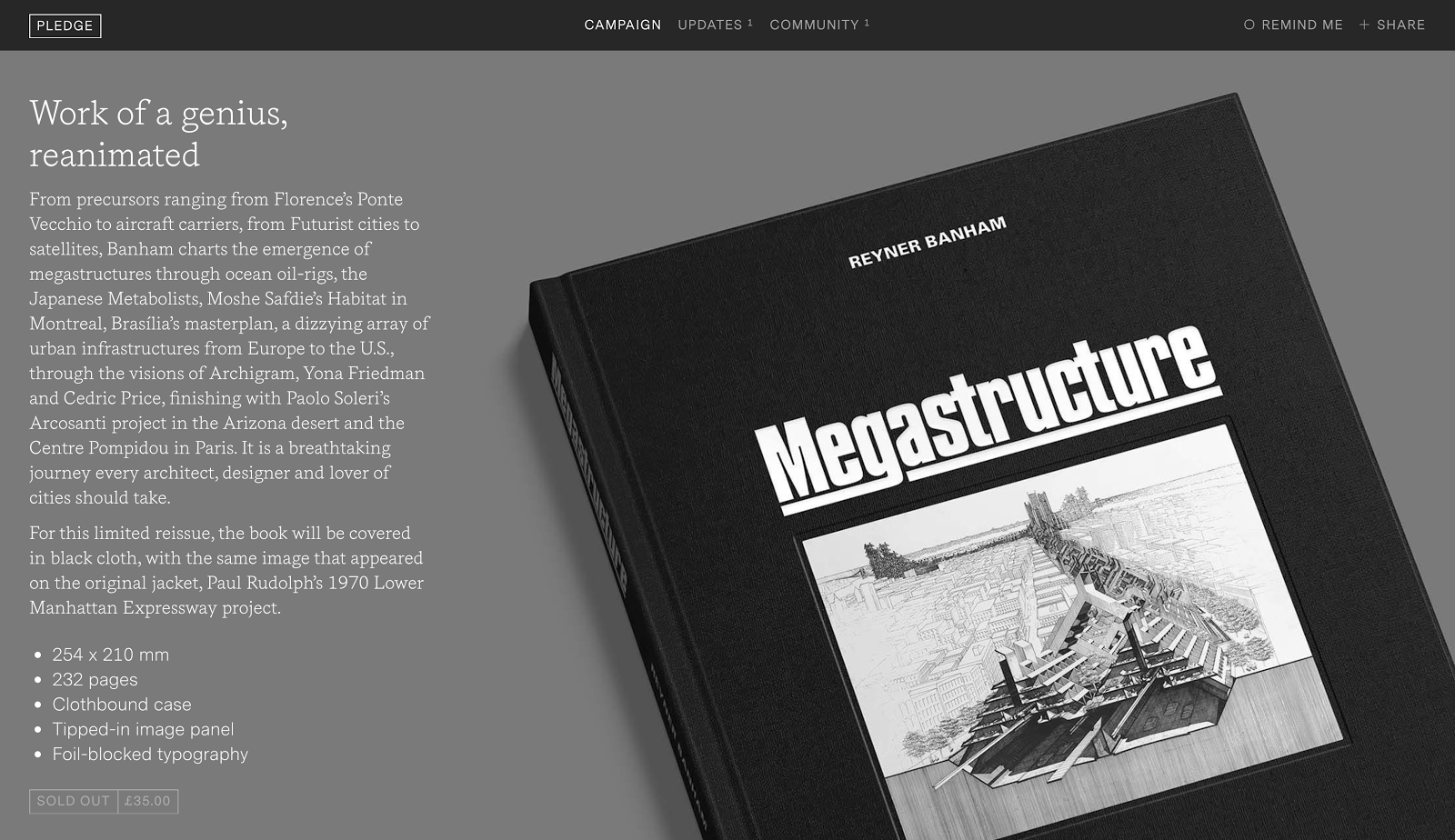 Martin shared with us some of his go-to WordPress plugins and extensions, which he typically uses for WooCommerce store builds:
WordPress plugins
WooCommerce.com extensions
Building Stores for Clients: Managing Expectations is a Must
Martin spoke to us about his experience around managing client expectations and how to make sure web projects go smoothly, including beyond launch.
He suggests creating a support plan for clients to ensure their installed plugins are updated regularly. For example, because Heydays does so much custom work, they have to control the updates (a lot of things can break). He says it is hard to foresee how much work goes into updates and therefore tells clients to consider the possibility of future costs.
Martin explains to clients there are ongoing costs associated with running a webshop—even when it's built on open source software. In his experience, if you don't manage cost-related expectations, some clients think there will be no further expenses once the initial build is done.
You have to prepare clients that it costs to keep things running, even when using open source software.
The Future looks Bright (and Versatile) for Volume
Vol.co went live in November and creatives are now able to submit their publishing projects for consideration: What has the experience been like for Lucas and Darren?
In a word – thrilling. Since launching, they've funded their first title—a high-spec title from UK designer and printmaker Anthony Burrill—and are currently campaigning to fund two more books, both sumptuous architecture titles. The rest of 2018 will be just as busy: they're looking to publish eight to ten projects, including titles from high-profile talents such as John Maeda, Irma Boom, and Takenobu Igarashi.
We differ from Kickstarter or any 'neutral' crowdfunding platform in that we can offer publishing support and knowledge to any project creator, and ensure their book hits a high mark for quality. – Darren Wall
The number of book submissions they've already received is an early indicator that just as they'd hoped, Volume fulfils a need to produce visual-culture books outside of the traditional model. Creating, manufacturing and shipping books on your own can be incredibly stressful—over time Volume will offer a variety of options for bookmakers to relieve some of that pressure, enabling individuals to build on their creative strengths.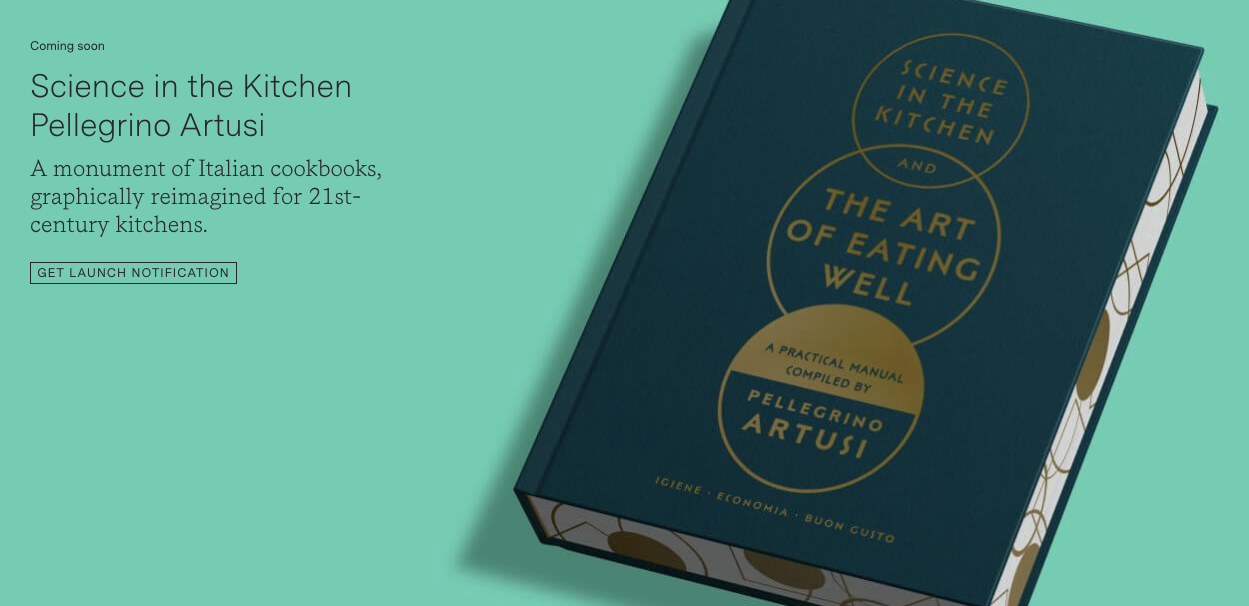 It's still early days, but it's clear already that one of the most exciting aspects of Volume, going forward, will be their versatility. As a two-person venture, they have an enormous amount of control: the lead time on a traditional publication is roughly a year, whereas Volume can start a campaign, get backing, and go to print, in just a few weeks.
They'll be making the most of this flexibility to experiment with their business model. They plan to try out varied funding periods and pre-order campaigns for limited editions, and to experiment in boundary-pushing printed formats, like oversize and one-off editions soon to launch.
Have you used WooCommerce to challenge an aspect of digitization or do something similarly disruptive? We'd love to hear from you in the comments.