COVID-19 has many small business owners and their customers worried and confused. You might be tempted to limit communication with your audience because you're afraid of saying the wrong thing. But now is not the time to go quiet. Your clientele needs to hear from you — not just now, but at any time of crisis.
Your community wants clear information about new policies, programs, order statuses, shipping delays, and any sources of help. And new customers need to know if your business is open and if inventory is available.
There's been an amazing outpouring of support for small and local business, and your repeat customers will sustain you during the shutdown period. While we might be isolating ourselves, there's no need to isolate your business; you just need to take a closer look at your messaging.
Striking the right tone
Many business owners are worried about coming across as "too salesy" during a crisis. But remember: your community wants to help you stay in business, and they're looking to the brands they know and love for options and support.
Approach messaging with empathy; we're all in this together. Let your customers know that you're thinking about them and worried about them. If they have specific fears that might relate to your products or services — like whether it's safe to receive deliveries or how they'll receive important health treatments going forward — let them know that you're aware of their fears, their safety is your top priority, and you have solutions to meet their needs.
You don't need to know all the answers before getting in touch, either. The situation is changing daily (sometimes hourly!) and we're all trying to figure this out at the same time. Describe updates clearly and calmly, and if you're still working out a few details, let them know that you're working on it and will send more information when you have it.
Creating offers that help
Think about what you can offer your clients that will help them through this crisis, and highlight those options in your messaging and online store.
Think about offering:
No-contact porch delivery for local customers, along with clear instructions on what you're doing to sterilize packages and support your employees' health.
Reduced or free shipping for out-of-town clients who can't get to stores in their area.
Discounts or special bundles for repeat customers who are facing financial uncertainty.
Added value per purchase, such as bonus checklists, one-on-one consultations, or video training
Gift certificates for loyal customers who want to help you bridge these difficult times.
And of course, make sure your new offerings respect social distancing requirements. Almost any business can provide some kind of online or remote service; this is the ideal time to expand into online sales, digital courses, site memberships, or remote appointments. Let customers know you're keeping their safety top of mind by providing as much as you can online.
Getting in touch
There's so much information to share with your customer base and so many ways to do it. Consider implementing a client communication checklist:
Update your basic business information
Update your website with current hours. Let customers know if you're taking phone orders, providing video consultations, or are considered an essential business. Be sure to update your Google My Business and Bing Business listings at the same time.
Add any new contact information to your site, including dedicated email addresses and phone numbers for help and support.
Consider adding an alert message on your home page detailing how your business is keeping its staff and products safe, any applicable purchase limits, as well as any changes in shopping or shipping policies.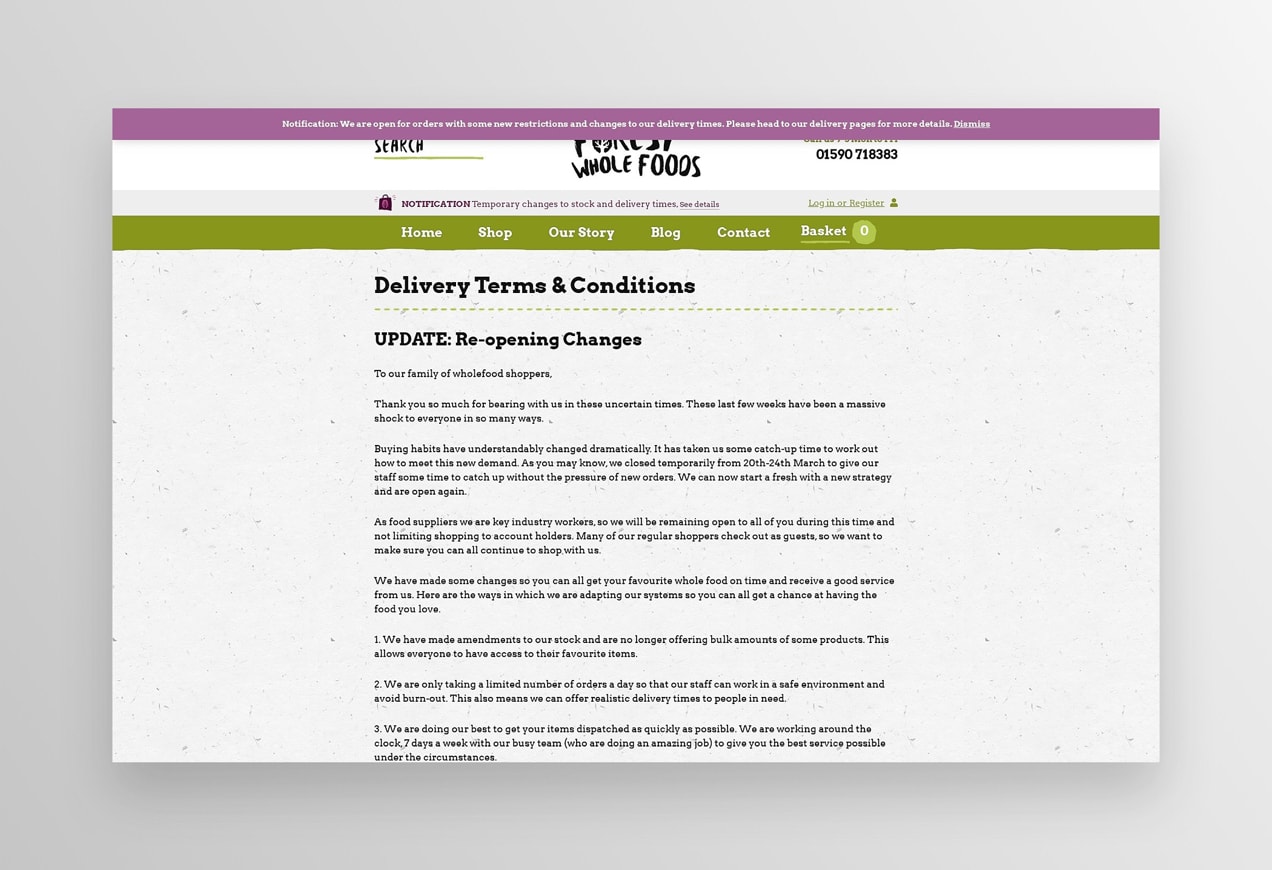 Update your WooCommerce storefront
Add any new packages or services to your product list.
Add any extensions you need to power new online services, like WooCommerce Bookings for online consultations, Smart Coupons for gift certificates, or Local Pickup Plus for pickup scheduling.
Update shipping classes and rates.
Make sure your automatic emails are on point. Update client notifications with potential delays in shipping times and highlight any new delivery processes, refund policies, or cancellation policies.
Create coupons if you're offering discounts to repeat customers.
Leverage your client email list
Email past and potential customers to let them know you're thinking about their needs and taking precautions to protect them.
Announce new products, offerings, special offers, and process changes directly to your clientele.
Clearly communicate delivery time expectations to avoid refund requests and chargebacks due to late delivery.
Send updates if the status of your business changes.
Keep social media up to date
Use social media to share links to new official policies and announcements that are applicable to your business and community.
Offer open Q&A sessions on social media platforms to reassure clients and help them get what they need.
Cross-promote any new offers you've created that will be helpful in these times to those facing financial uncertainty or limited mobility.
Advertise online classes or virtual events.
Add blog posts to explain larger issues
Use blog posts to talk in depth about issues that affect your customers. Great topics include new product delivery options, employee safety guidelines, staff appreciation, product safety processes, or ideas for using your products to pass the time.
Link to this information on your social media accounts and in newsletters, too.
Remember that your customers want to hear from you for reassurance and direction. Their repeat business will help you survive this crisis, and your expansion into the online world will help them. Together, we can all help each other get through.