We've previously explained how you can use Sensei and WooCommerce Subscriptions to create a membership-based learning site for your courses.
The only drawback to this method is that you can't have a 'tiered membership' setup, so if you had a subscription with three options – Bronze, Silver, Gold – gold subscribers don't automatically get access to the bronze and silver content too.
In this post I'll describe a method you can use to create such a multi-tiered setup, it just requires that you use Sensei in a slightly non-standard way.
To create this setup, you will need the following plugins:
For this example, we'll set up a simple 2-tiered membership site with Silver and Gold access. We'll then create two courses – Silver Course and Gold Course – and make sure that silver members can only access the Silver Course, and gold members can access both the Silver and Gold Courses.
Use Groups for Membership Levels
This method relies on the free Groups plugin and the Groups for WooCommerce extension to control access to the different membership levels.
After installing and activating Groups and Groups for WooCommerce, first we go to Groups > Groups and create two groups – silver and gold – with corresponding capabilities.

(Refer to the Groups documentation if you need help with creating Groups.)
Then go to Groups > Options and enter those two new capabilities so they can be used to restrict access to courses/lessons.

Create Membership Products
We then create two WooCommerce products – Silver Membership and Gold Membership – and use the Groups tab to specify what groups customers will be added to when buying the product.
The Silver Membership product should add customers to the Silver Group, and the Gold Membership product should add customers to both the Silver and Gold groups.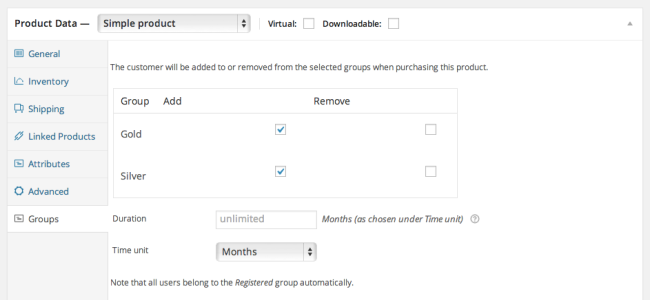 Note: If you want to create a subscription-based membership site, you'll need to use WooCommerce Subscriptions, and simply create subscription products instead of simple products
Restrict Access to Courses
Now we create our two courses – Silver Course and Gold Course, but instead of assigning them to a WooCommerce product to control access, we use the Access Restrictions panel (provided by Groups) to control who can view the courses, based on their capabilities (i.e. what Group(s) they belong to).
The Silver Course should be accessible by Silver or Gold members, and the Gold Course should be accessible only by Gold members.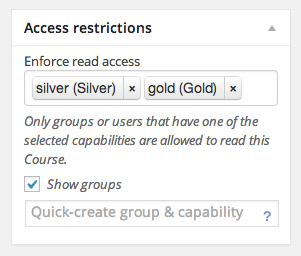 The same access restrictions should also be applied to all Lessons within the courses.
Sensei setup
Now if a non-member tries to visit any of those courses or lessons, they'll get a 404 error, which is why you have to use Sensei in a slightly different way than you usually would.
In Sensei > Settings, you can deselect all of the WooCommerce options, as we aren't using WooCommerce to control course access.
You should leave the Access Permissions option enabled though, as users will still need to be signed in to take quizzes.
Normally, customers would purchase a course, and see it in their My Courses page.
With this setup however, courses won't appear in My Courses until you start taking them, so you'll want to list all available courses on the My Courses page too.
You can do that by adding the [newcourses] shortcode to your My Courses page, after the [usercourses] shortcode.
This will output a list of all courses available to you (based on your membership level). It will have New Courses as a title, but you can easily change that to Available Courses by adding this code snippet to your functions.php file.
So now silver members will see the Silver Course listed there, and they can click the title, then click Start taking this course and then the course will appear in their active courses on the My Courses page.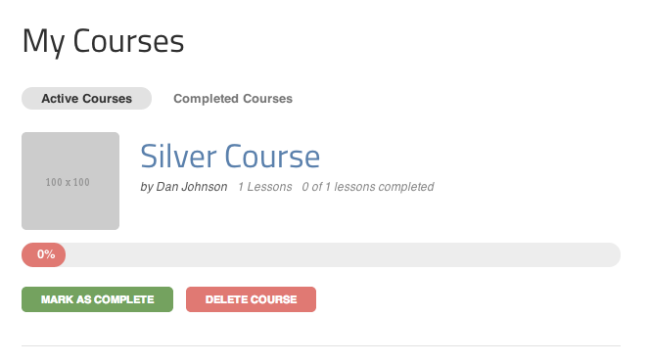 Marketing Your Courses
Using this method means you can't use the regular Courses page to promote and sell your courses, as it will now only display courses that your membership level allows access to. You also can't view the list of lessons for restricted courses.
So instead you'll need to use your product pages to promote your courses, listing the course lessons in the product description.
This case study provides a good example of using product pages to promote your course content.
You'll also want to remove the Courses page from your site's navigation and instead direct people to the relevant product pages.
Other Setups
You could also use this method to create a setup where courses can be sold individually or as an 'all access' package. You would simply create a new group for each course, and then an 'all access' group, which grants access to each of the individual course groups.
If you've used Groups with Sensei to create a membership setup, tell us about it in the comments. We always love to hear how you're using our products in creative ways.