For many retailers, the holidays are responsible for a substantial portion of annual sales. And, this year, experts predict holiday spending will rise by about 3.7% to over $1 trillion.
With the organic reach of social media on the decline and so many competitors trying to reach the same customers, be prepared to spend some money on advertising if you want to make the most of the season.
But effective ads require a lot more than simply promoting a few of your normal posts on social media. You should have a firm grasp on the benefits of the products you offer and understand how they impact your target audience. Then, you can stand out from the competition by creating relevant, memorable ads that drive customer actions.
Consider the following nine tips for designing great holiday ads and maximizing their impact.
1. Know Your Target Audience
Even though you may have a strong understanding of your typical target audience, it could look different during the holidays.
While a consumer might normally shop at a few select retailers, the holiday season could drive them to try new brands in an effort to find unique gifts or take advantage of great deals. This is an ideal time to broaden your targeting and reach fans of competing brands or segments that you suspect may be interested in your store.
Your target audience might also shift entirely. For example, if you sell camping supplies, your typical audience may consist of outdoor enthusiasts. But during the holiday season, your buyers might shift to people purchasing gifts for those same enthusiasts. They may have never been camping themselves.
Those people will be far less familiar with industry slang terms and technical language. So, make sure that your product descriptions can be understood by the average shopper.
2. Use Descriptive Language
Online shoppers don't have the benefit of touching, smelling, or experiencing a product in person. Carefully crafted, written descriptions can help you persuade them to purchase your products.
If you sell candles, for example, don't just say that one smells like a vanilla latte. Instead, say something like, "This candle will transport you to the serenity of a warm coffee shop on a cold night. You'll get the feeling of that first sip of your favorite vanilla latte every time you catch a whiff of this luxurious candle."
If you know that you're mostly targeting gift givers, use language that explains how they'll feel when they give the gift. "Imagine the joy on your child's face when they see this under the tree!" or "Your husband will fall in love all over again at the sight of this thoughtful, customized gift."
Because you'll have limited space on your ad graphic, detailed language is best used in the body text accompanying the graphic on social media, or on the product pages themselves. Consider these elements to be extensions of your advertisements.
Read our full post about using psychology in your copywriting.
3. Keep Your Design Simple
Start by considering your design hierarchy. What's the most important piece of information in your ad? Is it your coupon code? Your button? Your headline? Use color, size, font weights, and other tactics to make that information stand out from everything else.
GhostBed used color to highlight important information in their Black Friday ad. While the image is primarily black and white, they used a bold red color and large font size to call attention to the offering ($300 off).
Choose a font that's legible and easy-to-read, even when small. Decorative and script fonts are fun and can play an important role, but are often hard to read, especially in larger bodies of text. Stick to a serif or sans serif font for important information.
Make sure that your text is a contrasting color to the background of the ad so that it can be easily read. Take a step back and try to read it from a distance. Ask someone who's unfamiliar with what you're creating to do the same.
Don't overcrowd your ad graphic with text. Reduce the amount of text to the minimum amount needed to communicate your message in an impactful way. And remember that some ad platforms, such as Facebook, may limit the percent of your ad that contains text. Test them to maximize space accordingly.
Longer, more descriptive statements can be used on product pages or in the body text accompanying your ad, depending on the platform.
Always remember to include a call to action, which is designed to entice potential customers to perform a specific act – purchase a product, click on an ad, like a post, etc. Highlight your call to action by using a different font weight, bright color, or large button.
Be very specific with the wording of your call to action. It should be brief and to-the-point so that your customers know exactly what to do. Examples include, "Browse Shoes", "Shop Now", or "Reserve Yours Today."
Overall, keep it simple. Using too many colors, fonts, sizes, or images in a single ad can be confusing or appear to be low quality. If you try to highlight everything, nothing will stand out.
4. Choose Effective Images
Images are an important piece of your ad design. Experiment with different types of imagery to see what connects with your target audience. What do your most popular social media posts have in common?
In many cases, images of people perform better than just products themselves. On Instagram, for example, photos showing faces get 30% more likes than photos without faces. So consider featuring images of people using your products or opening your packages on Christmas morning.
An image with white space, or space without any major design elements, is perfect for adding text. This makes it easier for people to read and understand your headline, body text, and call to action, since they're not competing with the image itself.
While it can be a good idea to use holiday imagery and colors, don't overdo it. Your customers will be hit with red and green, glitter, and snowflakes everywhere they turn, so an ad that subtly incorporates the holidays into your branding can really stand out.
SOXS.co used this principle on Instagram by sharing photos of people wearing their socks next to a Christmas tree and warm fire. It looked instantly cozy and evoked the warm feeling of the holidays without being over-the-top.
If you're having trouble coming up with inspiration for holiday ads, ask your customers to send images or videos of them using your products. You can share them on social media and award prizes to those who get the most likes or comments!
By encouraging customers to contribute ideas, you'll discover the type of language that will connect with them. Plus, people who feel involved with a brand are more likely to purchase one of your products.
5. Use Videos
Ads don't always have to be static images, either. 90% of customers say that videos help them make buying decisions. Why not apply this tactic to your holiday advertising?
Here are just a few ways to use videos in your advertising:
Create a video of people using your products. If you sell toys, show giggling children playing with them. If you sell electronics, feature them in use. This is a great way to help your customers envision their own loved ones using your products.
Provide helpful tips. Can your product be used in an interesting way? Can the food you sell be incorporated into holiday treats? Share a how-to video that will grab your customers' interest and show the versatility of your products.
Film a holiday greeting. Thank your customers for their support and feature your team members. This type of video will keep you top-of-mind and encourage repeat purchases.
Share a discount code or coupon. Even a simple video with straightforward text and images can be effective. The motion of a video naturally draws people in and stands out from all of the other photos and text on social media feeds.
With your videos, make sure to incorporate similar principles as photo-based ads. Don't be too cluttered; incorporate a clear call to action; and make sure that any text is easy-to-read and understand.
Finally, don't forget to caption your videos, especially on social media. Not only is this important for users with hearing impairments, but the majority of videos on Facebook are watched with the sound off.
6. Offer Customers Something Special
If you offer something to your customers, like a sale or coupon code, they'll be much more likely to click on your ad and, ultimately, make a purchase. Discounts are great for motivation!
By understanding your target audience, as mentioned earlier, you can customize your offerings to their exact needs. Is this specific ad targeted towards parents? Offer a coupon code off of children's clothes.
Consider differentiating your offers by giving something other than a simple discount. You might instead offer a tangible bonus item. Even if it's small, the excitement of getting a great stocking stuffer in addition to finding that perfect gift could be the extra motivation the shopper needs.
Also try creating games and competitions that are fun for participants and encourage engagement.
One way to do this is to entice customers to enter a contest or giveaway. This allows you to capture their email address or other information and advertise to them down the road. Plus, you can provide coupons to those who don't win, encouraging them to make purchases anyway.
7. Test and Make Changes
Not every ad will be successful, so you should always create multiple variations and test them thoroughly. But an ad that doesn't immediately produce sales isn't necessarily a failure. Make sure you set a reasonable sample size to determine if it's actually effective.
Once you find the variations that work best, cut out the weakest performers and allocate more money to those that are bringing in sales. Check your ads often and always adjust to get the best performance.
If you plan to use traditional media, such as magazine ads or billboards, you can take advantage of the flexibility that digital ads offer. Test ideas online with a small budget and use the results to help you make better offline media purchases.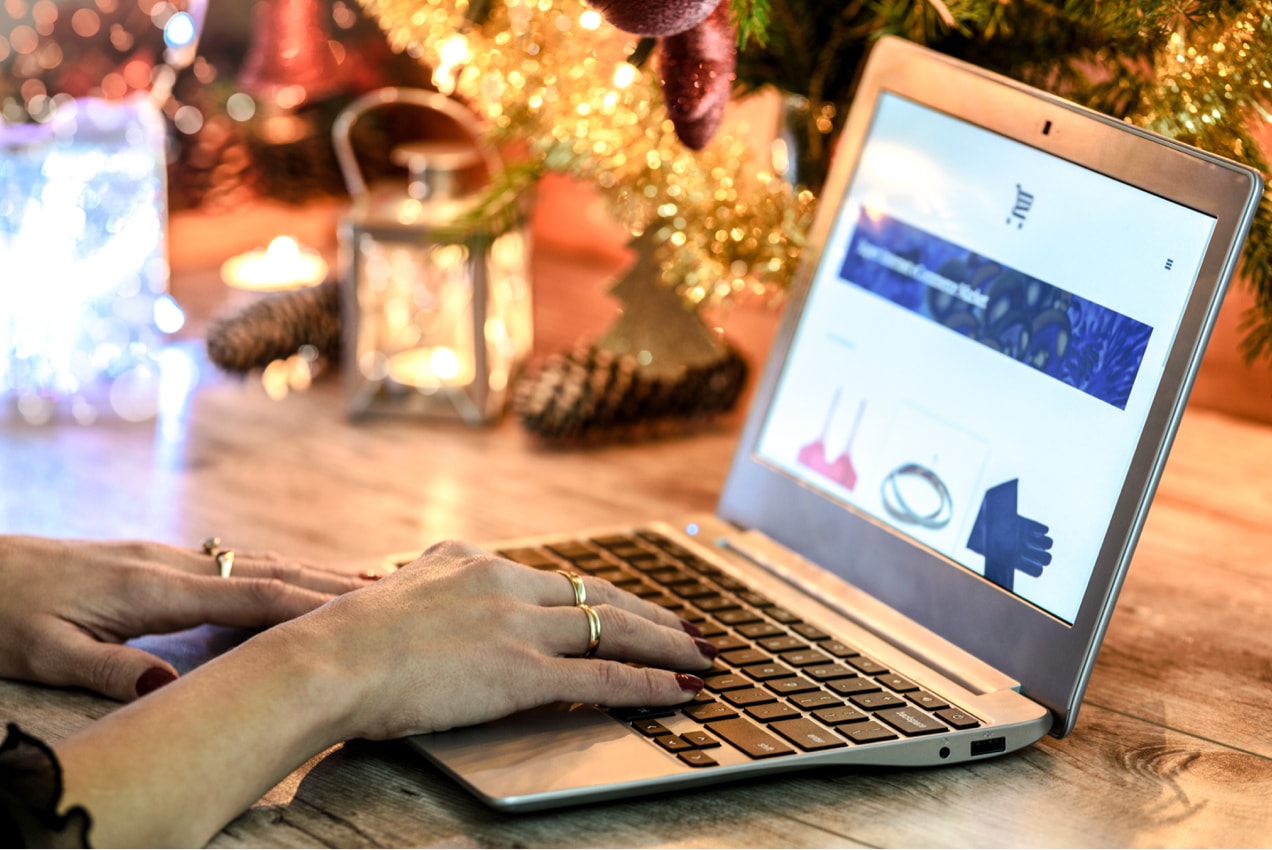 8. Adjust Your Message
Your message should also change over time. Leading up to Black Friday, for example, people are looking for the best deals on popular items. They may also be shopping for themselves, so you'll want to focus less attention on the gift-giving aspect and more on the deals you offer.
However, as the season goes on, you might adjust your ads to focus on people searching for the perfect gift. 51% of last minute shoppers say that they plan to purchase their gifts online. Make the most of the opportunity and help them find what they're looking for!
The point is, don't be afraid to adjust your ads over time to accommodate your audience and their changing needs. And, remember to always test!
9. Create Urgency
Remind shoppers that you have a limited supply of popular items or put a timer on your special discounts. Emphasize the amount of time left before the holiday that they're shopping for and list shipping cutoff dates.
This strategy appeals to a buyer's fear of missing out. The more limited a product is, the more people want it. While you shouldn't be dishonest in your advertising, if you create the idea that your product is going to run out and that lots of people are interested, you're more likely to drive sales.
Prepare for Holiday Advertising Now
Now is the time to start creating ad designs, writing your ad copy, and learning about your target audience. When the holidays are in full swing, you'll have too many other things to worry about! Make sure that you have everything in place to make the most of the holiday shopping season.
Are you interested in email marketing as well? Learn how to use Mailchimp during the holiday season.