You may (or may not) have heard by now that the EU are introducing new rules surrounding VAT on digital goods from the 1st Jan 2015. We've been aware of these changes for a while now and have been working on some solutions in order to make these changes a little easier to handle. If you've not heard about these new rules, this sums them up:
On 1 January 2015 the VAT rules for cross-border B2C supplies of 'digital services' (i.e. broadcasting, telecoms and e-services) will change. From that date, VAT must be accounted for in the member state where the customer normally lives, rather than where the supplier of the service is established. – HMRC, Brief 46
And as John McCarthy, CEO of Taxamo puts it, "These new rules flip EU VAT on its head".
The new EU VAT rules on the supply of digital services affect all companies (EU and non-EU) that sell to consumers inside the EU.
To be compliant you'll need to do the following:
Charge the correct country VAT rates based on customer's location.
Validate the customer's location and ensure there are 2 pieces of non-conflicting evidence stored (e.g. a billing address and a matching IP Address).
Report your VAT to each EU state, or use a MOSS (Mini-One-Stop-Shop) which reports to each EU state on your behalf.
To help you become compliant, we've developed a Taxamo extension to integrate with their service, and also updated our EU VAT Numbers extension.
Please note that the following extensions will require WooCommerce 2.2.9+ due to some required hooks and modifications.
Taxamo: EU VAT calculation & reporting
Taxamo understands the burden these new rules impose on sellers and have come up with a hosted SaaS solution for VAT rate calculation and reporting. We spoke to John McCarthy, CEO of Taxamo who explained:
Digital service merchants should be provided with the tools to grow and prosper – their focus should always be on creating and selling great products. To this end Taxamo and WooCommerce have joined forces to enable merchants worldwide comply with new EU VAT rules. – John McCarthy, CEO of Taxamo
The extension itself uses the Taxamo API for correct TAX calculation and pulls those rates straight into WooCommerce when needed. Orders in WooCommerce are reported to Taxamo and stored along with the customer location evidence. This short video explains exactly what the service offers:
The EU VAT changes mostly concern B2C transactions, but Taxamo also offers VAT Number validation to prevent B2B transactions being affected.
Only B2C sales are affected but, of course, B2B sales will also need to be validated. Our solution also deals with this issue.
One of Taxamo's stand out features is it's storage of data and reporting.
Taxamo also creates Mini One-Stop Shop (or MOSS) reports for merchants who opt to use this new VAT registration system. Our solution also generates audit reports for merchants. We also store transaction data for ten years (as required by law) and provide comprehensive e-invoicing.
The Taxamo service itself has several pay as you go and subscriptions options which you can read about on their website.
Download Now
Manage and track EU VAT rules to keep your shop in line with the new European law.
Using Taxamo in your shop
The Taxamo extension will calculate the correct taxes based on your customers location at the checkout page, updating the order review section automatically.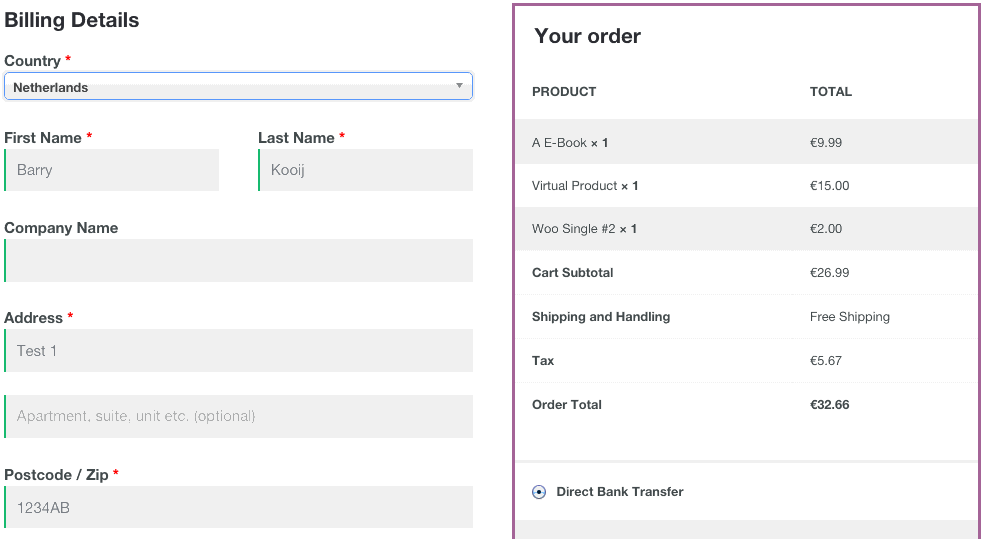 Rates will be applied and stored separately for easier reporting, and if a customer's IP doesn't match their address, the extension will allow them to self declare the location via a checkbox.
EU VAT Number Extension
The EU VAT Number extension by WooThemes, which can be used to validate VAT Numbers from businesses, has been updated to deal with evidence collection during checkout for B2C transactions.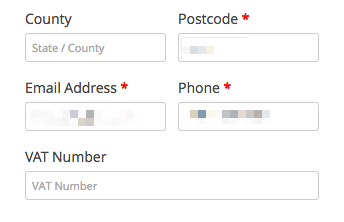 To deal with the new EU VAT rules, when dealing with regular consumers the extension will collect and validate the user's IP address against their billing country. In the case of an IP mismatch, the customer will be able to self-declare their location and this will be stored as a piece of evidence along with the billing country. All evidence is stored inside the order.
Other features of the plugin include:
Forcing digital goods to be taxed by the user's billing address
Appending the VAT ID to formatted addresses
Some extra tax reports for EU states
You will still need to input the VAT rates into WooCommerce (see below) and report VAT to the relevant authorities using a MOSS system preferably.
Buy now

$

39.00
Collect VAT numbers at checkout and remove the VAT charge for eligible EU businesses.
Setting up VAT Rates for Digital Goods
To handle the new VAT rates you can input all VAT rates for the EU states into WooCommerce. We've created this handy doc showing you how to setup these rates for your digital goods.
TL;DR:
Create a tax class in WooCommerce for your digital goods
Add the various EU States VAT rates to your new tax class
Assign the tax class to your digital products
This will charge the correct rates, but you will also need to gather data on the customer to ensure you're complying with the rules using the EU VAT Number extension or your own code.
Read more about EU VAT
If you'd like to read more there are several official and unofficial resources available which you'll find listed below.
Official resources
Unofficial resources
If you have anything else useful to share, please feel free to share in the comments below!
Please note that we are by no means legal experts – this article was written based on other resources and cannot guarantee 100% accuracy. If in doubt, contact your accountant/tax specialist.