The team at WooCommerce.com can help with setting up tax rates in the WooCommerce settings and how the platform handles taxes/VAT/GST based on these settings, but not when or what to charge.
We're not tax professionals so our advice is how to use our software. For specific advice when it comes to what or when to charge tax/VAT/GST etc, we recommend consulting with a tax professional or an accountant on what may be your best options.
Each business is unique, and there's no way we can cover every possibility.
EU VAT laws for digital goods changed on 1 January 2015, affecting B2C transactions only. VAT on digital goods must be calculated based on customer location, and you're required to collect evidence of this via an IP address and/or Billing Address.
This information is provided as-is in relation to this specific scenario. For general tax setup please see the Setting up Taxes in WooCommerce documentation, along with Configuring Specific Tax Setups in WooCommerce for how to configure WooCommerce tax settings.
For more details and information about this, please see the European Commission Taxation and Customs Union website for VAT MOSS (mini One Stop Shop).
In addition, you need to set up VAT rates in your WooCommerce store to charge the correct amount. This guide shows you how to set up rates specific to Digital Goods.
If you're only selling digital goods, VAT rates can be added under Standard Rates in WooCommerce.
If you're selling/distributing both digital and regular products, you can create and use a new tax class, for example, Digital Goods, and update them.
To set up EU VAT rates in a new tax class:
Go to: WooCommerce > Settings > Tax.
Select the Additional Tax Classes setting.
Add a new tax class to the list, for example, Digital Goods.
Save.
After saving the tax options changes, tax rates need to be assigned to this tax class.
Setting Up the EU VAT Rates
The next step is to input the EU VAT Rates into WooCommerce.
The latest VAT rates can be found at the Europa website in a PDF document. If these rates change, you need to update the VAT rates for your store.
Go to: WooCommerce > Settings > Tax > Digital Goods (now a new tab after you created a new tax class).
Enter rates for all EU member states. See our guide on Setting Up Tax Rates in WooCommerce.
At the time of the last update, Standard VAT rates are:
| Country Code | Rate % |
| --- | --- |
| AT | 20.0000 |
| BE | 21.0000 |
| BG | 20.0000 |
| CY | 19.0000 |
| CZ | 21.0000 |
| DE | 19.0000 |
| DK | 25.0000 |
| EE | 20.0000 |
| GR | 24.0000 |
| ES | 21.0000 |
| FI | 24.0000 |
| FR | 20.0000 |
| UK | 20.0000 |
| HR | 25.0000 |
| HU | 27.0000 |
| IE | 23.0000 |
| IT | 22.0000 |
| LT | 21.0000 |
| LU | 17.0000 |
| LV | 21.0000 |
| MT | 18.0000 |
| NL | 21.0000 |
| PL | 23.0000 |
| PT | 23.0000 |
| RO | 19.0000 |
| SI | 22.0000 |
| SE | 25.0000 |
| SK | 20.0000 |
Alternatively, if you have a CSV file in the correct format, you can import the VAT rates to save time. Here are the above rates in CSV format with tax class Digital Goods: vat_rates.csv
To import this file, select Import Rates on the tax input page, and an importer will appear.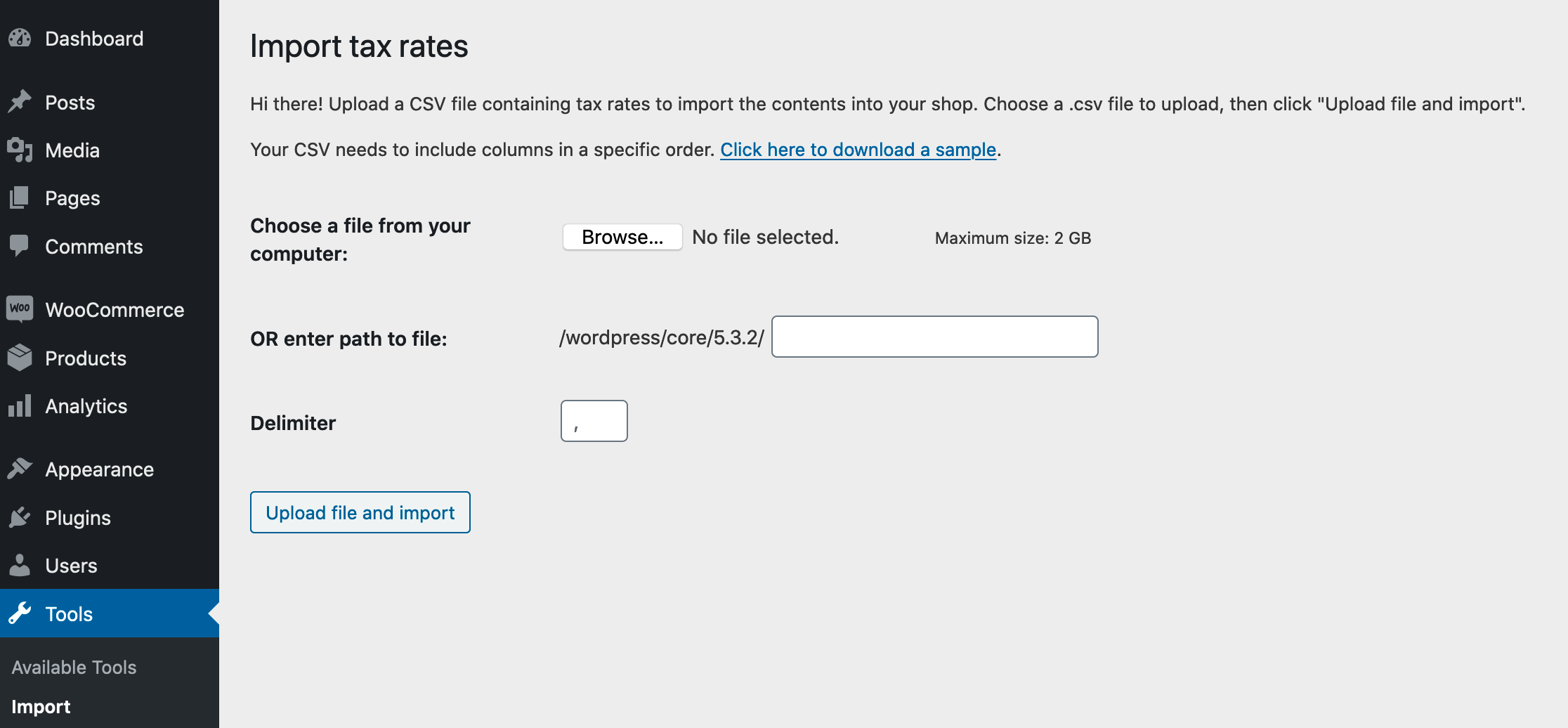 Once rates have been uploaded, imported or input, in the tax rate screen you will see a table similar to this: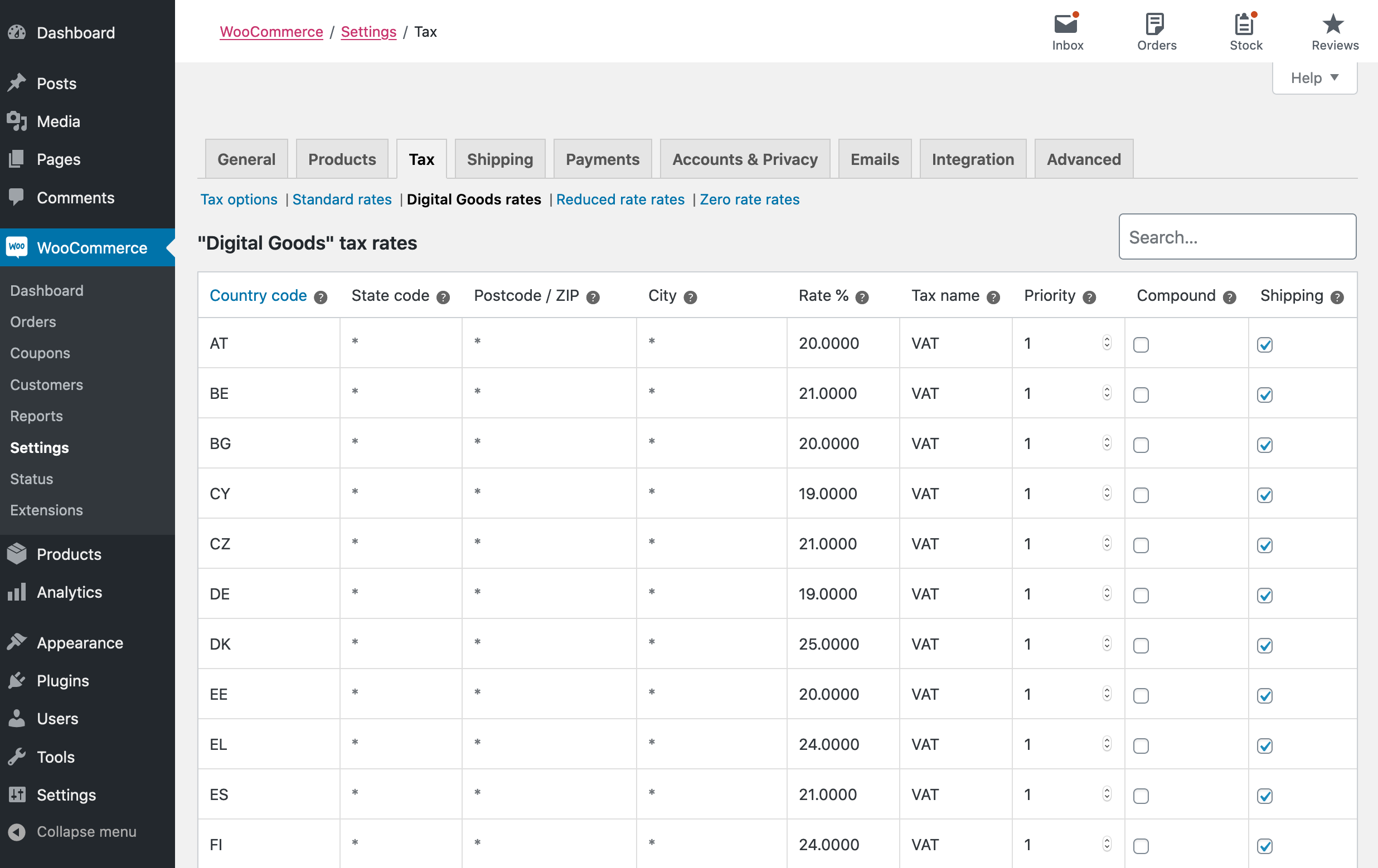 With EU VAT rates set up, users buying a product with the Digital Goods tax class are charged tax based on their location, not the store location.
To apply this tax class to digital products in WooCommerce:
Go to: Products > All Products.
Edit a product.
In the General section of the Product data, select the tax class created from the Tax Class dropdown.
Update the product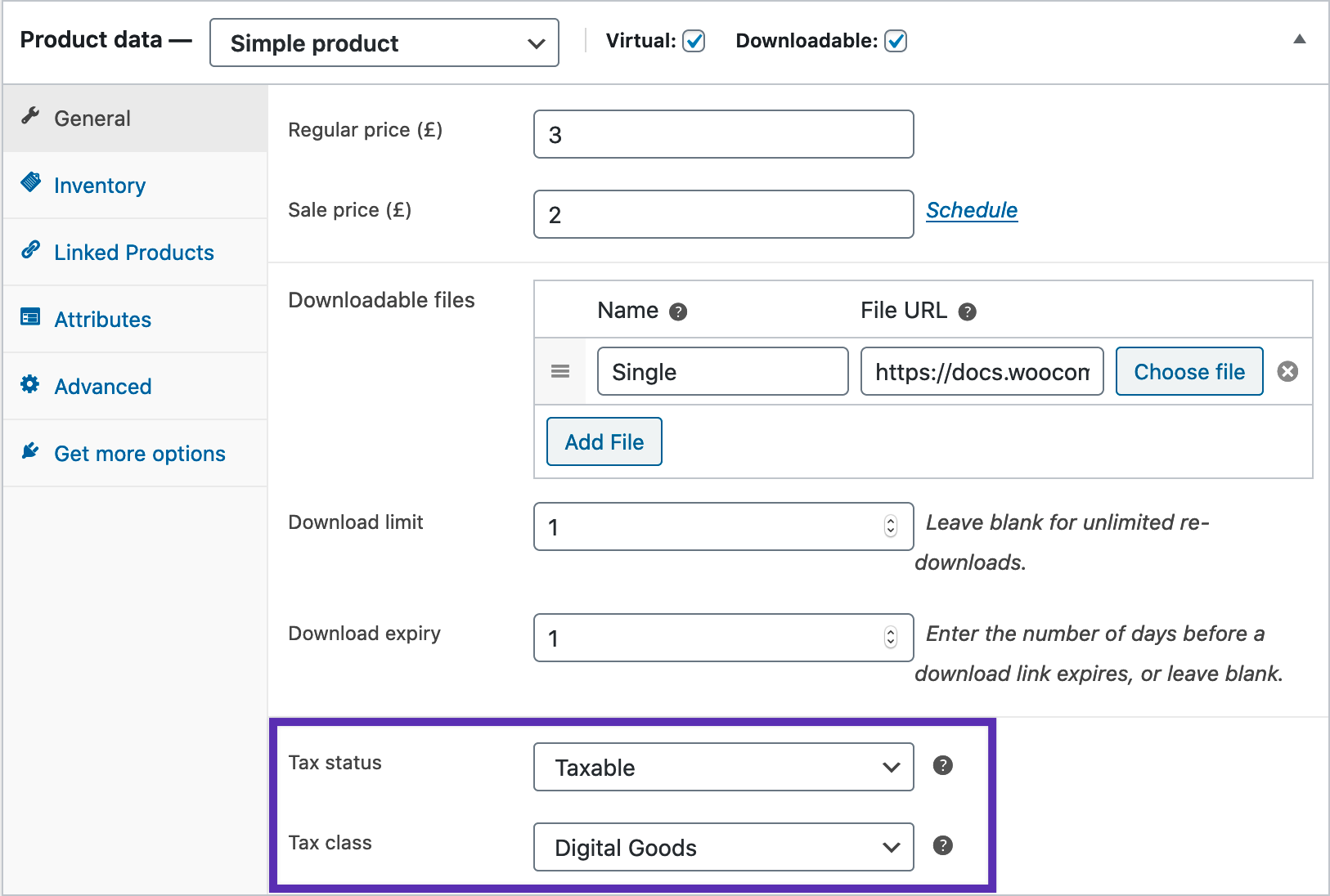 You can also bulk-edit products:
Go to: Products > All Products.
Tick the box to the left of each of the products you want to bulk-edit.
Select Edit from the bulk actions dropdown.
Apply.

After clicking Apply the bulk edit view will appear:
Choose the tax class from the Tax class dropdown.
Click Update to apply the Tax class to the selected products.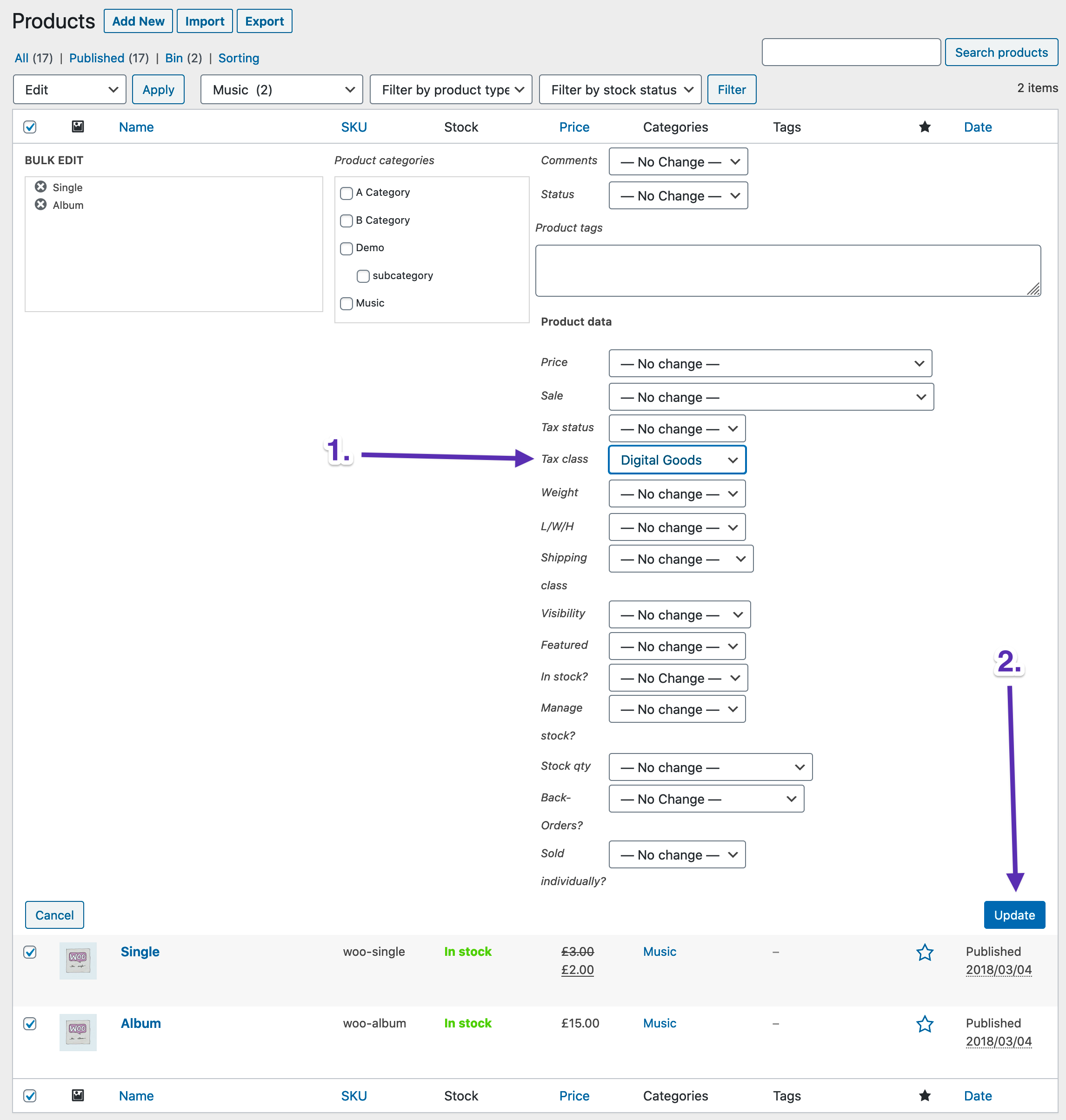 Do you still have questions and need assistance?
Get in touch with a Happiness Engineer via our Help Desk. We provide support for extensions developed by and/or sold on WooCommerce.com, and Jetpack/WordPress.com customers.
If you are not a customer, we recommend finding help on the WooCommerce Support Forum or hiring a recommended expert on our customizations page.