It's a one-of-a-kind tool that Drake producer, Noah "40" Shebib, raves about and Diplo can't live without.
Fans of Game of Thrones, Stranger Things, Kanye West, Coldplay, and Justin Bieber have already heard Output's work, whether they know it or not.
So what is Output? Think innovative software and tools created for musicians, composers, producers, and sound designers across all genres. The user base is large, and their products are so pervasive that it's hard to believe the company is only four years old.
It all started because composer and music producer Gregg Lehrman wanted a reverse-sound engine he could use in his own musical compositions.
We sat down with Gregg, founder and CEO of Output, to discover how he turned his passion project into a thriving company that is simultaneously punching well above its weight and revolutionizing the recording industry.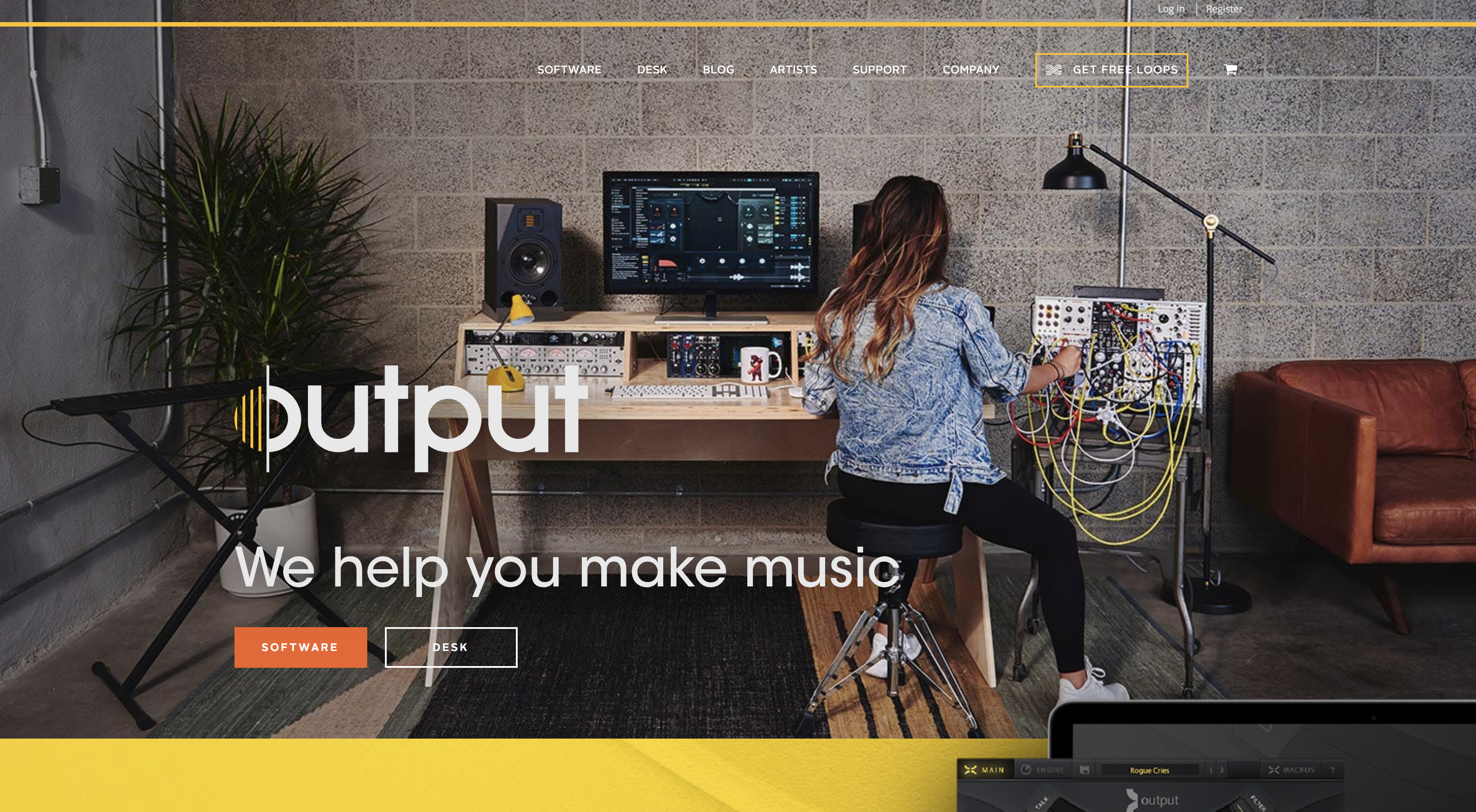 The beginning – a good place to start
Gregg started his career as a composer and producer. His work has been featured on programs, such as Saturday Night Live, The Daily Show with Jon Stewart, The Super Bowl, the Olympics, and the Colbert Report.
If you've ever watched trailers for Avatar, Black Swan, Thor, Inglorious Bastards, The Avengers, Tron, Noah or Maleficent, you've heard his music. He also created original scores for several films, including The Girls in Trouble and Stolen Seas.
As a writer/producer, one of my favorite tricks was flipping audio in reverse and using those textures to form the background of a piece — similar to an artist texturizing a canvas. A great example is Justin Timberlake's song "Blue Ocean Floor," which includes vocals over a reversed piano sample.
The problem was, there wasn't a tool that made the process of reversing sounds in a musical way. So he built the tool he'd been hoping to find, and REV was born.
He hired fellow composer John Nye, now VP of all things musical, and Neil Hallimen, current VP of Design, to help him build REV. Gregg didn't think it would be particularly lucrative or time consuming, but he found himself investing more time and money to perfect the digital tool as time went on. It wasn't enough to simplify the process of reversing sound; they wanted sounds in reverse to also be beautiful.
In 2013, after two full years in development, testing it and gathering feedback from artists, producers and composers, they finally felt that it was ready to go to market. They didn't know whether it would sell, so Gregg hadn't incorporated or built a corporate structure to support the rollout. But after reviewing REV's day one sales figures, Gregg realized he had a hit on his hands and he'd better create a company to support it. Output was born.
On the success of REV, Output rolled out other tools meant to help professional artists and hobbyists: SIGNAL, the world's most powerful pulse engine; EXHALE, a digital vocal engine used to create sounds that blur the line between synthesized instrumental and vocal sounds; and PLATFORM, a desk for musicians with ideal design features to support physical and digital instruments used in modern music production.
Our main goal with every product is to help people be creative. We want to create tools that do more than simply generate cool sounds. We ask ourselves, 'Will this product truly inspire, and will it help people be more creative?' If the answer is yes, we get started.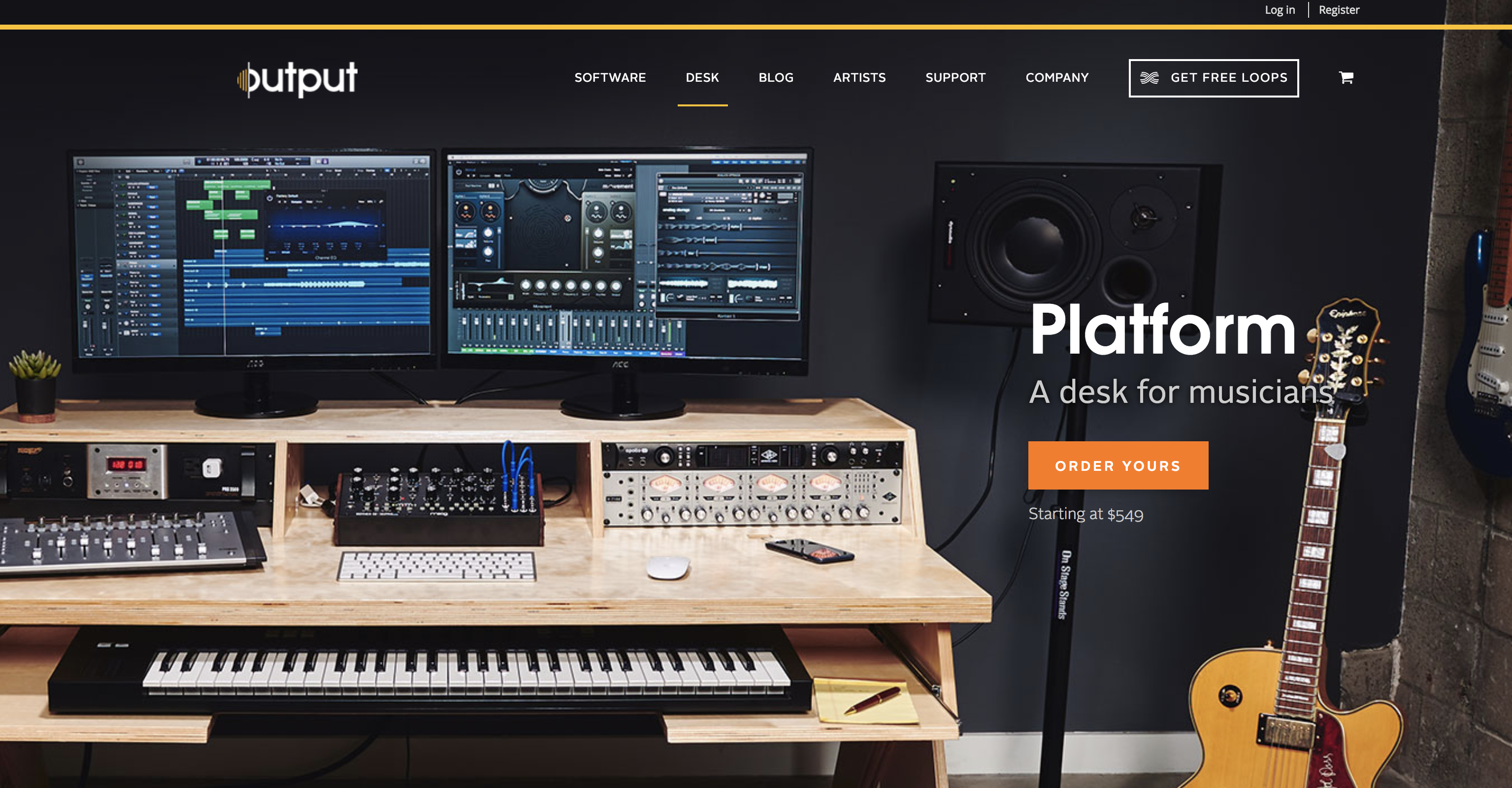 Output's design process
A lot of thought goes into the actual design process to ensure that there are many ways a person might use these tools. From a music hobbyist starting off on the main product pages to a sound engineer using the incredibly multi-layered diversity of sounds and options on offer, understanding music software and the way people use it is a must. But the company looks to offer even more than user friendliness.
"We are constantly asking ourselves how we can create sounds that no one has ever heard before," Gregg said. "How can we find new ways of doing traditional things? In this day and age, how can you be truly creative and do something that hasn't been done?"
You don't have to go far to find fans. Noah "40" Shebib, who is perhaps best known as Drake's Grammy-winning producer, co-founder of the OVO Sound Label and whose very name is synonymous with hip-hop trendsetting, has used EXHALE on many of Drake's tracks and said "EXHALE is an amazing product that is very up to the times and ready to use."
Diplo, the DJ, singer-songwriter and Grammy-winning producer for artists such as Beyoncé, Justin Bieber, Sia, Major Lazer and Jack Ü, is another high profile endorser:
All of Output's products are awesome. They've given me a ton of inspiration in the studio.
 Building on online home
Success came with a business challenge: Output needed an online store that could meet the growing demand for their products and help them manage the eCommerce aspect of business more efficiently.
The last thing Gregg wanted after REV's success was to get bogged down in the logistics of web, brand and delivery system development. They had customers and needed a seamless way of getting their products out to them.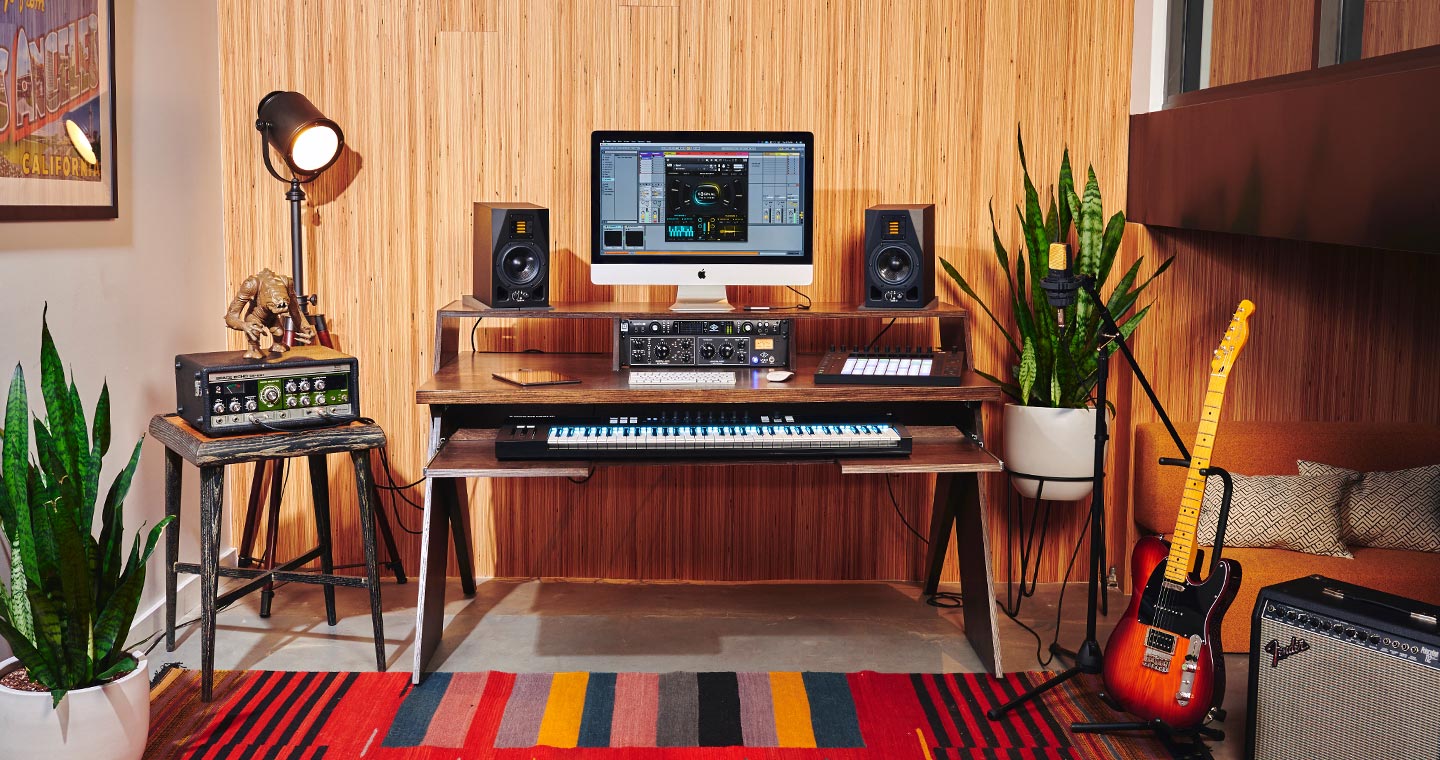 "We'd just moved from Shopify to WooCommerce," says Brian Zarlenga, General Manager at Output. "The new platform was more flexible, but we were still paying a hefty third-party service fee for every product download. Also, not enough of our customers were coming back to complete their product bundles. Every day we had to focus on hitting the bottom line."
Output reached out to the WordPress and WooCommerce experts at SAU/CAL to help solve some of their eCommerce challenges:
When we were a smaller company and only four or five people, we didn't have the resources to have our own in-house web developers. I would definitely recommend SAU/CAL to a company that is scaling up or that needs help to grow. They're experts at what they do, and they are a great group of people.
SAU/CAL provided solutions to a variety of problems — a back-end process to streamline operations, custom tools, a customer-facing hub, and system that facilitates downloads, payments, and licensing.
A closer look at the site build
There are hundreds of WooCommerce extensions available on the web, including the official marketplace. Store builders often find it useful to know what's powering a particular store, so now we'll take a look behind the scenes.
Output.com is powered by the following extensions:
The WooCommerce Showcase also provides a useful look at more eCommerce stores across verticals.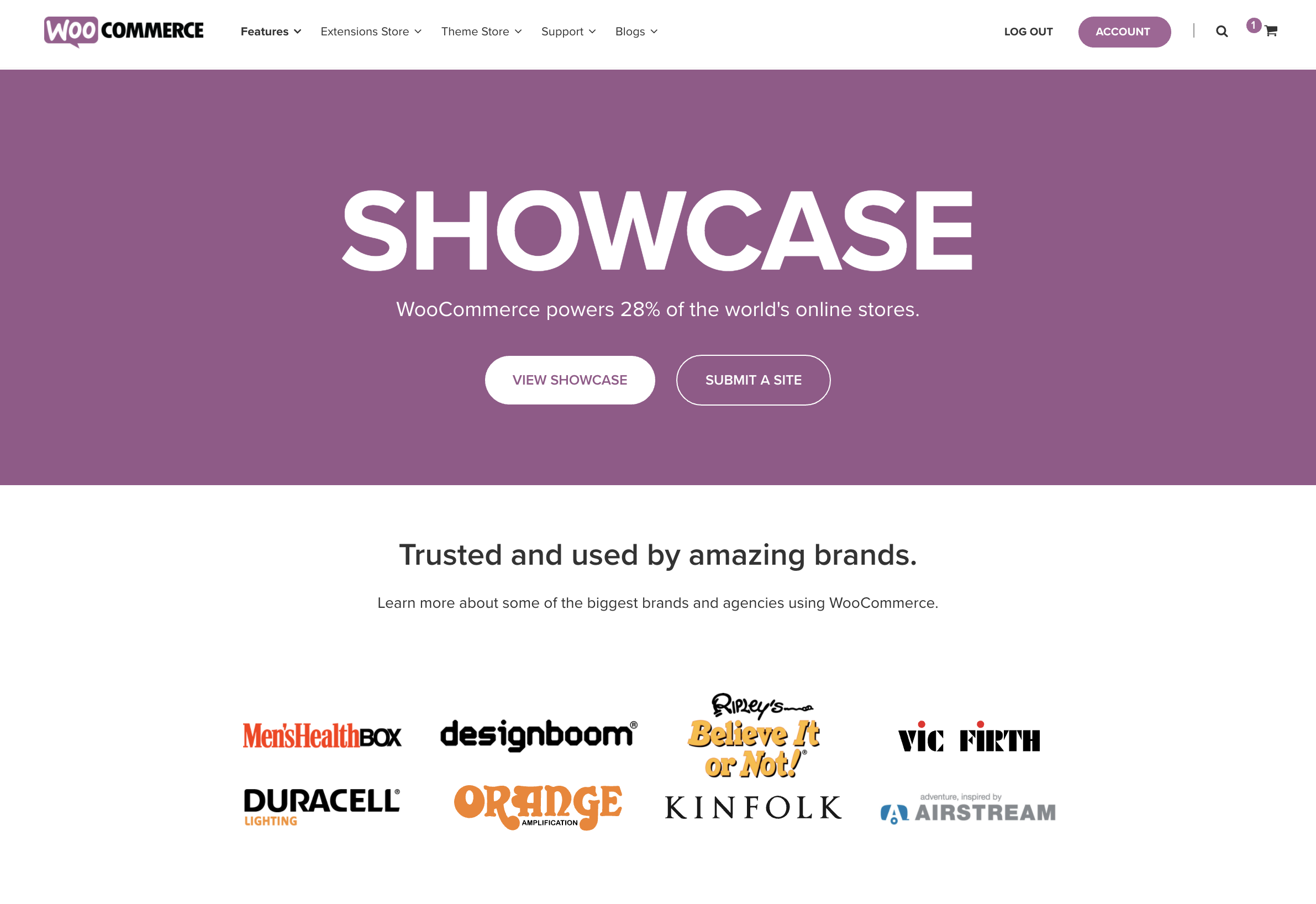 Browsing entries is a quick way to get a grasp on a plethora of existing options and tangible ways in which the right extensions can optimize the way a digital store is run.
Driving revenue and the future
Brian Zarlenga, Output's General Manager, was thrilled with the results of the site overhaul that transformed their site into 'a huge revenue-driver,' allowing them to focus on growing the company, not just hitting the bottom line.
Additional revenue is always handy for a company looking to expand their product range and scale up. Ultimately, however, Brian says that success in web development is also measured by the extent to which the systems put in place allow the company to focus on what they do best.
With web development, we measure success by whether it works without us having to think about it.
That's a solid goal for developers and web agencies to keep in mind: If your clients don't need to think about it and it frees them up to do what they do best, you've done a good thing.
Before we said goodbye to Gregg, he hinted at some exciting news on the horizon for Output, so fair warning: Expect the unexpected from this innovative and dynamic, young company.