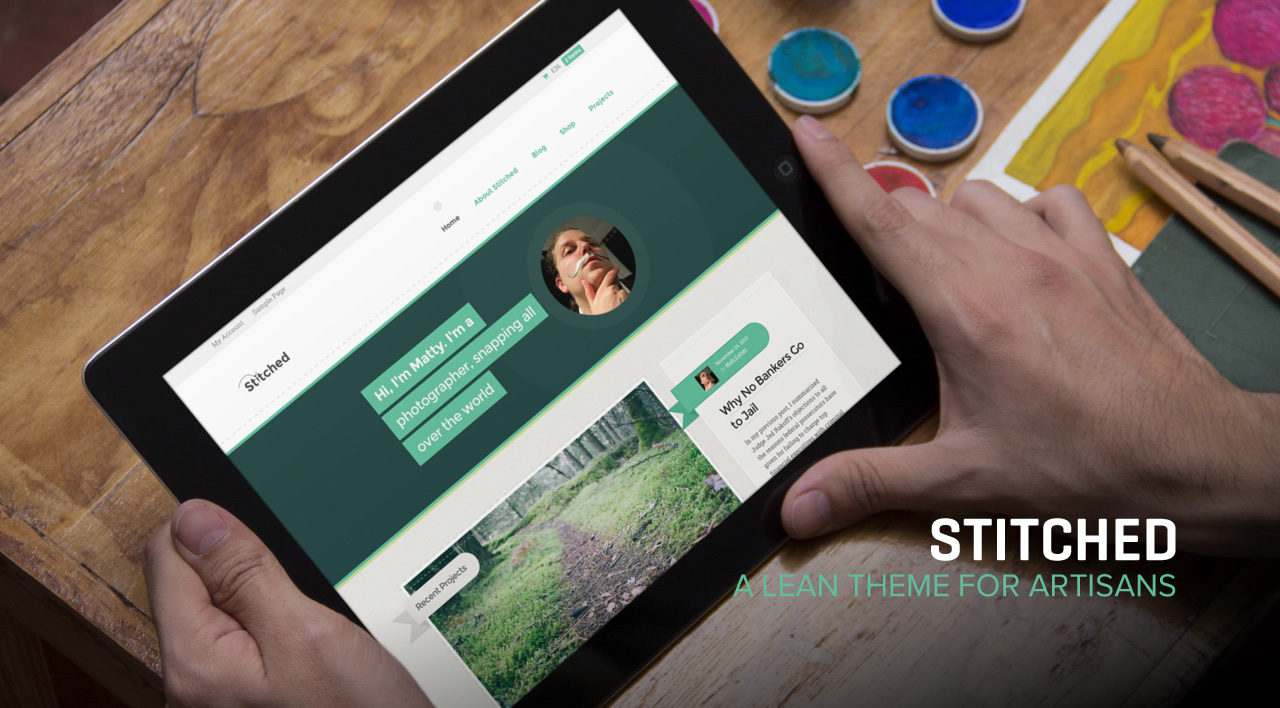 Creativity is contagious, pass it on
Albert Einstein
Susie is a creative. She is stuck behind her desk all day, at work, just waiting to get home to work on the oil painting she's currently crafting, through her self-taught artistic journey. She makes her own jewellery as well, admired by all of her friends, which she sells at the local craft market on weekends.
If you're like Susie, or know someone who is, today's theme release is just right for you.
Ladies and gentlemen, artisans and craftspersons, meet Stitched, our newest theme for WordPress.
Express your creativity
With it's uniquely crafted and elegant design, Stitched aims to place full focus on your content, helping you to express your creativity to the world.

Designed, and developed, by our very own James Koster (a creator in his own right), Stitched is ready to be shaped and crafted as desired with a few small tweaks in a child theme.
Stitched and it's many uses
As a creative person, you're sure to find interesting methods and techniques you apply to your work. Share them on your blog, using Stitched to create the perfect visual platform to do so.
The time of a craftsperson should be spent on being creative and crafting artworks, rather than setting up an online store. Stitched helps to make your store attractive from the first click, and get you a major head start on getting your attractive online store up and running in little to no time at all.
With the store functionality powered by WooCommerce, the entire WooCommerce extensions library is also at your disposal to take your online store to the next level.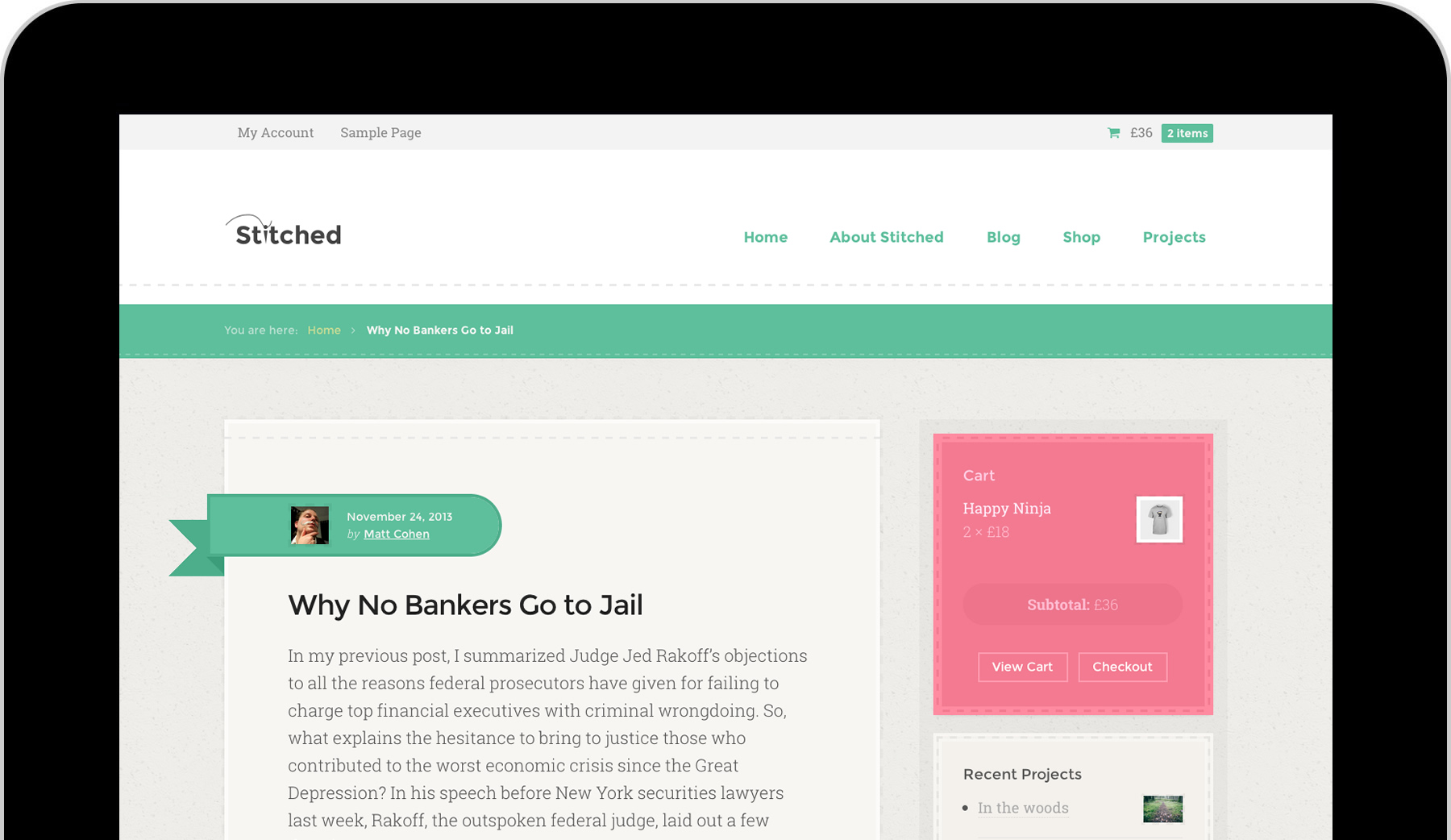 A theme to suit your desired needs
While Stitched is aimed at artisans and creatives, you could also transform the theme into a standard business website, or a simple blog to keep track of new creative techniques you discover, inspirational artworks you find online or in galleries, or selling creative training courses online, using Sensei. With styling support for our Features, Testimonials and Our Team plugins, as well as a "Business" page template, your own design is just a few small tweaks away in the theme's settings.
Stitched also includes built-in styling for our new Projects plugin, for showcasing your portfolio of creative projects, with rationales and a blurb about what inspired you for each.
As long as you have creative inspiration, Stitched is the theme for you.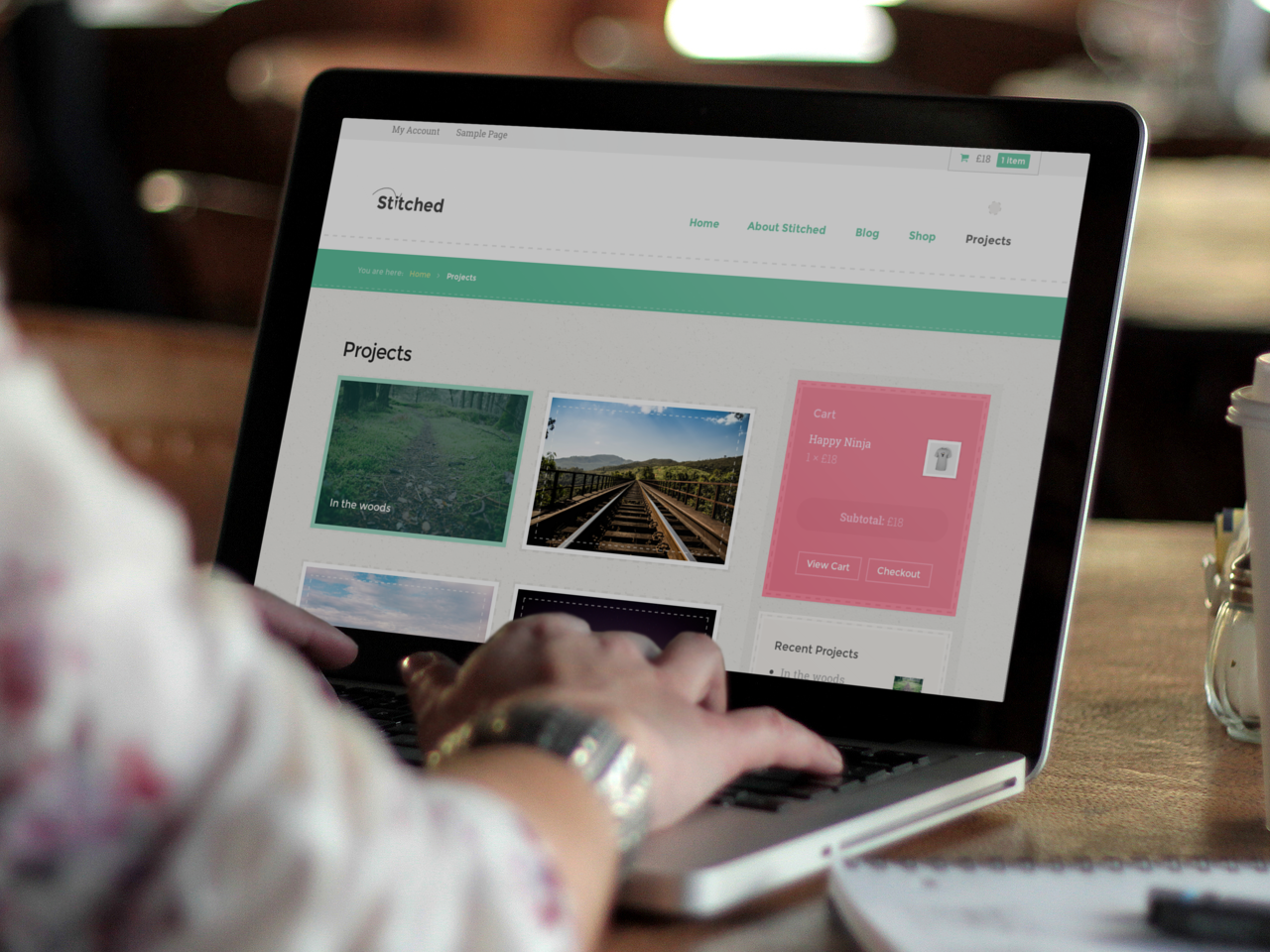 To illustrate this, we've set up a demo website to showcase Stitched and to show off just how easy it is to get up and running with next to no effort.
We look forward to seeing what you all create using Stitched, WooCommerce and any number of our wonderful WooCommerce extensions and exciting free plugins.
Discount Coupon
Grab this theme with 14% off, until 5th March 2014. Just use STITCHED14 as your coupon code on checkout.