If you pay close attention to the new themes released over at wordpress.org you may have already noticed that earlier today the first official Storefront child theme "Boutique" went live and is available for download.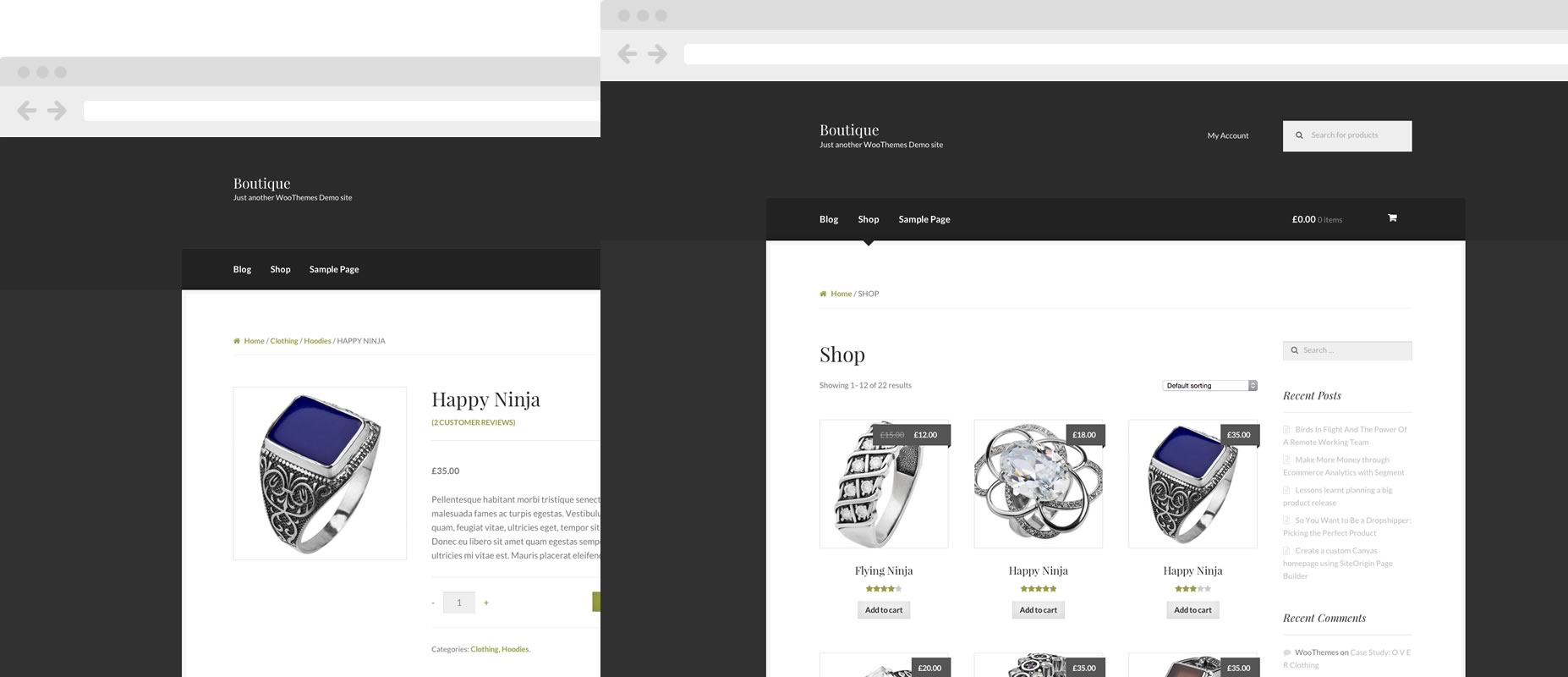 Boutique is a re-imagination of our very first WooCommerce theme "Wootique" and heralds the next step in the progression of our newest top-level product; Storefront. Since launching at the end of last year, Storefront has grown in popularity amassing over 80,000 downloads and fifteen 5 star reviews. Throughout the year we aim to release more extensions and child themes, so now feels like a good time to share our thoughts on how this landscape might look 6 months down the road.
Since launching at the end of last year, Storefront has grown in popularity amassing over 80,000 downloads and fifteen 5 star reviews.
Extensions and child themes, living together
It's important to illustrate the situations in which you might use a Storefront child theme, and when you might use the Storefront Designer extension, as (due to potentially unique child theme layouts) these products might not always be fully compatible.
As I see it, there are two kinds of people building stores with Storefront. On one hand we have the designers, folks who have a specific idea of how they want their store to look, and expect to be able to achieve that as efficiently as possible. They use the Storefront Designer (and other extensions) to help shape the look of their store. They maybe create a custom child theme and/or plugin for further modifications.
On the other hand we have folks who know what looks good, but don't have the time / coding knowledge to actually be the designer. They are happy to trust us with design decisions and don't need to change anything beyond maybe adding a logo. They just need to get up and running and are probably using Storefront as it comes out of the box with little to no modifications. It's at this group of people that our child themes will be aimed at.
Storefront itself features a minimalist, generic design that could feasibly be used for any kind of store. It's a platform to build upon. Storefront child themes will feature more unique, targeted designs and create a variety of turnkey solutions for a wide range of stores.
Covering all bases this way further helps us achieve our core goal of democratising eCommerce through WooCommerce.
Boutique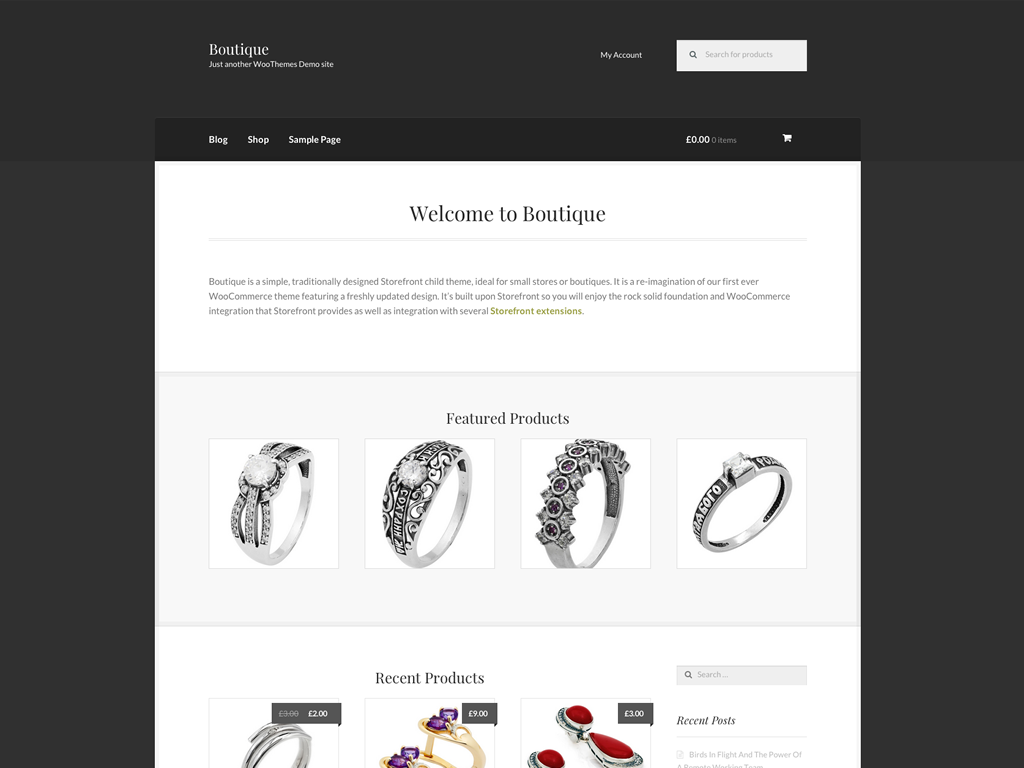 Boutique's design (as the name suggests) makes it an ideal child theme to use for an exclusive / speciality store selling jewellery or other fine goods. There are various nods towards Wootique (such as the homepage design) which also makes it an easy choice if you're looking for a modern theme to migrate towards from a store currently using Wootique. But remember, you can use the theme for any kind of store… use your imagination!
There are just enough options for you to ensure your store matches your brand and of course it's built upon the rock solid Storefront parent theme ensuring peace of mind regarding WooCommerce compatibility. It is also fully compatible with the Storefront WooCommerce Customiser, Storefront Blog Customiser, Storefront Checkout Customiser, and Storefront Parallax Hero extensions.
We look forward to seeing the stores you build with Boutique, and more Storefront child themes in the future.