Today marks a significant milestone in the journey of WooCommerce. In 2011, we created an eCommerce plugin that allowed you to sell just about anything – physical, digital, variable or affiliated products. That plugin is now used across 260,000 websites, powering over 12% of all online shops. Now with our latest extension you can sell one more vitally important thing. Your time.
Meet our latest extension
Your time is your most valued resource so why not have the opportunity to set up a website that allows you to sell and manage it? WooCommerce and the WooCommerce Bookings extension now offers you a wealth of resources to sell time or date based bookings. If you didn't watch the video above, we suggest you do. We hope it gets you as excited for this next chapter of WooCommerce and truly demonstrates it's diverse usage possibilities.
Thanks to Chris Lema for helping us with the wonderful script of our video and Richard Bolland for his storytelling and animation skills. Chris Lema has also written a great post about the opportunities this extension enables.
It's been a long time in the making
We first explored the idea of a bookings plugin before WooCommerce was even launched. We had a minimum viable product (MVP) by December 2011, a couple months after the release of WooCommerce. Little did we know how big our eCommerce plugin would grow. Luckily we took the cautious step of pausing development on our bookings plugin to ensure that a bookings plugin development was intrinsically integrated with the WooCommerce product roadmap. In 2011 we still had a lot to learn.
Almost two and a half years later we feel confident we are ready  to tackle a new kind of eCommerce.
Time to shake up the WordPress bookings arena
Our WooCommerce lead developer & plugin creator, Mike Jolley now steers the ship that is WooCommerce Bookings. What better a person to develop and manage this extension?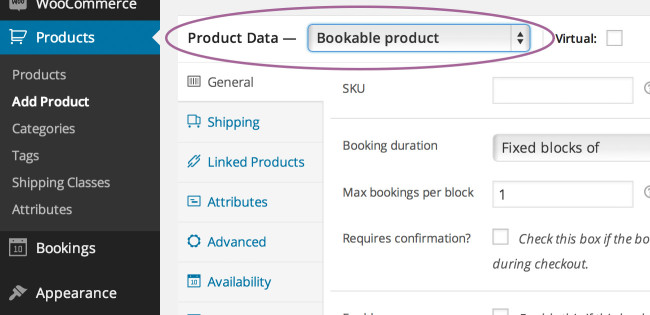 Our early 2011 MVP was retired, and Mike decided to work from scratch to build what we have proudly released today. A huge amount of thought has gone into this product with extensive beta testing, a ton of Github commits, and valuable feedback from well recognized WordPress developers, designers and consultants. Rest assured the future of this extension is in very capable hands with Mike, joined by Claudio, our newest recruit and super talented South American developer whizz, and supported by our team of ninjas.
True to our product strategy that we have fine tuned through extensive experience with WordPress plugin development this is a lean version 1 that packs a powerful punch whilst catering for as many different use cases as possible – without the code and feature bloat.
View the Bookings extension feature set
As you experiment with our extension, we'll learn even more about your niche implementations, and through fast iterations and continual learnings we'll make this product even better.
After all we don't want to waste your valuable time experimenting with something we don't believe in.
Purchase WooBookings
Update: There have been a few requests for a live demo of this extension. We were cautious to highlight a use case in a demo as to limit people's perception of WooCommerce Bookings possibilities. That might not have been the best approach and we've decided to put together a front-end demo that we will release in the next day. We also plan to update the listing with real-life use case examples over the coming days, and expect a few video tutorials from WooThemes friends soon. In the mean time please remember we offer a 30 day money back guarantee so we hope we don't delay your purchase.