From closed beta to successfully-funded Kickstarter to start-up with $1 million in funding, Timeular is on a mission to help people track their time and make it count with a multi-sided, customizable device.

Raise your hand if you could do with a little more data on how you spend your days! And read on for our Q&A with Manuel Bruschi, one of Timeular's founders.

The Timeular tracker has been described as a bluetooth paperweight and a time-tracking die. How does it actually work?

The Tracker is an eight-sided die which lets you track all your activities by flipping it so your current activity is facing up. You connect it to your notebook or phone via Bluetooth LE, and you can pick and assign activities to the different sides as many times as you wish.
You can also use @mentions and #tags in the notes to assign activities to projects – e.g. @Shop for ClientA – to mark things as #billable and #non-billable or to mention tickets, like #JIRA-123.
If you don't have the Tracker device with you, you also can use the play/stop buttons in our desktop or mobile apps.
You exceeded your Kickstarter goal and have gone on to raise $1.1 million for further projects. Why do you think this device got so much interest?

At Timeular, we have a very human approach towards time. We believe it's much more valuable than money. People and companies are moving from the work-hard-play-hard mentality to the work-smart-life-better mentality, and our product aligns with this.

"It's incredibly easy for me to keep track of my time every day down to the minute. I can also quickly pull a report to show how much time I've spent with a specific client or on a specific task." – Ashlee B., Founder and CEO, Management Consulting

To work less for the same results requires a deep understanding of one's working habits, so we're trying to help people achieve that in a fun and simple way.

"I work on projects on an hourly base, this tool has more than paid for itself. All of those 10 min calls are now captured (before they were lost time). Away from the device, no problem, I have the app on my phone and when I get back to the office it is all nicely synced." – Earl L., Senior Software Engineer

Channeling Simon Sinek, author of Start With Why – what's Timeular's "why"?

We want to help people to make more time for the important things by helping them to improve how they spend their time. We make it simple to track and understand how you're spending your time, which empowers you to improve and make changes from there.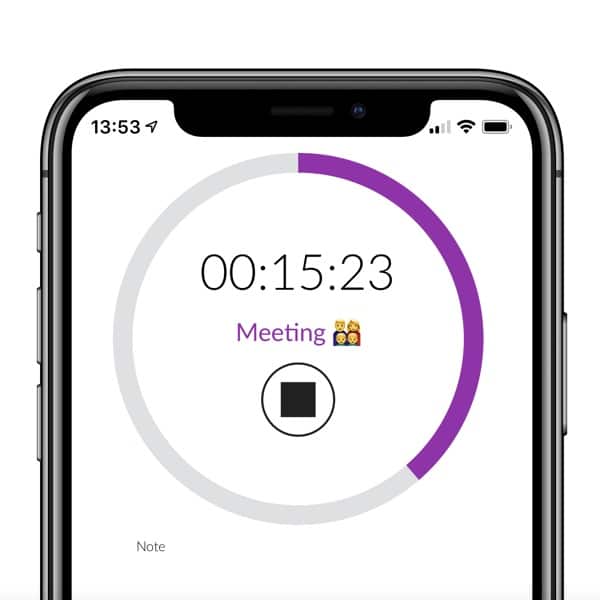 What is your role at Timeular? Tell us a bit about the team and how you work (you mentioned you're all remote!)

I'm one of the founders at Timeular. We are 17 people working fully remotely across five countries. We have no headquarters and everyone is allowed to work where, when, and how they want – as long as it contributes to our common goal of getting to 10,000 daily active users. This goal means a lot for us, because it would show that our product is helping many people to have more time for their important things.

We meet somewhere in person three times a year for one week (the last time was in Sicily). Our basic work philosophy is to do the best of work 40 hours a week, five days a week, and then to recharge. If you need more time to recharge and get fresh ideas, you can use your 50 days of paid holidays.

What was the main goal with the website?

Timeular.com is our main acquisition channel and holds all the software subscriptions. The first version was released within three weeks and the latest one took three months. We have had rolling releases and updates along the way – there have probably been fifty versions!

Because I'm a developer with basic design skills, I built the first version and then, over time, we've hired freelance developers to make changes. We've found some good people on Upwork or by searching on GitHub and are currently hiring someone to join us full time. We recently got a designer on board, too.

Why WooCommerce for this project?
We sell hardware and subscriptions with a special kind of business model to consumers and companies worldwide. With all the requirements, regulations, and laws involved – and the different warehouses – we knew we would need something that was at the same time very customizable but still very simple to run for non-developers.

Of all the options, we picked WooCommerce because of its flexibility, simplicity, and the very active and helpful community.

We picked WooCommerce because of its flexibility, simplicity, and the very active and helpful community.

Just a few of the WooCommerce.com extensions and plugins powering the site:

Tell us more about the purchase experience – what emails do you send people?

In keeping with our core values, we want to distract our customers as little as possible by giving them only the information they need at the right time. We send an order confirmation and then shipping update emails: when shipping starts, when an order is out for delivery, or if an order fails.

Our shipping provider pulls orders through the WooCommerce REST API and pushes tracking numbers back into WooCommerce Shipment Tracking. The shipping provider takes care of distributing orders to the different warehouses.

Your biggest market is the United States. Do you make provisions for currencies and languages in different countries?

We display prices in € or $ based on people's billing country or geolocation. The shipping fee is the same for all countries. The shop is in English, as is our product.

What are some of the things you'd like to do next?

We still need to improve site performance and get ready for scale — we're growing rapidly, and loading times during checkout are far from where we want to be.

Site speed and performance has a big impact on conversion rates and it's sometimes hard to identify bottlenecks (queries, hooks, chains). We're aware we will need to change our hosting plan when we get many more subscribers.

Did you run into any roadblocks while building the site ? How did you work around them?

When you run into limits, it's easy to find a hack but harder to maintain best-practices and stick to sustainable ways to push the limit. When we are troubleshooting, we use a mix of Googling and testing things ourselves, and asking for help if we couldn't find anything. We try not to settle for the "quickest solution" because quick hacks usually have hidden costs.

——

Thanks to Manuel for taking the time to chat with us! Keep an eye on Timeular's blog for interesting articles on time management, and if you'd like to share your WooCommerce story, submit it here.