Are you tired of social media taking so much time but producing so few results for your business?
It's a lot of work — engaging in Facebook groups, researching the right hashtags, finding unique images, creating new content, and responding to comments. Everyone says that social media is important, but, honestly, you have 200 other tasks to complete every day. Your likes may be increasing, but it's hard to justify the work if it's not generating sales.
But business leaders praise social media for good reason: it can be incredibly powerful if used correctly. Adding a few proven steps may be all you need to capitalize on your work!
How to generate sales from social media
The primary reason it's hard to turn social media followers into customers is simple: people don't open social media planning to shop; they browse for other reasons. This is true of everyone, even your most loyal followers. Your hardest task is not getting their attention, but keeping it long enough for them to consider doing something they weren't planning to do when they logged in.
When someone wants to buy from you, they go right to your eCommerce store, not your Twitter feed.
Does that mean social media can't generate sales? Not at all. But rather than direct sales, social media is best used:
1. As a source of new leads
2. As a place to engage existing leads, followers, and customers
Eventually, they will need to buy what you're selling — and thanks to the way you've cultivated a relationship with them via social media, they'll head to your store.
Here are six ways to turn more of your social media followers into paying customers:
1. Make direct offers
People follow you for a reason, and that means they'll be more receptive to direct sales offers than a total stranger to your brand. Make offers!
Selling shouldn't be your primary social activity, or you'll lose peoples' attention. But followers are a warm audience with a shared interest in what you offer — failing to reach out to them is a huge mistake.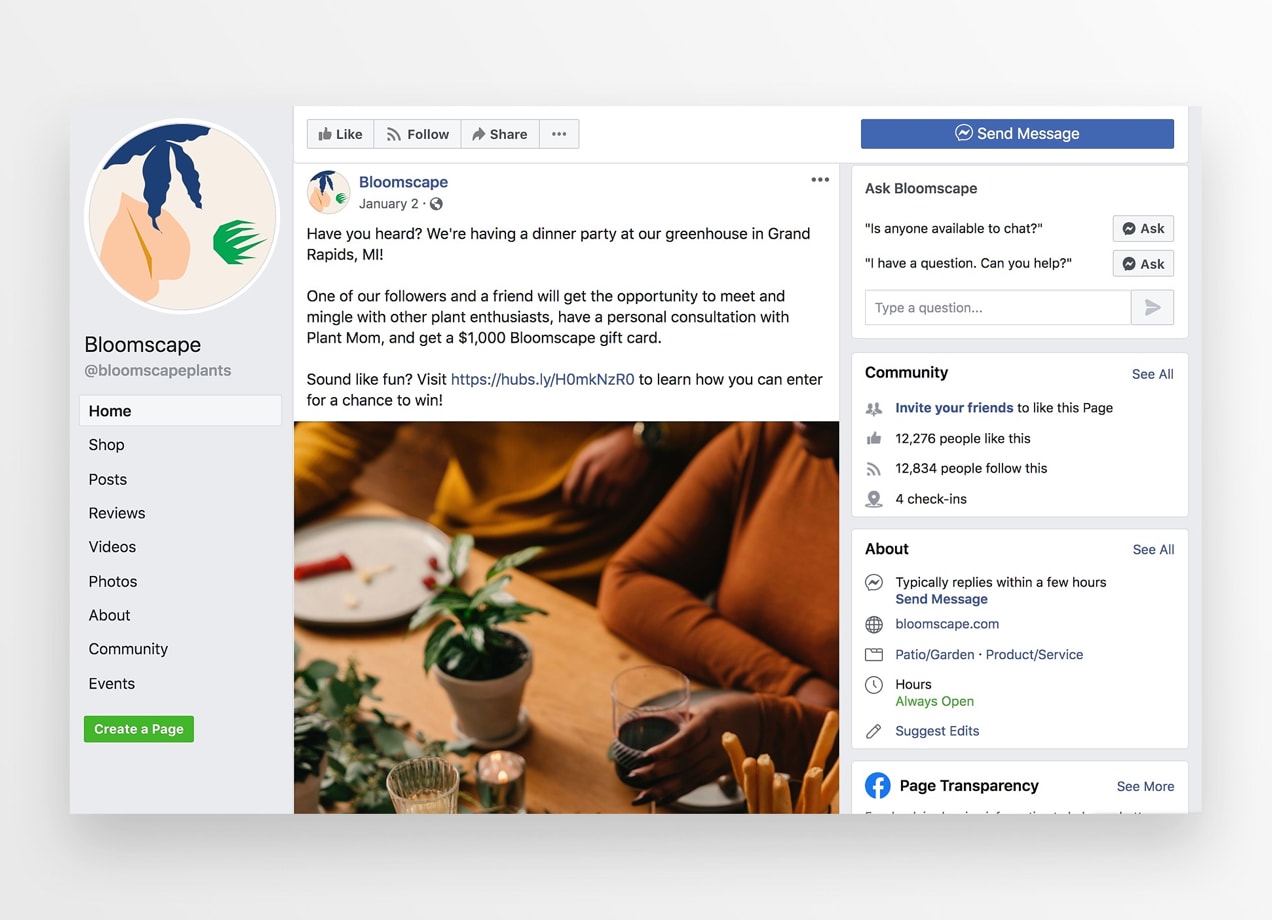 Make limited-time special offers. Give holiday-themed deals. Run contests. Introduce new products. The best opportunity for direct selling on social media happens if your business sells everyday products and services that people need. If they see your offer at the right time, they'll be more likely to respond.
And if they do make a purchase, you can leverage the greatest strength of social media to broaden your online reach — connections between people who know and trust each other. The Share Your Purchase for WooCommerce extension adds a button to your post-checkout "thank you" page to encourage shoppers to tell their networks about the product they just bought. Referrals from happy customers are a proven way to increase sales.
Learn more about the Share Your Purchase extension.
2. Remarket to those who don't buy
Social media is a constant flurry of clicks, scrolls, likes, views, comments, and follows.
This means that your posts and ads are just one flash in a sea of nonstop activity where most people are just passively engaging with you.
Remarketing reminds people that you caught their eye and gives them another chance to buy. It's a great way to connect directly with small groups of targeted, warm leads.
Remarketing on Facebook is particularly effective: it often delivers much higher engagement rates and revenue than other Facebook ads. To do this, you'll need to install the Facebook pixel — a line of code that tracks specific visitors to your site so you can reach them again on Facebook. The free Facebook for WooCommerce extension allows you to easily do this and track conversions, ad performance, and remarketing campaigns so you can optimize social marketing and increase revenue. You can also link your website live chat feature with Messenger, so your history with each customer is preserved across platforms.
Learn more about Facebook for WooCommerce.
3. Use existing content to draw people to your website
The best thing you can do is to get social media followers to click through to your site. Once they're there, you have their undivided attention. When you share a variety of content with enough frequency, potential customers will eventually see something that entices them to click.
But what do you post about? You can leverage your existing pages, like:
Blog posts
Products
Service pages
About pages
Pages that compare you to competitors
Free trial or other lead generation offers
Landing pages
Almost every single page on your website can become the basis for a social media post. Why? Because every page should offer something to your target audience — solutions to a problem, tips and strategies, video testimonials, contest drawings, a chance to get to know you and see what makes you different, and helpful information like your shipping policy or membership options.
4. Trade resources for email addresses
Because your followers are a warm audience, they'll be receptive to your offers. But following a business on social media is pretty easy — and so is unfollowing. They haven't made much of a commitment yet. There's a large gap between following a business and buying from them.
Free or very low-cost lead generation offers help close that gap. They encourage leads to take a few more steps toward your business without buying something.
You should offer lead magnets on your website as well as on social media. They should be designed specifically for your target audience, not for the general public. The key to an effective lead magnet — something people will give you their email address to get — is that it promises to solve a specific problem.
Examples include:
eBooks
guides
checklists
surveys
polls
webinars
exclusive videos
free trial periods
contests
white papers
case studies
The goal of any free lead magnet is simple: get their contact information. Usually, this means an email address, which lets you continually market to and engage with leads in a focused way. If they open your emails, you have their attention. And you can send emails again and again: videos, long-form sales copy (which tends to be more effective than ultra-short copy), special offers, limited-time deals, and new product launches.
Social media gets them in the door. Email closes the sale. And it begins with lead magnets, which you can advertise on social media.
5. Have empathy for your audience
Behind all of the strategies you've read so far lies this principle: be real.
People aren't looking to be sold. They're looking for answers and for ways to make life easier or more enjoyable. They want to be inspired, to improve their situation, or to feel understood by someone.
Figure out how to deliver answers that meet those needs and you'll win over potential customers. Not all your answers have to be directly related to your products! Present yourself as a problem-solver, someone who genuinely cares about improving people's lives, not always making a sale.
Use this problem-solving philosophy to develop lead generation products. Solve specific problems, and make your solutions easy to digest.
As you demonstrate your ability and concern for the problems facing your target audience, you'll grow in authority and trust. In other words, you'll achieve what marketing legend, Dan Kennedy, says should be every business' goal: to stop being an annoying pest and become a welcome guest.
People buy from businesses they know, like, and trust. They buy from welcome guests.
6. Follow up!
Leads are great. First-time customers are better. But if you want to grow your business, you need longer-lasting relationships with your customers. You must learn how to follow up.
You can follow up using phone, email, text, direct mail, or with Facebook Messenger. The Follow-Ups extension lets you connect with leads and customers by email, right from your WooCommerce dashboard. With Follow-Ups, you can do all the things most email platforms enable you to do — track open and click rates, segment your email list into smaller groups, and schedule emails in advance.
You can also try more aggressive tactics, like sending personalized coupons that have the name of the recipient printed on them. If one of your goals is to drive traffic to a physical location, this is a terrific strategy.
See what else you can do with Follow-Ups.
Make the most of social media
You've put in the work, now reap the rewards. With these six marketing strategies, turn likes into loyal customers and casual followers into evangelists. To amplify your efforts, take advantage of the valuable tools that WooCommerce provides.
Get started with WooCommerce marketing extensions.