Since our last minor release back in June, we've been working on a multitude of improvements to improve the WooCommerce admin experience:
Apply discounts to orders using coupons, without the chore of doing manual calculations.
See which versions of extensions are tested with new WooCommerce updates, before updating.
Improved management features for WooCommerce.com extensions.
A simpler, unified shortcode for listing multiple products on pages.
To ensure this update is indeed stable, we've been doing plenty of testing on our side; releasing beta versions, testing our own library of extensions and themes, working with customers to do managed updates, and running 3.2 on WooCommerce.com. 👏
WooCommerce 3.2 is also a minor release, meaning it should be fully backwards compatible with 3.1 and 3.0. However, it's still considered best practice, and recommended, to backup before updating.
Here are some more details on what's new in 3.2!
Applying discounts to orders using coupons 🎉
Being able to apply coupons to orders was a popular request on our ideas board, and a common annoyance for store owners. In 3.2 we've made lots of improvements to our cart and coupons system to make this possible!
To use this new feature, simply edit an order, click the "apply coupon" button and enter a coupon code. The re-calculations will be done automatically.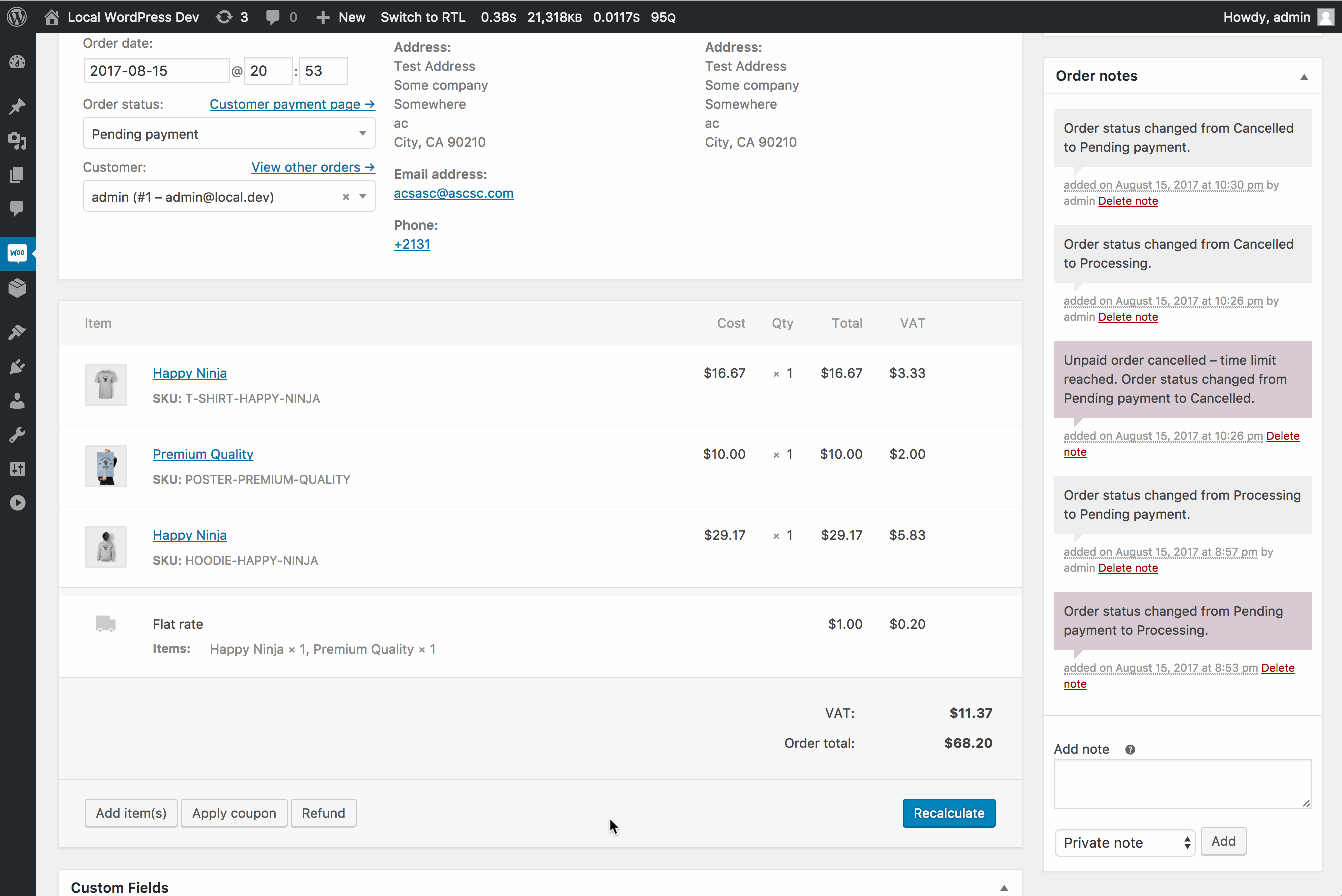 You can also remove coupons from orders and have them re-calculate the totals for you!
Read more about this in our development blog.
Heads up! WooCommerce updates will warn you about outdated extensions ⚠︎
We've introduced some additional checks before updates run on the plugins screen in your admin dashboard. If an extension is detected as not being tested with the next version, a warning will be displayed. From that point you can either seek an update for the extension, disable it, or test it for compatibility.
Our hope is that this will improve general compatibility and incentivise plugin authors to keep things up to date with new releases.
You can read more about this feature here.
New WooCommerce.com extension management features 🔌
We've introduced an additional filter that allows you to easily filter your extensions by 'Active' to see those that are active on your site.
Once you've connected your site to your WooCommerce.com account you will also now see a new notification icon in the sidebar to inform you of any updates that may be available for your extensions.
Additionally, for both agencies and developers, we have implemented a new feature on WooCommerce.com which allows you to share your subscriptions with your clients (great for multi-site subscriptions) removing the need to connect your clients site to your personal WooCommerce.com account.
An improved "products" shortcode
We've unified the product shortcodes into one single, consolidated products shortcode which supports the options of all legacy product shortcodes. https://github.com/woocommerce/woocommerce/wiki/Shortcodes-changes-in-3.2.0
…and more!
There are now more accessible enhanced select boxes on the checkout and in admin with improved keyboard and screen-reader support.
There is a new option to resend order details to customers on the edit order page.
The wizard has been revamped to help with shipping, payment gateways, and opt-in to services like automatic taxes and shipping labels. You'll notice this if you setup a new store on WooCommerce in the future!
We added drag and drop sorting on the grouped product field to control display order of products on the frontend.
Search results in your store can now be sorted.
We added a new option to control the maximum depth of categories shown in the product category widget.
Features for developers ❤️
Developers can look forward to search helpers for products which use our CRUD system and avoid the need for direct queries.
We're also included a few more helpful debugging tools, for example fatal errors will now be logged and can be viewed in System Status > Logs.
For a more complete list of new things, see the changelog.
You should also read the development blog to see what templates and functions have changed in 3.2.
Ready to update?
Ready to give WooCommerce 3.2 a shot? Review our documentation about how to update, make sure backups are in place, and then grab the update in WP Admin.
We're here if you need us:
Please note that we are not able to diagnose or solve potential issues via blog comments. The fastest way to get in touch with us is one of the methods listed above.
If you're craving more technical details about this update, you can read our post on the develop blog!
What do you think of our latest release? Let us know in the comments!